ADGS Rio: Women's finals light up the tournament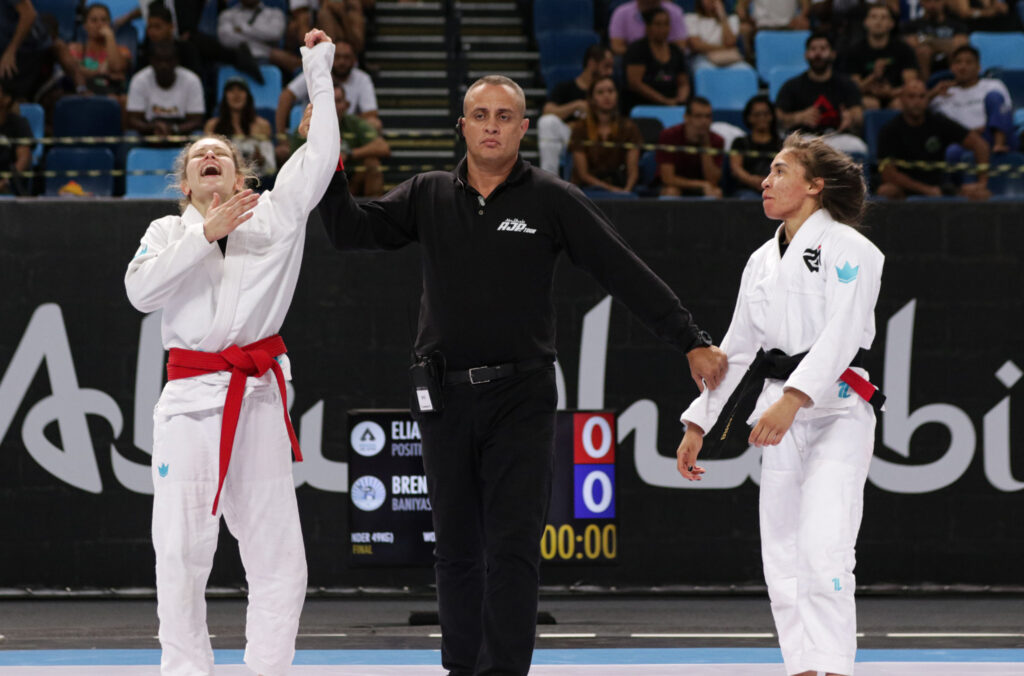 Once again, Rio de Janeiro was the stage for the Abu Dhabi Grand Slam Jiu-Jitsu World Tour and Jiujiteiras put on an exciting show of incredible grappling talent
The last day of the Abu Dhabi Grand Slam Jiu-Jitsu in Rio de Janeiro gifted the crowd at the
Arena Carioca 1 this past weekend on June 11th, with the highest level of international Jiu-Jitsu. With the gold medal on the line, over a thousand athletes stepped onto the battlefield to fight for glory and renown. Well-known names, AJP veterans, and even brand-new faces stepped up to the mats with a singular goal in mind: to become an ADGS Champion.
The black belt matches took over the five fight areas on the third day, with the finals acting as a closer to the tournament and providing the crowd at the arena, and those that watched the event live at AJP.tv, with an even greater spectacle.
Jiujiteiras lit up the tournament with incredible perfomances. Here are some of the highlights of the women's division:
49kg – Eliana Carauni vs. Brenda Larissa
Argentina's Eliana Carauni got the better of AJP World Pro Champion and division favorite
Brenda Larissa. In a duel disputed to the smallest detail, both in regulation time and in the
golden score, Eliana defeated her opponent by convincing the referees that she was more
effective throughout the fight, taking the gold via decision.
---
55kg – Beatriz Campos vs. Evellyn Azevedo
Beatriz started the fight pulling to a lasso-guard and quickly spun to climb up. Evelyn
attacked with her foot during the spin, putting the match at 2-1. Beatriz then scored one
more point in the attempt to pass the guard and closed the scoreboard at 3-1 to take the
division title.
---
62kg – Vitoria Vieira vs. Maria Luiza Delahaye
Vitória was the big name in the 62kg division. In a duel against Maria Delahaye, Vitória
pulled her opponent's leg to the 50/50 guard and climbed safely. On top, Vitória spun
aiming at Maria's foot, attacking with a toehold to secure the title via submission.
---
70kg – Ingridd Sousa vs. Thalyta Silva
Thalyta opened the fight by pulling to a closed guard. Ingridd escaped, but Thalyta
dangerously switched from lasso-guard to spider-guard. Thalyta then entered the one-leg
and accidentally swung her leg off the centerline of Ingridd's body, over her knee, which is
classified as an illegal move. Thalyta was disqualified and Ingridd took gold in the 70kg
division.
---
95kg – Isabely Lemos vs. Roberta Ribeiro
With just a few days as a brown belt, Isabely managed to climb all the way to the
brown/black 95kg final. In the duel against Roberta Ribeiro, who tried to pull guard from the
get-go, Isabely seized the opportunity to spin and avoid a fall in the double-leg, leaving the
score at 1-0 and controlling from behind Roberta, who used the turtle position to defend
herself. With a quick move, Isabelly jumped for a collar choke, taking the win and the
division title.
---
---
---
Follow AJPTour