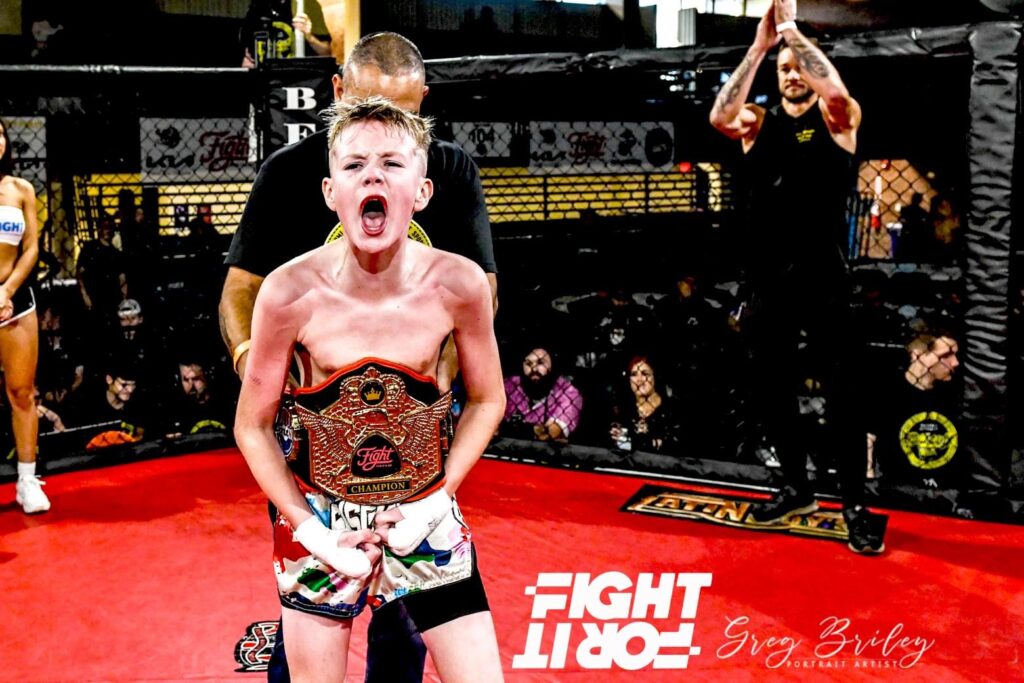 by Samantha Schell
It's been a weird few months being injured and having to take the backseat when it comes to competition life. Sure, I've gotten to coach mat side at several Jiu-Jitsu tournaments and even cornered and wrapped hands at some fights, but I desperately missed being the one in the cage or the person who slaps and bumps to initiate a match. I felt lost without what I felt was my purpose in life, and was looking for an outlet in which to channel my combat sports feelings.
Then, I was approached by a (somewhat) local MMA and Kickboxing promotion, Fight For It. They were looking for a female voice to be the co-commentator for their inaugural 17th show, and with my professional fight experience, plus my love of conversing about the sport, they reached out to gauge my interest. Naturally, I jumped at the opportunity to sit cageside and discuss my absolute most favorite thing in the world.
Fight nights are different than BJJ tournaments or PKB's, in that there is a lot more organization and schedule to said event. You have a predetermined opponent, and usually spend weeks in a grueling fight camp to prepare, make the walk to the center of the octagon, and let the violence commence. Sometimes, there are several different disciplines on the event as well. This particular one included Youth Kickboxing, Youth MMA, Amateur Kickboxing including 1 title fight, Amateur MMA with 3 title fights, Professional MMA, and 1 Jiu-Jitsu grappling match with EBI overtime. Needless to say, I had quite the long day.
Soundcheck was ran before the start of the event, which then opened with the youth matches. The whole event took place at the Grady Cole Center in Charlotte, North Carolina, which is a pretty large venue and an exciting place to fight in. Best to get the kid's matches over and done with before the rowdy adult crowds settle in. Fortunately, it was a great crowd with minimal hostility, which is exceptionally unfamiliar territory for me as I have fought countless times in the most obnoxious, unruly, and hostile of crowds. This made for a lovely change of pace. Excitement, but still respectful.
The show had several big names in attendance including Bare Knuckle fighter Keith Richardson and current UFC welterweight Bryan Battle, whom actually cornered several fighters on the card that night. Local radio personalities and top level referees and physicians were there to make sure everything ran smoothly throughout the night.
Now to get into the fights. This was by far one of the best fight cards, if not the best fight card, that I had ever seen in person. It had a little bit of everything there. I was front and center for some devastating knockouts, some TKO upsets, brutal submissions that led to a loss of consciousness, and incredible comebacks and resiliency from multiple fighters who found themselves in deep water until they were able to fight their way out. Quite a few Cinderella stories took place that night.
It was definitely nerve-wracking being so up close and personal and still having a job to carry out. I take my responsibilities very seriously, and wanted to ensure that everyone watching and listening on the livestream would be able to follow along with what was happening during the fights and even those who were less well-versed on the knowledge of certain techniques would be able to understand my commentary. There were over 30 bouts total, and I researched as many of the fighters that I could so I would be able to provide some colorful background as well. I was fortunate my cohost, Dylan McGrath, was very familiar with the fighters as he does multiple promotion's commentary, including having been a veteran of this particular one.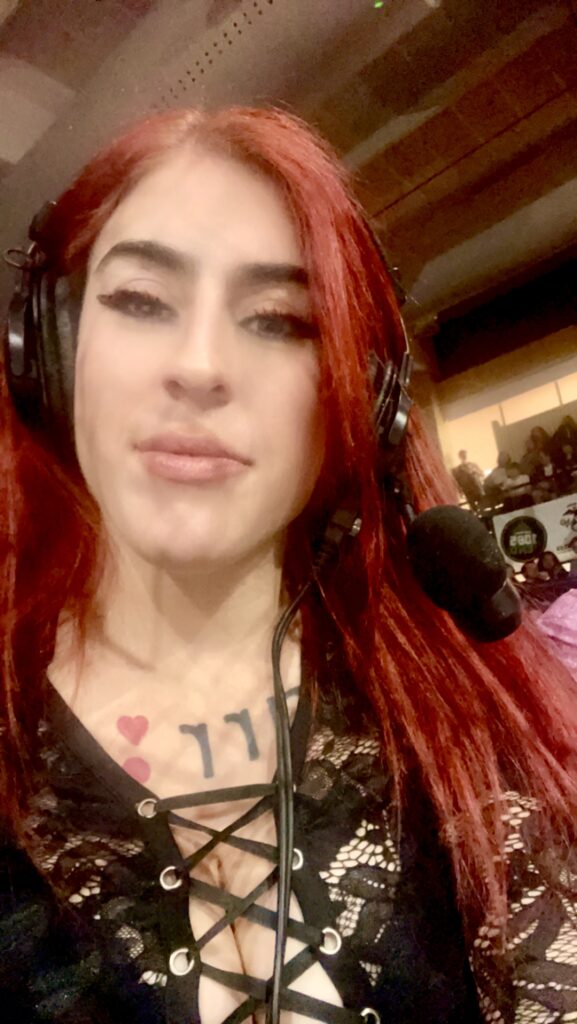 ---
It was definitely an honor as a female in the fight game to be able to provide my thoughts and opinions on the things taking place. Having fought at the amateur and professional levels and earning my rank of Black Belt in Brazilian Jiu-Jitsu, I was definitely comfortable articulating the things that I saw in front of me. Fortunately, I do not seem to be bereft of the gift of gab, and was able to share some witty banter with my cohost while still making sure to do my job.
I think part of me will always prefer to be inside the cage, slugging it out and throwing hands, but it felt good to provide some use while I am sidelined with some injuries. The fight game will forever be near and dear to my heart, and while I am itching to be able to compete again, I am enjoying the part of the journey where I can learn and observe, and even offer some insight on the mics. I am so hoping to be asked to do it again. In the meantime, I will keep editing videos for the people at my gym and doing match and technique breakdowns, as it soothes the sting of not being in the cage myself.
---
---
---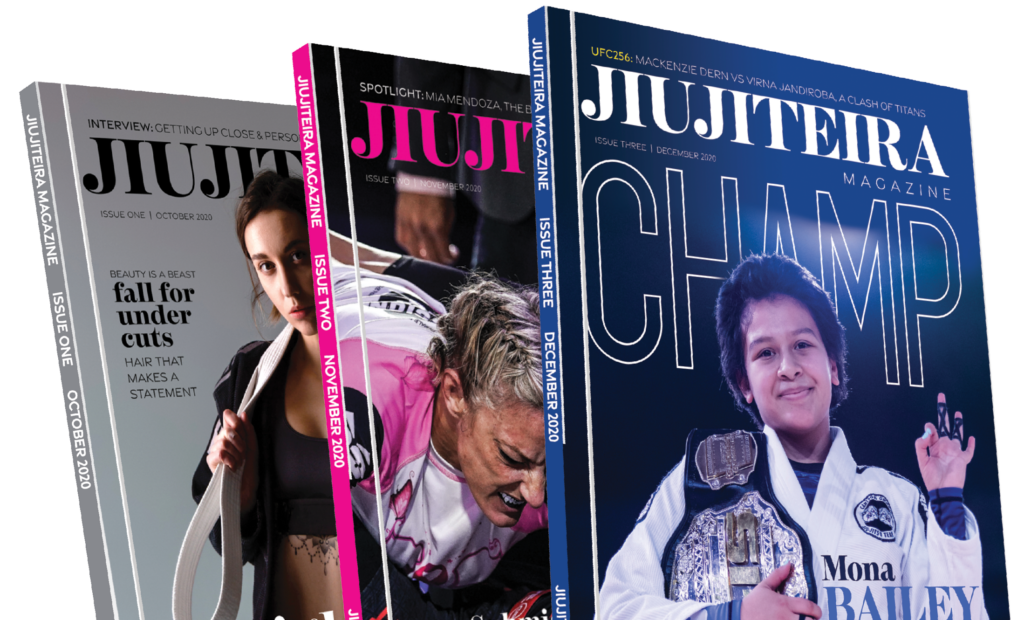 Our printed magazine is full of extraordinary women with extraordinary stories, get your printed copy via mail today >