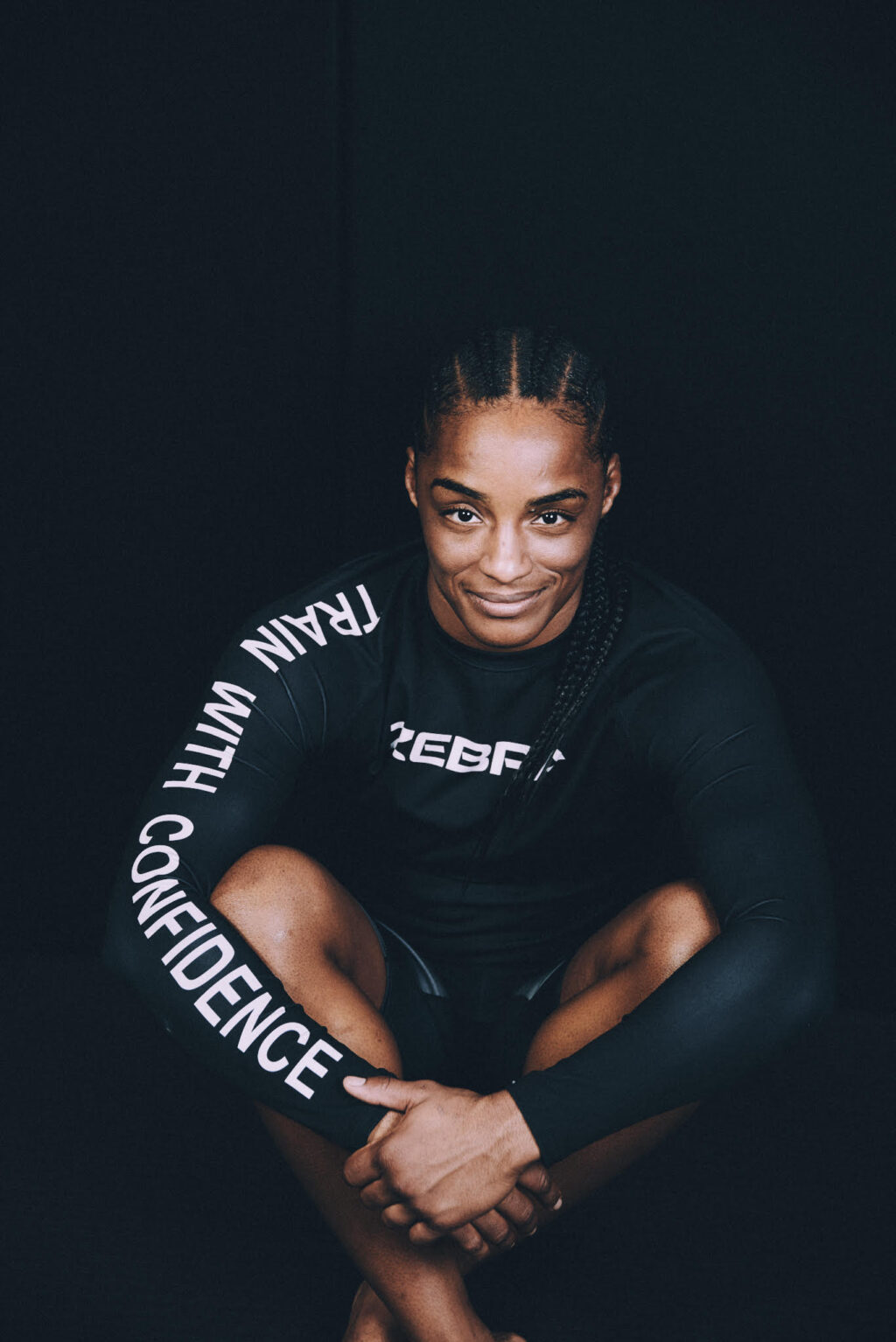 Story By Evelyn Sutton. Photos by Zak Welch, Asymmetrical Dystopia
---
Akeela AK Al-Hameed is one of the toughest women you will ever meet. A BJJ black belt and MMA fighter, she served in the army, is currently a firefighter and works part-time at a jail. Besides being tough, she's also someone who cares about others and hopes to be a positive influence in people's lives.
---
JM: Tell us about yourself. How did you get involved with Jiu-Jitsu and MMA?
AA: I grew up playing basketball through high school and a little bit in college, then I joined the army. I served for eight years. I deployed once and when I came back, a friend of mine said "you look like you can fight. Come to my gym!" So I did. And you know what… I was army, pretty fit and I thought I was kinda tough. Well, I got beat up. I was like, "I'm coming back tomorrow." And I got beat up again! After that I said, "sign me up, I need this!". That's how I started with Jiu-Jitsu, Muay Thai, and boxing. Currently I'm a Minneapolis firefighter and I work part-time at a jail.
JM: How did your journey with Jiu-Jitsu unfold?
AA: Minnesota is a wrestling state and I didn't really like Jiu-Jitsu at first because a lot of people who train here have that wrestling background and it's such a grindy background. I was constantly getting my face smushed, I was getting smothered and there were no other women at the gym that I was at. I was the only woman for about two years other than the coach's wife. I really hated Jiu-Jitsu in the beginning. But it was a necessary thing because I wanted to do MMA. And my coach was adamant: "you have to do this", so I was like, "ok, fine." Then somewhere around my purple belt, I started to have fun with it and everything changed! My attitude went from "I hate this" to "I love this!" and Jiu-Jitsu took over.
JM: Tell us about your first BJJ competition:
AA: I had been training for six months and I had never submitted anybody at my gym. I never even won one match at my gym. But all my teammates were so encouraging, they would say, "you are going to do great at competitions!" And I'm thinking to myself: "What?! I get beat up by everybody here, everyday, there is no way I am going to go out there, do a competition and win." But yeah… I went out there and I did win.
JM: Once you started competing, when did you know you wanted to pursue this as a career?
AA: Right away. I enjoy the competition part of Jiu-Jitsu even more than I enjoy MMA because you know you will have matches. With MMA, you may get an opponent and they may back out. You spend all this time training and you don't get to fight, so that part kinda sucks. But with Jiu-Jitsu, I can potentially have four matches in one day at a tournament, and that's pretty nice.
JM: How did you transition from BJJ to MMA?
AA:MMA is what I originally wanted to do but my coach had a formula where he wanted me to do a number of Jiu-Jitsu, kickboxing and Muay Thai matches and once he thought I was ready, then he would set me up with a MMA match. I followed his plan and did five MMA fights.
JM: You've fought for Invicta. How was that?
AA: Even though I lost by decision, the whole experience was awesome. Shannon is all for women and women's martial arts. She made it really easy. The production is incredible. Invicta is an amazing organization for women in MMA.
JM: Do you feel that the male-dominated environment of MMA is even more restrictive than BJJ when it comes to women?
AA: Yes, absolutely. In recent years Jiu-Jitsu has really opened up more for females, especially with all the opportunities that so many promotions now offer women. I also think women are more drawn to Jiu-Jitsu for maybe self-defense reasons. MMA is still very tough for females. There was a point in time when I felt I wasn't getting as many fights, not for being a woman but because of the way I look. Nobody ever told me this but I felt that because I'm muscular, I am not the typical feminine type, that hurt me in getting matches. Other females would look at me and say, "I don't want to go against her, she's probably on steroids…" all this crazy stuff. There were so many accusations. And it was never true. Where with men, they see a tough guy and they want that guy. Women are a little bit different. In that aspect, I felt like I could've had more fights but nobody wanted to fight me.
JM: What's your most memorable fight to date?
AA: That's a weird question because I don't really remember my fights. Once it's over, I'm like… "what just happened?". But I would say that my most memorable fight is one that happened recently at IBJJF Masters World. It was the first time that I grappled with a black belt female. Coming up, all the way from white belt to black belt, I never had the opportunity to roll with a female black belt. I signed up for the tournament and I didn't know what to expect. All my guy friends were confused. I told them, "what if you had never rolled with a black belt male and then you were going to go compete against one?"
---
---
JM: Who are some of the women in MMA and BJJ who inspire you?
AA: Number one is Gaby Garcia. Gaby inspires me for the reason I spoke about before. She gets a lot of flack for how she looks and that's stupid to me. But she doesn't let it affect her. She keeps pushing forward and I love that about her. Leticia Ribeiro, she's another one. She's amazing! I love watching her videos and watching her coach. I try to pick up on techniques when I watch her. Any woman really, whatever belt or skill level, I'm always a fan because I know what they had to go through to do this. It's not fun most of the time. And if you are willing to stick it out as a woman in this crazy sport, then you're amazing to me.
JM: Describe a day in your life when you're not preparing for a fight:
AA: I talk to my plants. I have a lot of plants. I garden when it's not snowing. I love being outside. I love growing my food and getting my hands dirty in the soil. It's very relaxing to me. I also travel a lot. I try my best to get out of the country at least twice a year. I'm addicted to traveling and the culture shock of different places.
JM: Since you love traveling, what places are in your bucket list:
AA: My brother is actually going to Cartagena and I told him, "tell me what it's like and then I'll be going too." Other than that, Costa Rica is on the list. Japan is a big one on my list. I'm trying to plan that one out because I want to spend at least a month there. Then everywhere really. I want to travel everywhere.
JM: Does anybody else in your family fight?
AA: No, just me. I wanted to box when I was sixteen years old and my mom was like, "no, you're not doing that. You're going to play basketball." So I did. Now that I'm older, she watches my fights and says, "Wow! You are really good at this!". My family is super supportive. My brothers are fairly large, pretty big and they tease me around saying I can't take them… I'm like "yeah whatever…". It's all in good fun and I let it slide.
JM: What's it like being a firefighter? And how did that happen?
AA: One of my old training partners was a firefighter and he told me that I should go apply. That was five years ago. I applied and I got a call. I was surprised and excited. Being a firefighter is amazing! But I wasn't prepared for the amount of death that you see on the job. Nobody really explains that part to you when you're considering becoming a firefighter. You think you're going to go fight fires, help EMTs, go on certain medical calls but there's a large part – especially nowadays with the opioid crisis and the amount of homelessness and violence going on in Minneapolis – that involves death. There's a lot of death. I wasn't really prepared for that. I believe that my outside lifestyle of Jiu-Jitsu prepared me to have the empathy, compassion and understanding you need as a firefighter because of all the stuff you see. And you just gotta know that everybody's journey is different.
JM: Are there any other female firefighters in your department?
AA: Yes, we have a lot of ladies. And I'm grateful for them. They paved the way for us younger women coming in. The department back then when they started was the 'good old boys club' and that's no fun.
JM: You also work at a jail?
AA: Yes. I work part-time at a jail as a corrections officer. I've been there seven years. It's a low level jail where people are there for about a year. It's a mix of men and women. I enjoy it a lot. I wasn't always a good kid and one day a police officer said something to me that clicked in my brain. And I turned my life around. If I can do that for one of those inmates, it's all worth it. If I can show some interest, say something positive to them, be honest and real with them, maybe something will click in them too.
JM: Did you ever have a situation where you had to restrain an inmate?
AA: Oh, yeah, a couple of times. It never was anything crazy. Usually when someone acts out and they need to be restrained, they kinda want to be restrained, if that makes sense. They don't really resist. I mean, you got four people on one, they are not going to fight much.
JM: What's your advice for women who want to compete in BJJ or MMA?
AA: Just keep showing up, find a gym that you really love and keep coming to class. What I did was, I found someone in the gym I could latch on to and I would follow them everywhere and try to do what they were doing and it helped me. That person really took me under their wing too, especially later on when they realized I was serious about competing. Try to find someone who can show you the ropes and help you navigate the environment. If you're not feeling good one day, they can recognize it and help bring your focus back to your training. Especially being a woman, if you're getting beat up every single day, there's going to be a day when you don't want to go back to class, if you have a person at the gym who is invested in you, hopefully, when they don't see you for three days, they will reach out and get you back in class. Often, someone who cares is all the motivation you need.
JM: What are your hopes for the future of women in combat sports?
AA: I hope the pay equals out, and there are many more opportunities for women to get paid in the sport. I hope there are more opportunities to be seen and recognized as a female athlete. And worldwide, not just in Brazil, the United States and European countries, but all over the world, I hope more women have the opportunity to train in combat sports and martial arts if they want to, without restrictions.
JM: And what does 2022 have in store for you?
AA: I don't know. I'm going to have fun and get beat up, enjoy a little bit of time off but I know the competition bug will bite me soon, and 2022 will be nice just like 2021 was.
---
---
---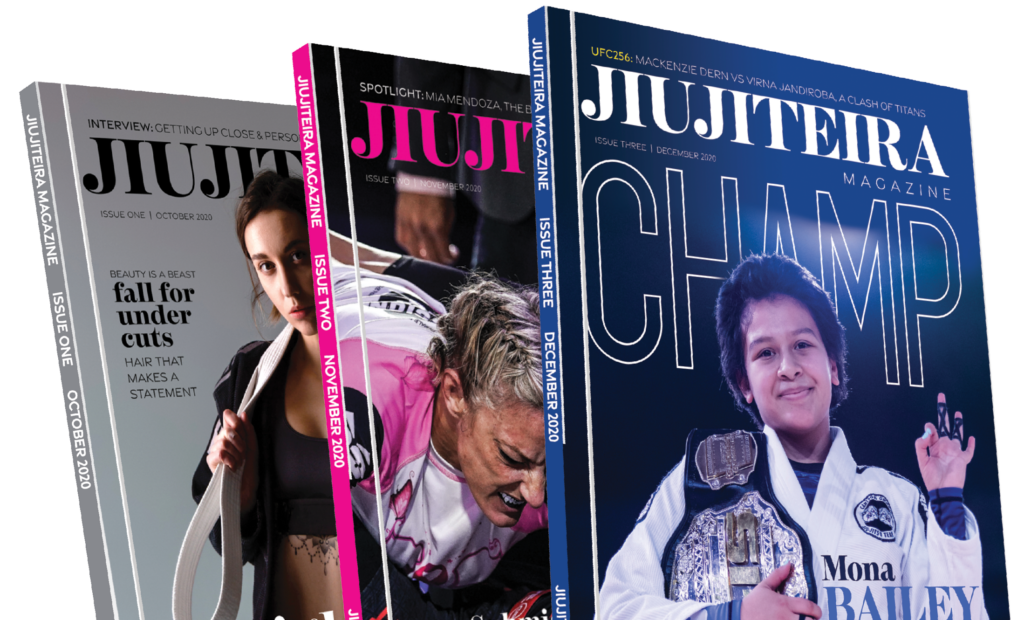 Our printed magazine is full of extraordinary women with extraordinary stories, get your printed copy via mail today >