Lila Smadja-Cruz, Women's NoGi Trailblazer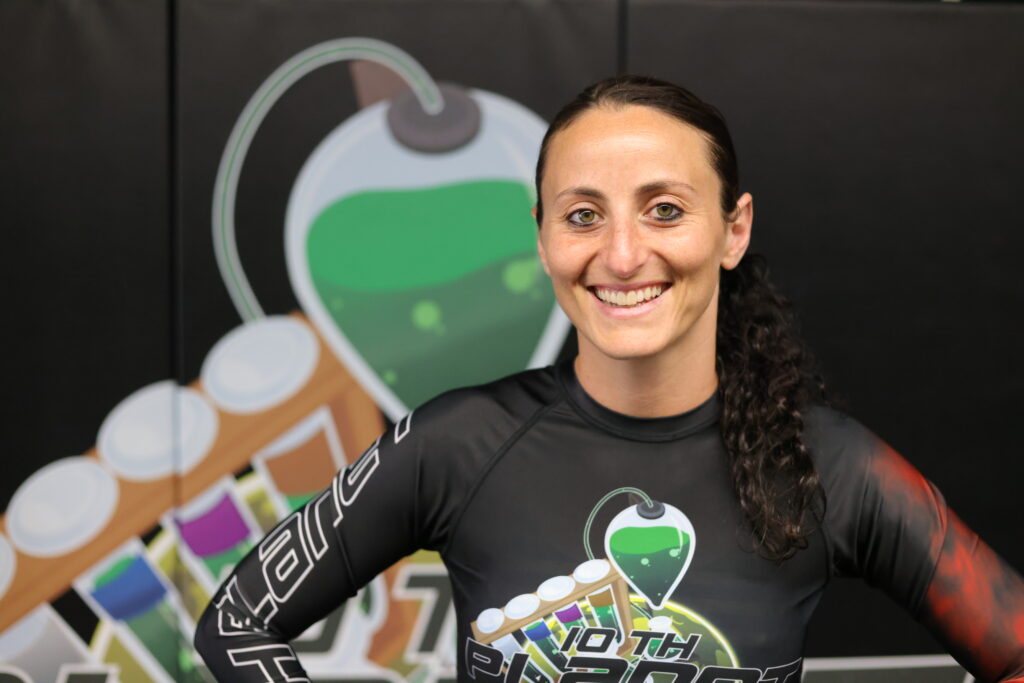 Story and Photos By Blanca Marisa Garcia
---
Passionate about women's self-defense and Jiu-Jitsu, Lila Smadja-Cruz, is one of the top female competitors and pioneers in the sport. As one of 10th Planet HQ's original and longest training students she is the 3rd black-belt under Eddie Bravo. In 2016, she co-founded the original 10th Planet Women's Self Defense program stationed out of 10th Planet Pasadena where she runs the Fundamental Program and Kids Program.
---
JM: How long have you been training Brazilian Jiu-Jitsu?
LC: I've been training Jiu-Jitsu for 12 years and I am the third black belt under Eddie Bravo.
JM: What do you think about Medusa Female Only Jiu-Jitsu?
LC: I love it! I think it's super exciting and I really hope to get to be on the show in the near future. I'm dealing with a couple of injuries right now but hopefully once I get them situated I can be on Medusa.
JM: How long did it take you to earn your black belt?
LC: About 9 years.
JM: During that time you were engaged to a black-belt, Erik Cruz, who is your husband now. How was that experience?
LC: It was interesting. I started training because of Erik. I was taking private lessons from him, he got me into the sport and showed me the ropes. I fell in love with the sport and with him, obviously. And then I did the all-female EBI 12. I was getting ready for it and my wedding was a week later. It was a really epic few months of living a double life, I was going to training and then going to wedding dress fittings. It was super fun and it made me not worry so much about my wedding. I had a great performance at EBI, I didn't take home the win but that's okay, it was still fun. Then I got married a week later and got my black-belt after my trip to Japan with the all-female quintet when I went with Liz Carmouche, Elvira Karpinnen, Grace Gundrum, and Fabiana Jorge. It was such an awesome trip and after we came back from that trip I got my black belt from Eddie Bravo.
Watch Lila in the Quintet on Fight Night 3, April 8 2019:
---
JM: Talking about the quintet, that is one of the very first international all-female cards, correct? How did you feel about performing with the other ladies?
LC: Yes, it was! Honestly, it was like a sisterhood between us. It was one of the best experiences of my life. All five of us have such different backgrounds, we come from five different worlds, five different personalities and we just all connected in this really interesting way because there was a lot of quality time, we were all together, just us and Eddie, who is the best icebreaker, he was making us laugh on the way to the venue, press interviews, all the things we had to do. It was a really great experience. We all got to know each other and forged a bond the five of us are going to share forever, for sure.
JM: Did you ever envision that you were going to be running your own school in Pasadena?
LC: Not really. I definitely envisioned having my own women's self-defense program somewhere and flourishing that but not necessarily owning a gym. But then my husband Erik "Compella" Cruz and Eric Ramey, my husband's business partner, had been talking about opening a gym, 10th Planet Pasadena, for about a year before it happened. We knew then this was going to be a part of our journey together and we were lucky enough to have Eric Ramey be a part of it as well. It's been a blessing to have this family that we created here in Pasadena.
JM: In the past couple of years (because of the pandemic) have you seen an increase in women enrollment?
LC: I've seen an increase in women enrollment but not an increase of women staying consistent, which has always been the struggle. It's definitely my goal, passion and drive to get women not only to enroll but to stay consistent with their training. When they come in for a women's self defense program or seminar,  they leave feeling amazing and they often sign up, but then only come to one or two classes. 
JM: What are your feelings in regards to ADCC being one of the oldest tournaments, the "Olympics of Jiu-Jitsu" and yet having only two weight classes for women?
LC: Now that there are more women competing, I definitely think there should be at least one extra weight class. I'm on the smaller side of the 115lbs weight class, and I believe for ADCC the weight class for women is 135lbs and under so for people like me,  Grace Gundrum or Danielle Kelly who are really tiny it's very hard to go against women who are cutting down from 150lbs to get to 135lbs. I think ADCC should open at least one more division in the women's lower weight class to start and see how that goes. It would help more smaller competitors do ADCC trials.
Watch a segment of the exclusive interview for Jiujiteira Magazine:
---
JM: What do you think is best for Jiujiteiras who just started BJJ but who are continuously training and competing? Do you feel they should go to high end IBJJF and ADCC competitions automatically or do you think they should start with smaller local tournaments first?
LC: For anybody just starting out in Jiu-Jitsu they should start with smaller local tournaments and work their way up because it's only going to give them more experience, more mat time. Nowadays we have so many more opportunities for women to compete in smaller tournaments – we got NAGA, we got SubFighter and many more other tournaments in between, I think it's great! I know for me personally, I started with all these small tournaments. I think it's nice to have these small ones first before you hit the big stages of EBI, Medusa, Combat Jiu-Jitsu, ADCC, IBJJF… those small ones are a great ladder to the top.
"It's definitely my goal, passion and drive to get women not only to enroll but to stay consistent with their training."
JM: How do you see the future of women in NoGi?
LC: I have high hopes for the future of women, especially in NoGi. I know that Gi is still more popular for women but since Eddie Bravo has brought up EBI, Medusa and Combat Jiu-Jitsu – maybe they are interested in getting into MMA after – that has been giving women more opportunities to compete in such a great forum where it's all women based. I definitely think Eddie Bravo really opened the doors for women in NoGi to compete at the highest level. I was watching the most recent Medusa from home and some of the girls I had never even heard of before, and they were amazing! It's so great to see all these up-and-coming young women showcasing their skills, their heart, dedication and hard work to the sport on a major stage.
JM: What are some of the fun things you enjoy outside of Jiu-Jitsu?
LC: I love spending quality time with my family and close friends who are like family. Life is short so you really got to take in all the goodness of your family and friends. Besides that I like to eat and cook, my favorite dish to make is bolognesa. I love cooking and having people come over. I also have a sweet dog I love, Moca, he's always with me and enjoys hanging out at the gym. 
---
---
---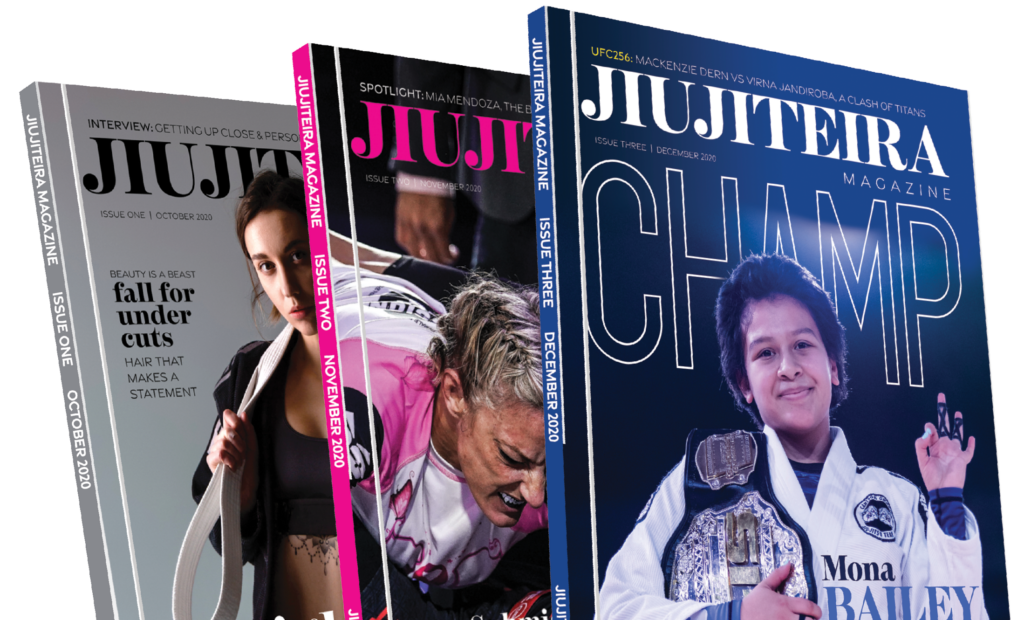 Our printed magazine is full of extraordinary women with extraordinary stories, get your printed copy via mail today >