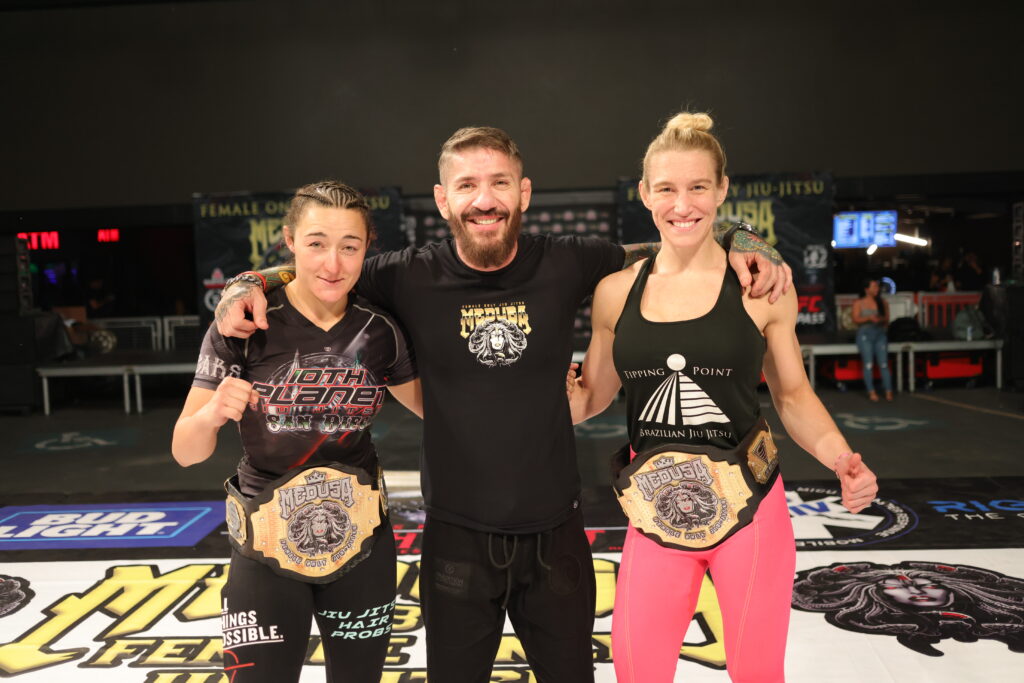 Story by Evelyn Sutton. Photos by Blanca Marisa Garcia / Medusa
The third installment of Medusa Female-Only Jiu-Jitsu Invitational took place on Saturday October 22, in El Paso, TX. Both Medusa veterans and newcomers took on the stage at Speaking Rock Entertainment Center to deliver what turned out to be incredible performances that kept the audience engaged and cheering on their favorites. Every match was exciting to watch and had its own notable moments. The show included recognizable names such as UFC Star, Angela "Overkill" Hill, BJJ rising star Trinity Punn, and Medusa 2 Champions Aislinn O'Connell and Sophia Cassella. UFC fighter Vanessa Demopoulos, was also in attendance as the female commentator. Vanessa's depth of martial arts knowledge and light hearted sense of humor greatly contributed to the success of the event, the audience loved her timely jokes and she even came up on stage in between rounds to take photos with fans.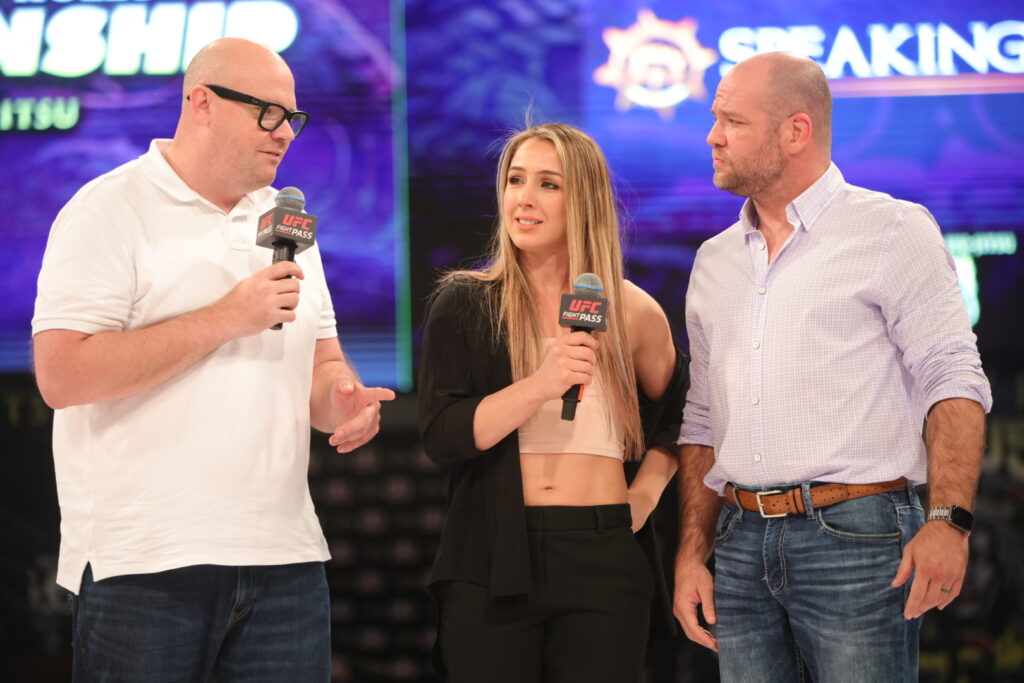 ---
Featuring a EBI-rules Bantamweight Tournament, a Combat Jiu-Jitsu Flyweight Tournament, and two special matches, the outdoors event ran smoothly with a music festival vibe and atmosphere that elevated the female athletes and put them in the same stratosphere as their male counterparts in the sport, which is exactly the type of opportunity women in Jiu-Jitsu need, a chance to showcase what they can do, at the highest level, on a big stage. The impressive production not only complimented the skillful athletes but also showcased them as women's NoGi Jiu-Jitsu rock stars. At only its third installment, Medusa is already positioned as the best organized, promoted, attended and competitive female-only promotion currently in existence.
Claire North, the new Medusa EBI-rules Bantamweight Queen
Brazilian Jiu-Jitsu black belt, Claire North came to Medusa with only one goal in mind, win. And win, she did. North defeated every single one of her opponents by submission as fast as possible, some with moves she had just learned in class, and made history by becoming the first ever Medusa EBI Bantamweight Champion. North honored her husband, John Gutta, on a post in her IG after her victory:
"One of the coolest parts of this weekend was successfully performing several moves @jguttabjj recently taught in class… It is really common to see people get to the top of their profession (graduate from a program, get a black belt, get a promotion, etc) and stop evolving because evolution is HARD. It's hard to change the way you have taught something for years, to actively seek out and understand the new meta games that look goofy af at first, and to learn moves for your students that you yourself would never do. But that's what he does. As someone that lives with him and sees firsthand how hard he tries and cares day in and day out, it was really cool for me to get to honor his efforts by getting to hit some of those moves in the competition this weekend."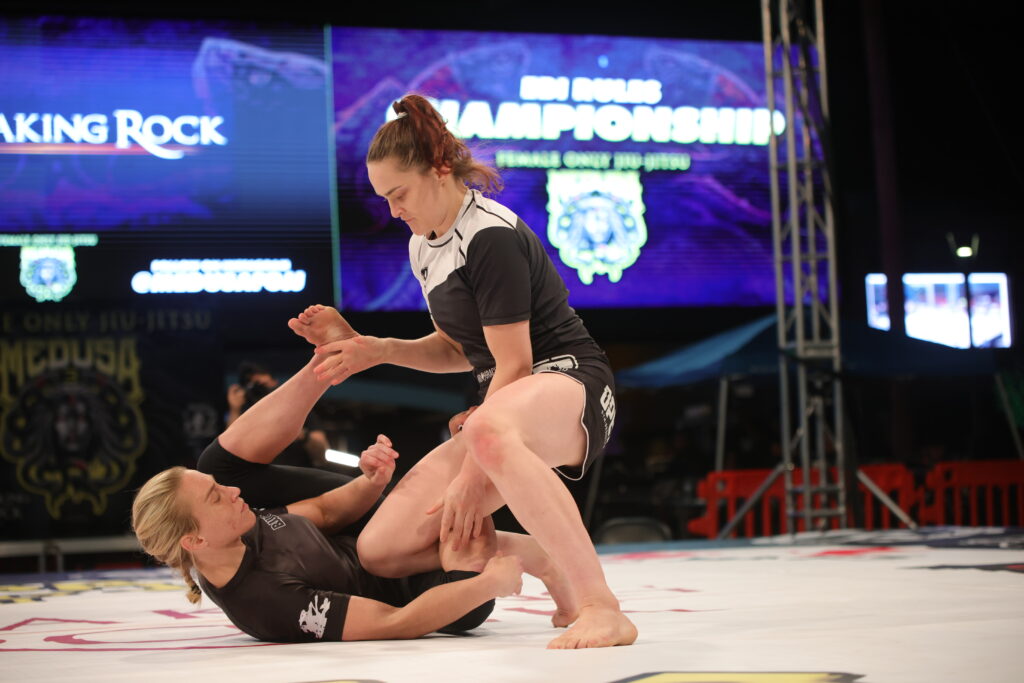 "One of the coolest parts of this weekend was successfully performing several moves John Gutta recently taught in class… it was really cool for me to get to honor his efforts by getting to hit some of those moves in the competition this weekend."

Claire North, Medusa 3 EBI Bantamweight Champion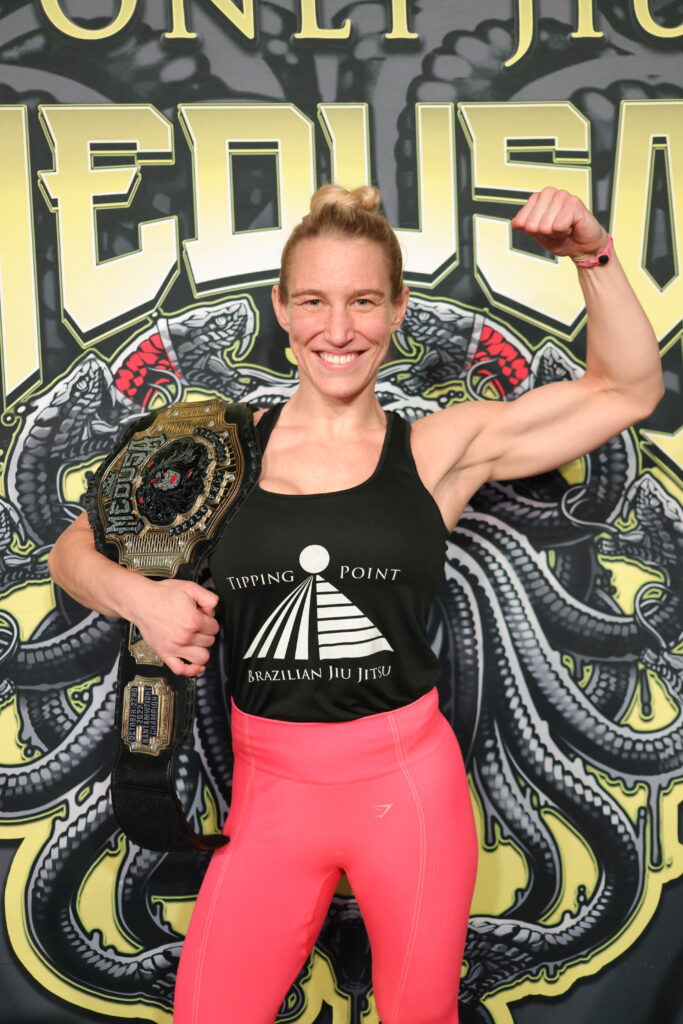 ---
Bre Stikk, the first Medusa CJJ-rules Flyweight Queen
After overcoming a series of curve balls life has recently thrown at her, athlete Bre Stikk fought her heart out at Medusa 3 staining the mats with sweat, tears and blood. Her sacrifice, however, was rewarded.
In the semifinal, Bre faced off Jessica Delboni in an intense battle, she won the round with a beautiful kimura that firmly locked her place in the final against Kiaya Jackson.
During her acceptance speech, Bre took the opportunity to bring awareness to an organization she supports, All Things Possible, a ministry that helps women who have been victims of sex trafficking, abuse and domestic violence, as well as children and military personnel victims of trauma.
---
Learn more about All Things Possible:
---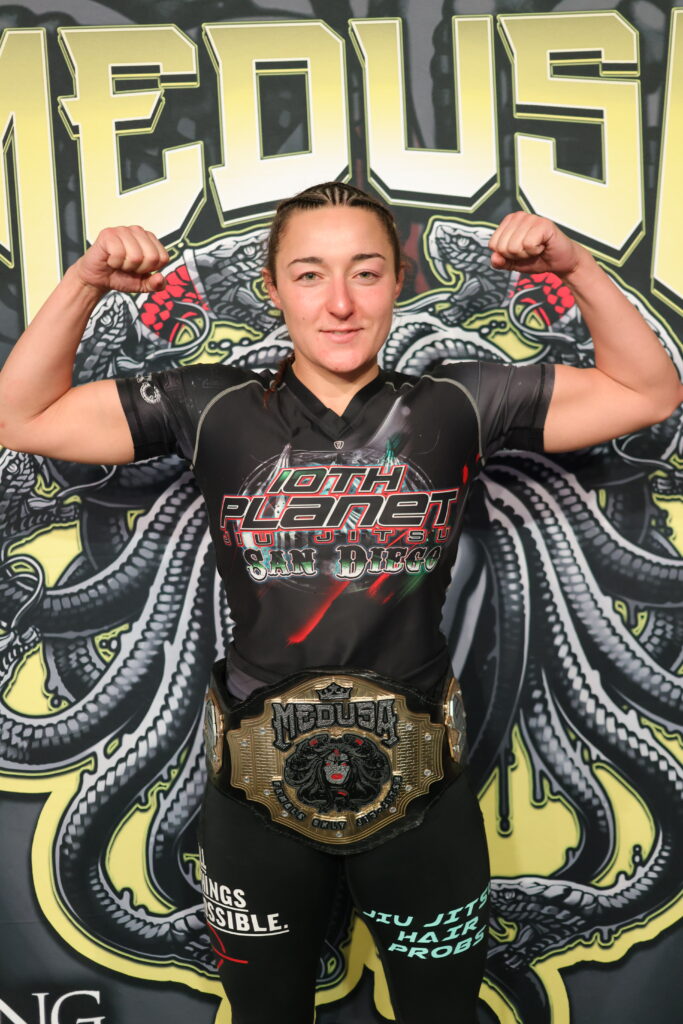 ---
Impressive Debut and hope for the future: Zelie Dolan, from The B-Team
Immediately after the most recent ADCC, there was some heated chatter on social media concerning the lack of female champions coming out of gyms such as New Wave Jiu-Jitsu, Daisy Fresh and The B-Team. (Watch interview with John Danaher on the subject). Considered meccas of modern BJJ, these teams have been now for a few years consistently producing champions who absolutely dominate the competitive NoGi circuit – Gordon Ryan, Garry Tonon, Giancarlo Bodoni – yet until date, not one of them has been a woman. After her impressive debut at Medusa, there is hope that Zelie Donan might be just the woman we've been waiting for to change the status quo.
Training at Craig Jones' gym alongside some of the most elite competitors in the world – Nicky Rod (who won EBI 20 The Absolutes the same weekend as Medusa), Nicky Ryan, Ethan Crelinsten, Izaak Mitchell, Damien Anderson – Dolan along with teammate Paola Ambriz, who competed in a special Combat Jiu-Jitsu match against Mercedes White on Sunday night at EBI 20 Invitational and earned the title of most exciting match of the night, are proof women can rise to the same level of athletic excellence as the best men in a sport, despite of how male-dominated it may still be, and the reason events such as Medusa Female-Only Jiu-Jitsu are vital for the growth and evolution of our Jiujiteira community.
---
Created by Eddie Bravo and Victor DaVila, the masterminds behind EBI, Medusa is on a mission to become the greatest Jiu-Jitsu organization for women in the sport.
---
Medusa 3 Results:
---
Finals
CJJ Rules Flyweight Finals
Bre Stikk (CHAMPION) defeats Kiaya Jackson via fastest escape
CJJ Rules Flyweight Special Match
Brittany Cowan defeats Alandria Brown via Armbar
EBI Rules Bantamweight Finals
Claire North (CHAMPION) defeats Peyton Letcher via Kimura
EBI Rules Bantamweight Special Match
Zelie Dolan defeats Rene Gamet via Heel Hook
---
All Other Results
CJJ Rules Flyweight Semifinals
Bre Stikk defeats Jessica Delboni via Kimura watch video
Kiaya Jackson defeats Sheliah Lindsey via Guillotine Choke
EBI Rules Bantamweight Semifinals
Claire North defeats Sophia Cassella via Armbar
Peyton Letcher defeats Aislinn O'Connell via Heel Hook
CJJ Rules Flyweight Semifinals
Jessica Delboni defeats Chrissy Briggs via Submission Kneebar
Bre Stikk def. Alandria Brown via Submission Rear-Naked Choke
Kiaya Jackson defeats Alesha Zappitella via Rear-Naked Choke
Sheliah Lindsey defeats Angela Hill via Fastest Escape
EBI Rules Bantamweight Opening Round
Claire North defeats Leticia Yuka via Z-Lock
Sophia Cassella defeats Lauren Jones via Submission Armbar
Aislinn O'Connell defeats Joanie Chamberland via Rear-Naked Choke
Peyton Letcher defeats Trinity Pun via Armbar
---
Watch Full Replay of Medusa 3 on UFC Fight Pass >
---
---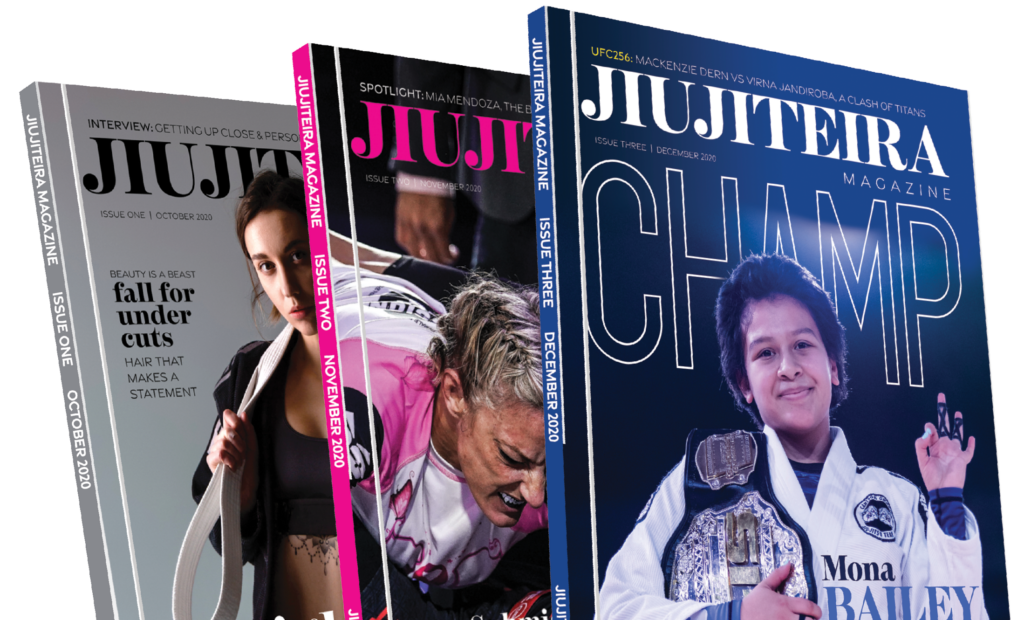 Our printed magazine is full of extraordinary women with extraordinary stories, get your printed copy via mail today >