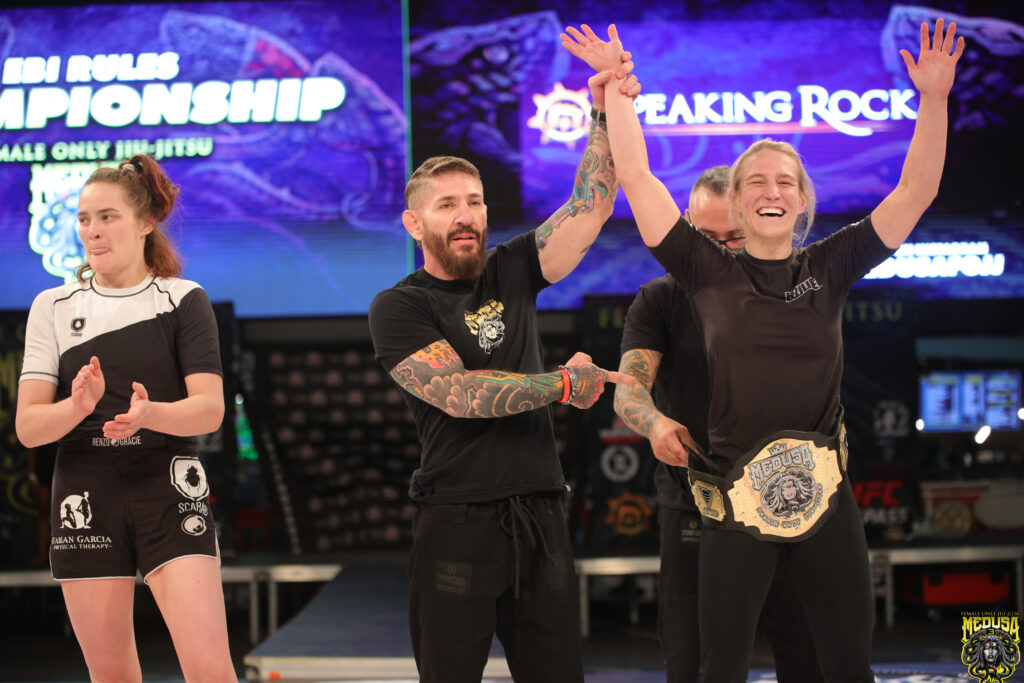 After blowing away the bantamweight division at Medusa 3 by submitting every opponent who stood between her and the coveted belt, Claire North talks to Jiujiteira Magazine about her experience at the event, the journey started ten years ago at the University of Iowa and the significance of events like Medusa for female athletes in Brazilian Jiu-Jitsu
Story by Evelyn Sutton. Photos by Blanca Marisa Garcia / Medusa
An athletic child growing up, Claire North was very interested in wrestling, however that wasn't something girls in Des Moines, Iowa were encouraged to do. It wasn't until the age of 18, when she moved to Iowa City, to study at the University of Iowa and pursue a career as a pharmacist that Claire started training Brazilian Jiu-Jitsu. The university offered a BJJ club for the students, she joined the club, fell in love with the martial art and fell in love with a fellow student, her now husband and coach, Professor John Gutta, who she met in the grappling club. Claires' relationship with Gutta and with Jiu-Jitsu continued to flourish past her university years and she earned her black belt from Professor Gutta on December 2019, becoming the very first Brazilian Jiu-Jitsu female black belt from Iowa.
Pharmacists are highly trained professionals, it's no surprise that her classes were demanding and required all of her focus, thus competition wasn't something she had time to dedicate to. Once a graduate, Claire was ready to put to the test all the skills she was learning on the mats and let her competitive nature and athleticism shine. While working full-time as a pharmacist, she went on to achieve impressive accomplishments at major IBJJF events. During the same time, Claire moved to Cedar Rapids and opened a gym with her husband, Tipping Point BJJ.
---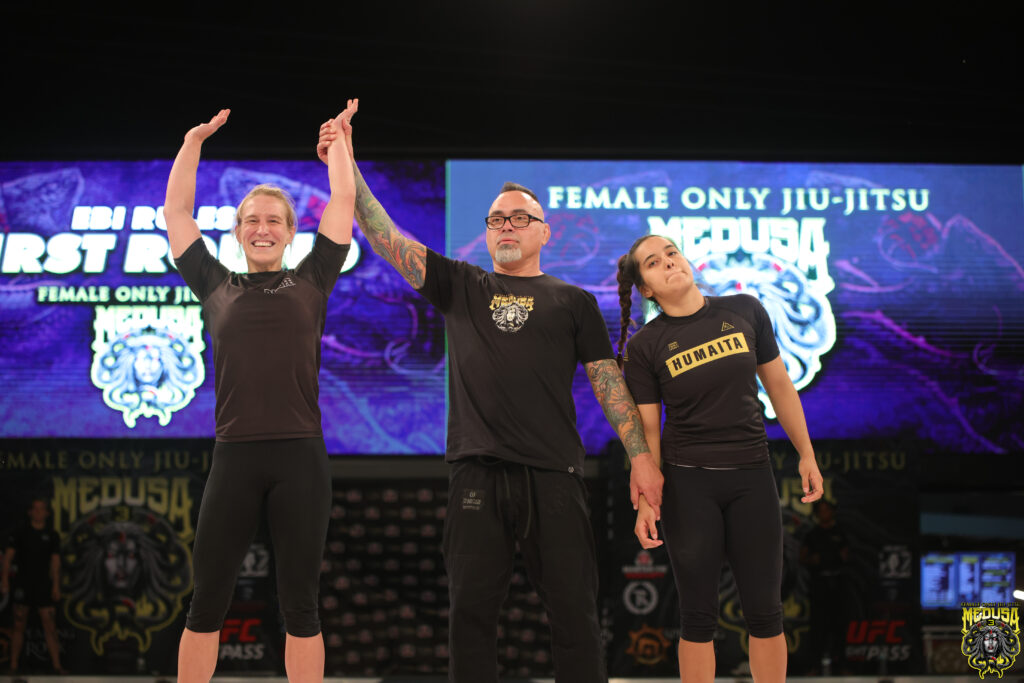 ---
After training exclusively in gi for almost a decade, Claire got hooked on NoGi this past year, and the practice has become a new creative outlet for her, where she gets to play in the lab once again and experiment with her Jiu-Jitsu from a fresh perspective.
"I've switched over to NoGi and I find it to be a lot more fun. I like the different rules, the opportunities to experiment with entries to submissions and how much more exciting the matches are, particularly in women's NoGi Jiu-Jitsu."
When it comes to challenges on the mat, Claire brings up when, as a blue belt, she tore her ACL and had to take some time off from training and competing to recover. She attributes the injury to her wrestling, which is something Claire wants to advance and develop.
"Wrestling is something I know I really want to work on. I want to be proficient at it. I'm from Iowa and it seems like everybody in this State is already so good at wrestling, sometimes it feels like it's hard to learn but that is my focus for the upcoming year."
Claire considers herself privileged for having been able to depend on the full support and encouragement of her husband/coach from the very beginning of her Jiu-Jitsu journey, however she realizes that is not the case for many women in BJJ. To all the Jiujiteiras out there, competitors and hobbyists she offers some advice:
"Whether you are a competitor or not, there are always wins and losses. Whether it's on a roll in the room, whether it's in competition, the good/bad, yes/no, kind of mentality, tends to slow your progression. If instead, you think in terms of, what are the little things that you've accomplished? Were you able to hit a move that you hadn't been able to hit previously, were you able to do more rolls than previously? In competition, were you able to get to your spot? Just breaking things down into smaller wins is really good for longevity."
---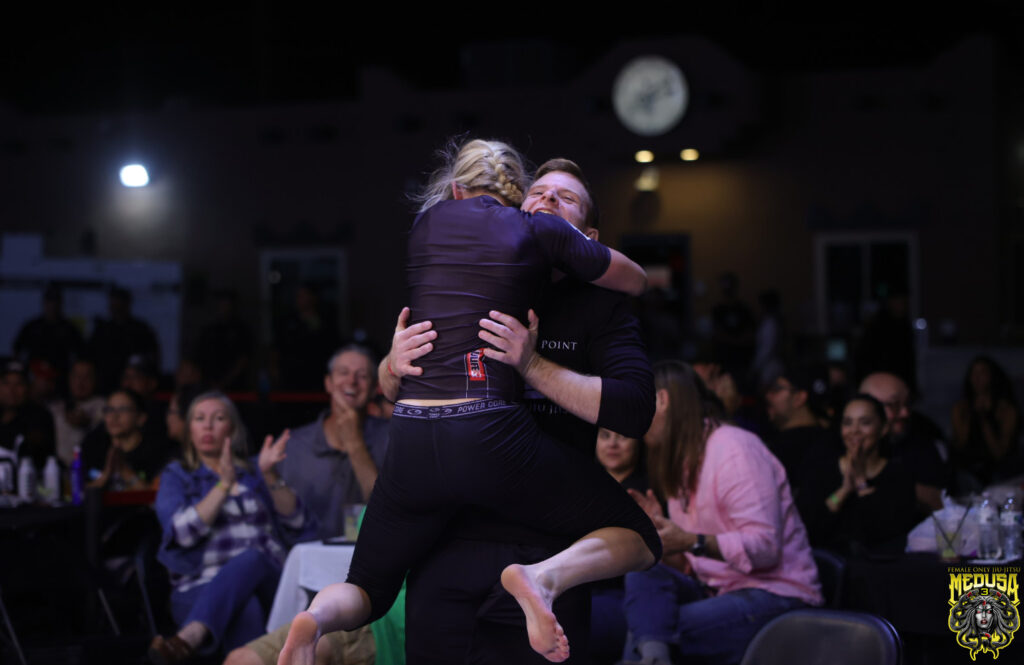 ---
Longevity at the top of this sport is something Claire is making sure she has. At Medusa 3, Claire managed to submit every opponent that stood between her and the bantamweight belt with an exciting performance that included a choi bar submission over four-time no-gi Pans world champion and Medusa 2 strawweight champion Sophia Cassella, as well as a tight kimura on Peyton Letcher in the finals.
Medusa Female-Only Jiu-Jitsu is currently the only promotion truly committed to radically changing the landscape of women's Jiu-Jitsu for the better, by simply elevating female athletes to the same level of respect and exposure their male counterparts have enjoyed since the inception of the sport. That is evident in every detail of the event, from the talent selection, the stage setup, multiple immersive big screens all around the stage, the high level production and marketing, the UFC Fight Pass streaming, Medusa gets the same attention and dedicated team as EBI.
"To be honest, it felt like the same show on both nights", Claire North said about the undistinguishable level of production for both Medusa and EBI.
The future promises more significant titles for the new Medusa bantamweight queen: "I'm definitely going to compete at NoGi Worlds in December, and the ADCC Trials in 2024."
In preparation for the upcoming NoGi Worlds, Claire is working on elements she noticed during NoGi Pans, such as tightening up entrances and how to handle an opponent who doesn't engage. She continues to finesse and adapt her NoGi game to playing by IBJJF rules versus competing at Medusa under the EBI ruleset. Finally, her majesty is dieting after a well-deserved week and a half of celebrations, as indulging in her favorite snacks while cuddling with the world's mushiest dogs – as she affectionately calls them – a Bullmastiff and an English Bulldog.
---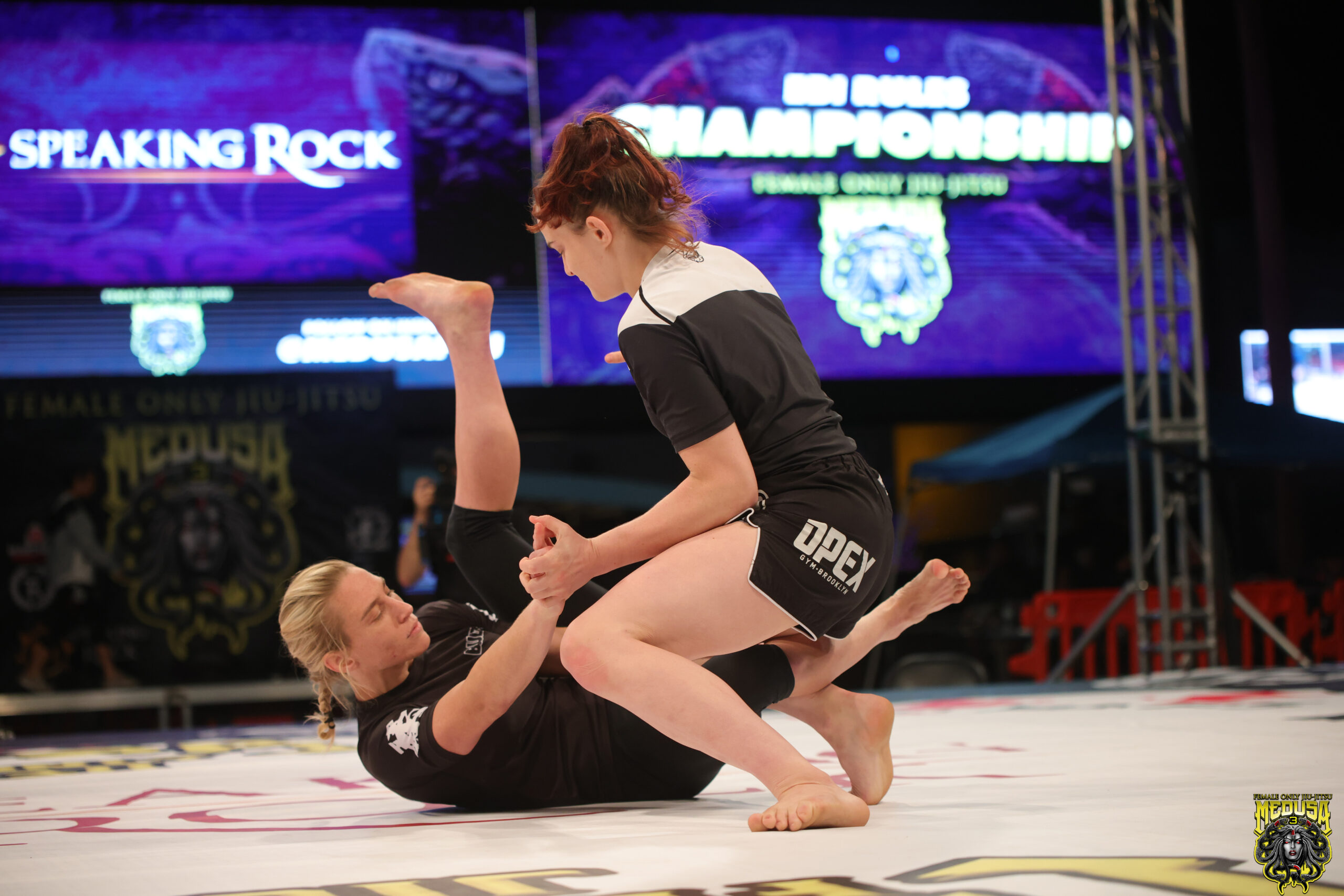 ---
JM: How did Medusa come about for you?
CN: For myself competing at Medusa 2 was almost serendipitous in the sense that I was aware of it and I knew it was happening, but it wasn't until I saw a post from Eddie Bravo looking for a female to fill in a vacancy in the 135lb division because somebody had dropped out that I realized they were looking for me. I had just made a new year's resolution that I was going to take more chances with competitions and put myself out there when I saw Eddie's post and it really felt like it was a perfect coincidence. I sent him a message and it turned out the spot was for Combat Jiu-Jitsu. I've never done any striking in my life and the girl I was going against was a very good striker, but still, I wasn't going to back down. I challenged myself and took a chance and I am so glad I did. This time around with Medusa 3, once I saw I could compete under EBI rules, I couldn't wait to do it, I was so excited to be part of the show!
---
JM: Your performance was incredible, all wins by submission, including a brand new move you had just learned days before the event. Tell us about that experience:
CN: It was amazing. The move you're talking about is a Z-Lock and it was just something my coach had seen on YouTube four days before Medusa. He does a lot of planning and research, staying on top of current techniques and how our sport is evolving. This was something we discussed as a good option for a double pull situation which is very common in women's Jiu-Jitsu. I wanted to have a better leg lock entry in my arsenal, and once we found the Z-Lock we learned it, drilled it for like 6 hours at our gym that week and it worked. When it came up during my match, I was thrilled! It was awesome to win by using something I had just learned.
---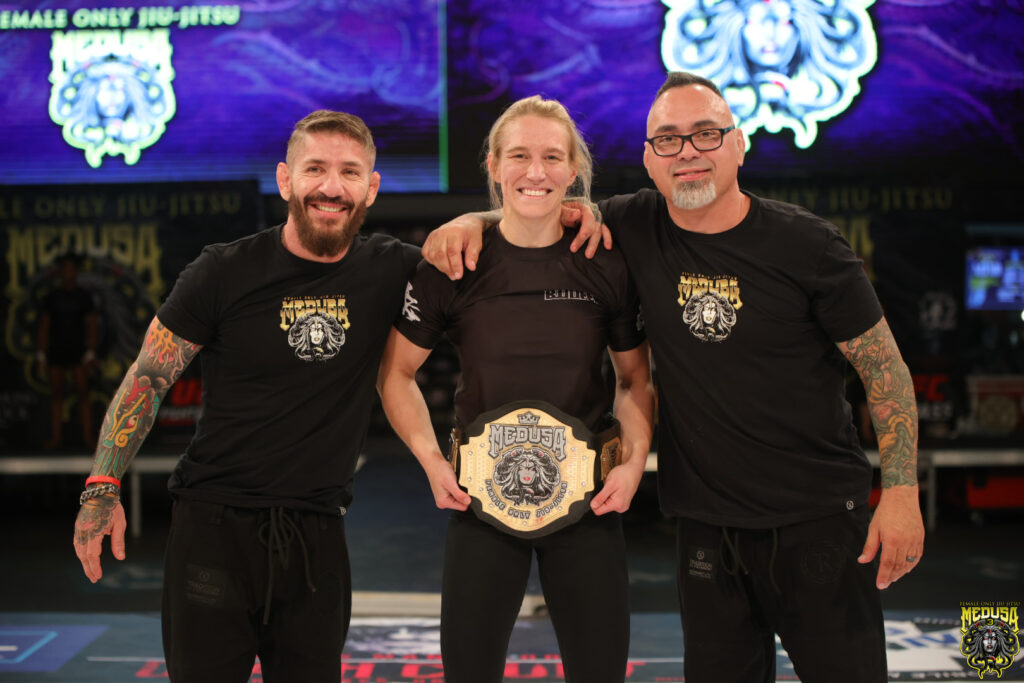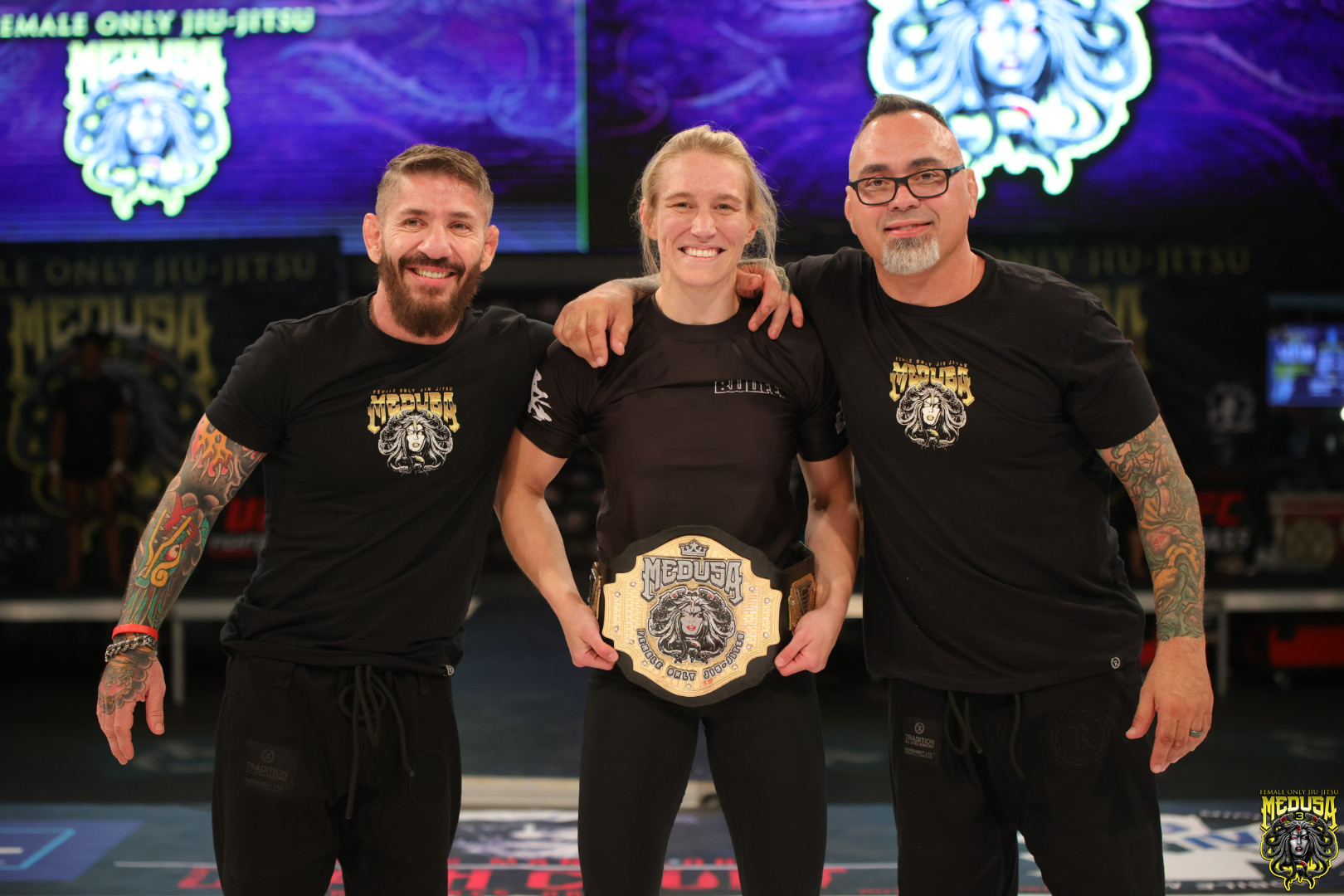 "One of the coolest parts of this weekend was successfully performing several moves John Gutta recently taught in class… it was really cool for me to get to honor his efforts by getting to hit some of those moves in the competition this weekend."

Claire North, Medusa 3 EBI Bantamweight Champion
---
JM: How was competing under EBI rules?
CN: Eddie really does a great job encouraging the athletes to really go at each other, and that creates explosive action and exciting performances. It was always kind of surprising to me whenever I competed that I felt like what I was learning at the gym wasn't applicable because there was so much stalling or my opponent just wasn't really pushing the fight. It's a whole different scenario when you have someone coming at you with everything they've got. To me, that's when your Jiu-Jitsu really takes over and everything you've learned becomes useful. In most Jiu-Jitsu competitions, the rules don't encourage aggression so I always felt a disconnect between the knowledge in my brain versus what I was getting at a competition. Medusa was very validating to me. All the hard training sessions, all the work, all the drilling, paid off.
---
JM: Is Medusa reinventing the future of women's competitive Jiu-Jitsu?
CN: Absolutely! Without throwing shade at other organizations, Medusa is by far, the best promotion for women in Brazilian Jiu-Jitsu. The level of respect and support we received was amazing. We were treated like professional athletes. Once I got to the finals, I was beyond excited because for the first time in my life, I was actually going to get paid for doing what I love and dedicated a huge part of my life to. My performance as an athlete was rewarded, not to mention the huge exposure women's Jiu-Jitsu received by being featured on UFC Fight Pass. This is exactly what we've been asking for and Eddie Bravo, Victor DaVilla and the entire Medusa team, delivered.
---
JM: Define Jiu-Jitsu for you, in one word:
CN: Competitive.
No wonder she wears the crown.
Follow clairenorthjj
---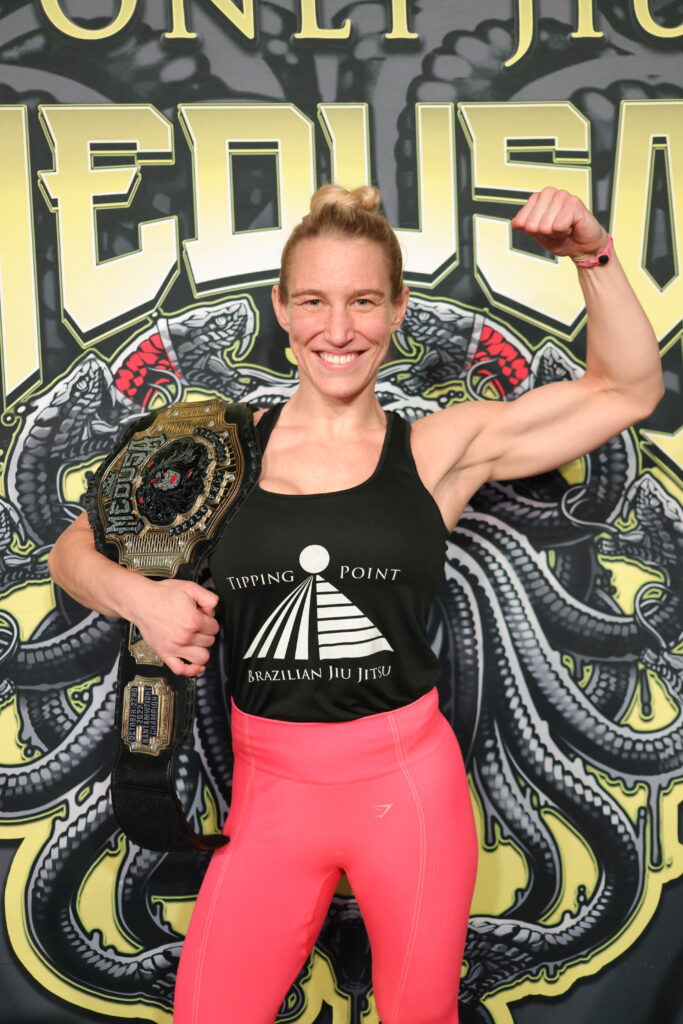 ---
Created by Eddie Bravo and Victor DaVila, the masterminds behind EBI, Medusa is on a mission to become the greatest Jiu-Jitsu organization for women in the sport.
---
Claire North's Performance at Medusa 3:
EBI Rules Bantamweight Finals
Claire North (CHAMPION) defeats Peyton Letcher via Kimura
EBI Rules Bantamweight Semifinals
Claire North defeats Sophia Cassella via Armbar
EBI Rules Bantamweight Opening Round
Claire North defeats Leticia Yuka via Z-Lock
---
Watch Full Replay of Medusa 3 on UFC Fight Pass >
---
---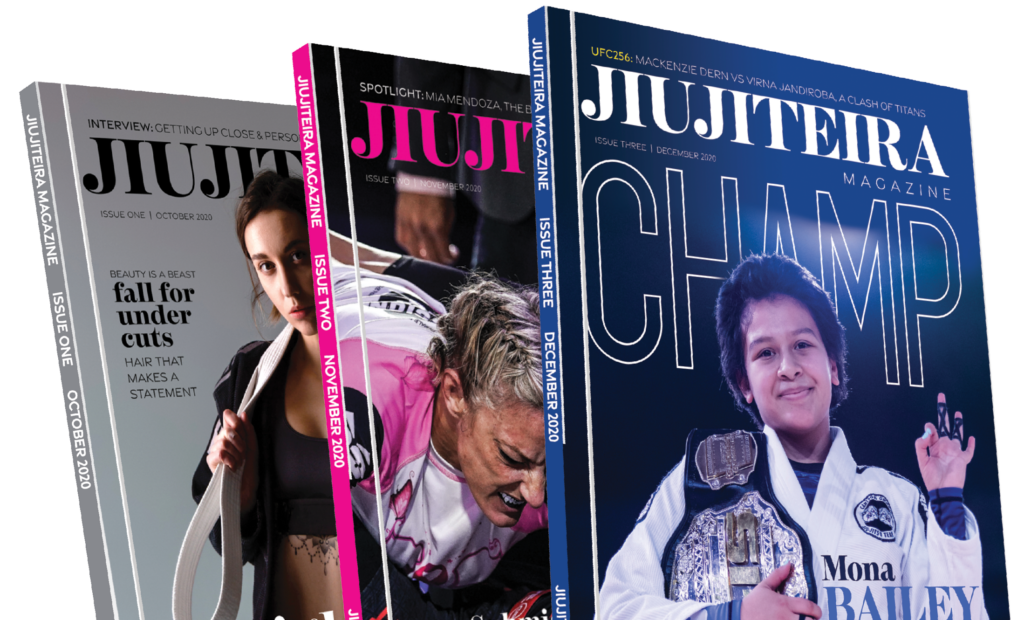 Our printed magazine is full of extraordinary women with extraordinary stories, get your printed copy via mail today >