G.L.O.S.S: Grappling Ladies of Southeastern States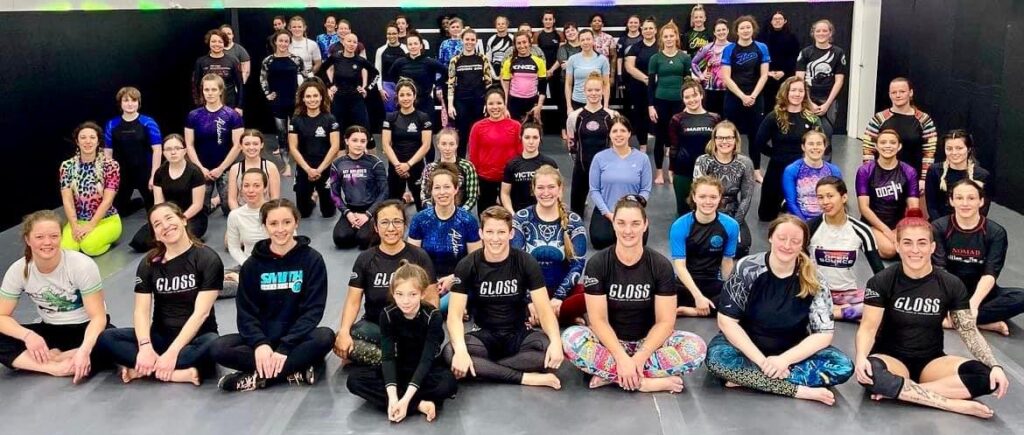 by Samantha Schell
Women's grappling has absolutely exploded on the scene in recent years, from the very highest levels of competition bringing in huge names in the grappling world, to even the local gyms and competition circuit. I'll never forget when I was first starting out 10 years ago, female upper belts were few and far between. I stared, mouth agape, at a female purple belt I saw at a local competition as if it were a unicorn out in the wild. You were more than likely the only woman training, or if you so happened to be lucky enough to have another lady at your gym, you were hard-pressed to find someone remotely close to your size and skill level. Even now at some smaller locations, this still tends to prove difficult.
It's no surprise that I would be exceptionally excited to jump on the opportunity to highlight a female-led, female-driven, female-originated grappling group local to the ladies on the southeastern coast. It is here that G.L.O.S.S., a.k.a Grappling Ladies of Southeastern States developed and flourished. There are a few women who were integral to the origins and founding of this group whom I will talk about below. But I will preface this entire article by saying what a privilege it has been to see this group not just grow exponentially in numbers, but thrive as a supportive women's jiu jitsu support system as well.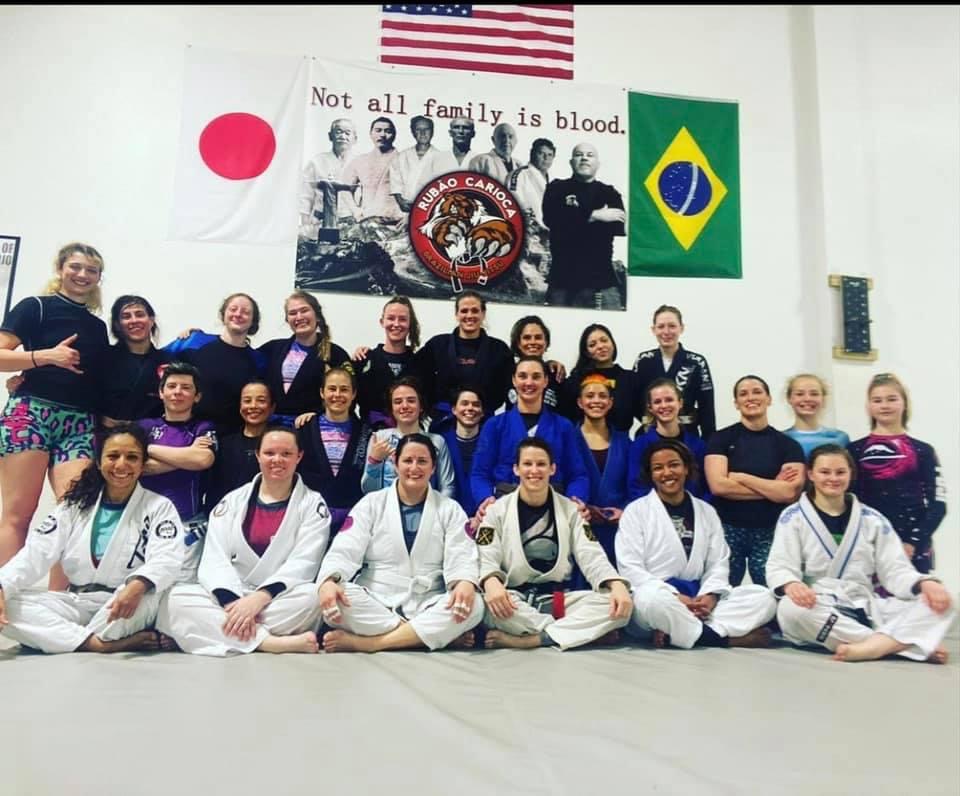 ---
Several years ago, a good friend of mine, Lourdes Cantu (currently a brown belt), was hanging out with some other upper belt friends of ours, married couple Lakyn and Amber Bendle (both black belt gym instructors), and they had gotten to thinking. There had previously been random, sporadic Women's Only Open Mats in the area, but nothing specifically organized by one group of people. Thus the idea for G.L.O.S.S. developed. They have been aided by the helps of Amber Agee (brown belt), Mary McCleary (black belt who helped with the logos, branding, and initiating the nonprofit), Mary Holmes (black belt), and Melissa Connors (purple belt). I have been fortunate enough to know many of these women through the course of my BJJ journey, even competing against some of them back when we were white belts.
This area is so fortunate to harbor welcoming women, who have cross-trained together countless times over the years, bonded over clothing swaps and wine and cheese parties, and shared the mats many times. I had made it a point in my Jiu Jitsu journey, to be able to attend as many women's Open Mats as possible, which is perhaps why I have so much admiration and respect for the women who started this whole organization. I have been there from the very start and seen it truly thrive, but I was not one of the amazing ladies who started it, just an exceptionally devoted cheerleader and admirer rooting from the sidelines and supporting in any way that I could.
---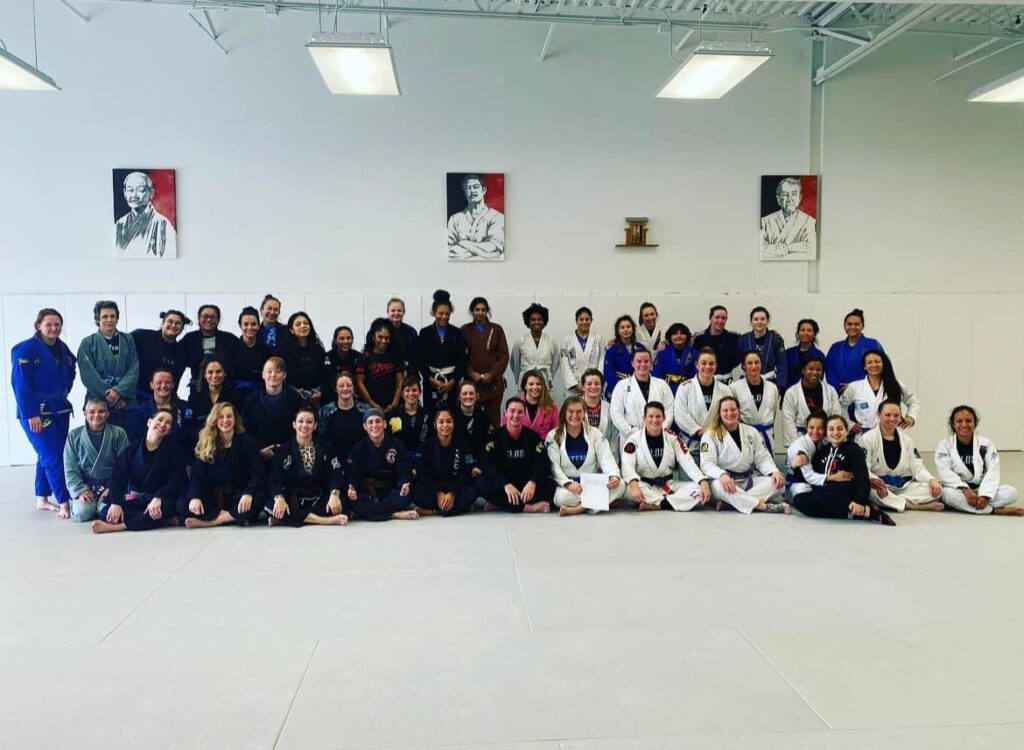 ---
At the beginning of 2020, G.L.O.S.S. truly came to fruition. It was the first Open Mat officially under this new moniker, which was preceded in advance with a Competition Training as well. It was the day after an all women's superfight card at the local Toro Cup event, and coincidentally enough, was held at my home gym Schell Shock BJJ. As luck would have it, the entirety of gyms and the Jiu Jitsu world was put on hold with the oncoming Pandemic in March of that year. After countless months preparing, investing time and money, and organizing, coming up with the acronym-named group and really trying to make a push for women in the sport, its future now seemed uncertain. At the time, no one knew what this meant for our beloved sport, but thanks to the support from so many, G.L.O.S.S. picked back up with a reverence right where it left off when things resumed back to normal.
G.L.O.S.S. made it a point to emphasize its support of women, and therefore offered a scholarship opportunity to a worthy woman who represented the sport excellently. The requirements to be eligible were someone who wanted to compete and did so often, someone who had a social media presence to advocate for all the wonderful ways women contribute to Jiu Jitsu, submitted their name for the local superfight card at Toro Cup, and wrote an essay advocating their submission to be considered as the recipient. Lo and behold, at the annual holiday G.L.O.S.S. event, the winner was announced as none other than my teammate, Sarah Wills.
Sarah truly represents all that is wonderful with women supporting women in Jiu Jitsu. She has a thirst for competition, and even more, a love of building relationships with her fellow Jiu Jiteiras. Three judges evaluated all of the scholarship applicants, and I am not surprised in the slightest that Sarah was deemed more than worthwhile. The scholarship foundation was funded by silent auctions held at every G.L.O.S.S. events, where many wonderful people in the sport donated various items, such as no-gi apparel, private lessons, BJJ gear etc., and someone walked away with that token prize.
---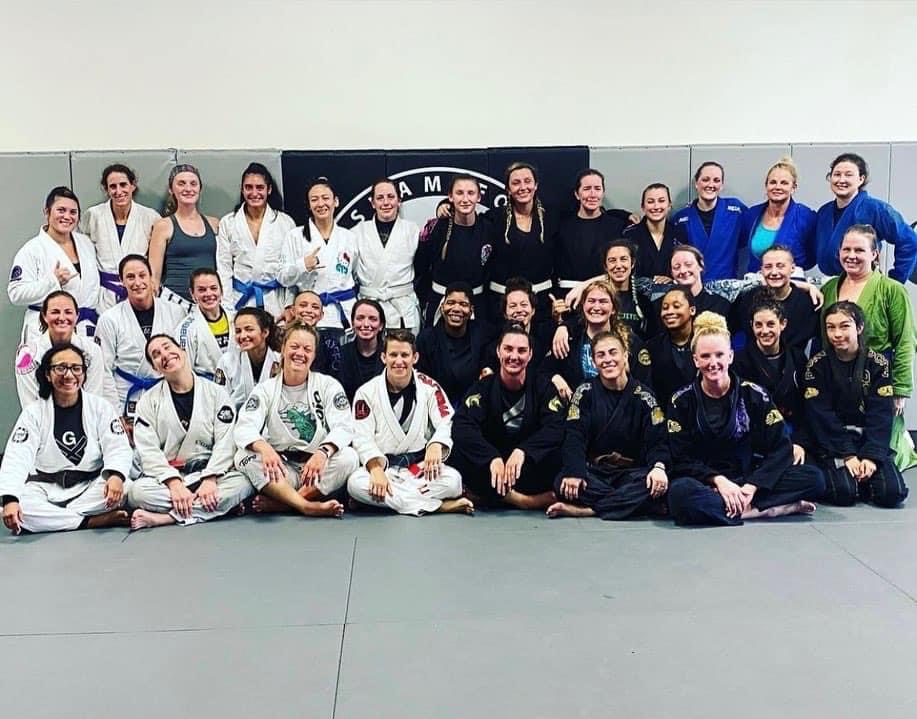 ---
G.L.O.S.S. continues its quarterly rotation at various local gyms in the southeastern area, with competition training, open mats, and more silent auctions. I will continue trying to be present at as many of these events as possible, rocking all of my awesome G.L.O.S.S. gear whenever possible. We went from having a smattering of women in the early days (think 12-20 people) to having over 70 ladies on the mats at the last event. What started as a lofty dream has now generated ample opportunities, and has motivated countless women in the sport to continue their journeys.
Lourdes, Lakyn, and Amber have truly done a wonderful thing, and all of the original supporting women as well. Amber Agee has been able to grow women's events thanks to the presence from G.L.O.S.S. and has said no truer words to me than "I just miss cross-training and eating cheese with my friends." So here's to many more years of women's events, open mats, girls growing up into strong women in the sport, and of course, plenty of charcuterie along the way.
Follow them on Instagram: @grappling_ladies_of_se_states
---
---
---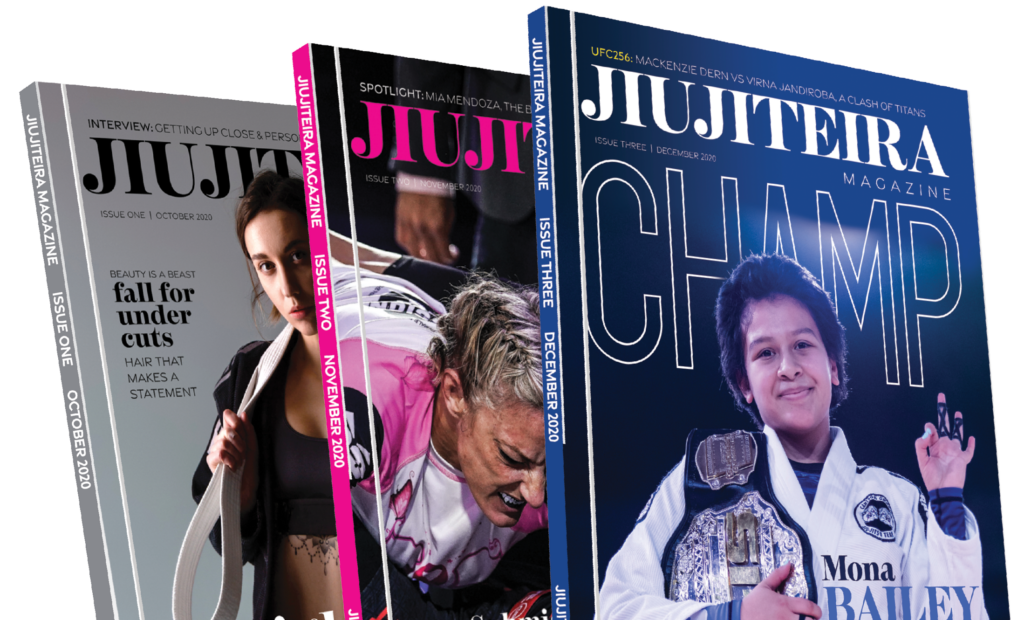 Our printed magazine is full of extraordinary women with extraordinary stories, get your printed copy via mail today >