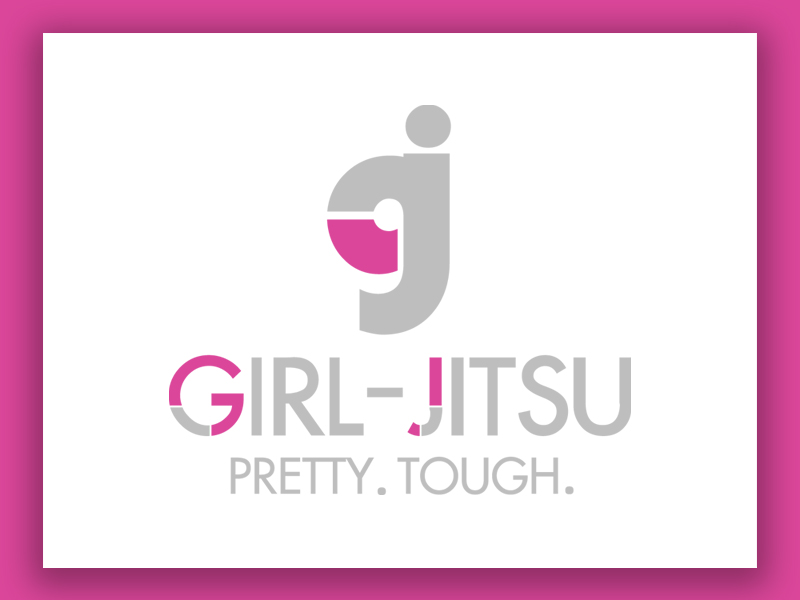 One of the first Jiujiteiras dedicated brands created circa 2010, Girl-Jitsu is a highly inclusive and supportive brand that is more than just fight wear. Designed for Jiujiteiras of every style, look, size, and rank, Girl-Jitsu unites women who have one important thing in common, they are all pretty tough.
Interview by Evelyn Sutton
---
In this exclusive interview for Jiujiteira Magazine, Hansen Sinclair, founder and owner of Girl-Jitsu shares the inspiration behind the brand, the mission and why he believes the continued growth and popularization of Brazilian Jiu-Jitsu is dependent on the support women receive in the sport.
---
JM: Tell us about your own personal journey, how did Brazilian Jiu-Jitsu become part of your life?
HS: I was born in the Bahamas and came to the United States when I was a kid. I have a heart condition but I always wanted to get into combat sports, Karate, Kung Fu, etc. I would watch old martial arts movies like The Karate Kid, and would want to train but because of my heart condition my mom wouldn't let me. She was worried something bad was going to happen. I was a little bit rebellious, I tried to play football and basketball throughout High School and then I went to college and played sports there, got my degree in Journalism and after college I came down to Miami. I went to college at the University of Florida. When I came back down to Miami I ended up in a coma from a heart attack. I had two strokes while in college and didn't even realize it, then got to Miami and had a heart attack and emergency surgery. Now my mom was really paranoid about me doing anything athletic. I went through physical rehab for a couple years and in 2010 I attended a retirement banquet for my high school music teacher and ran into an old friend of mine who was still in touch with a female friend from high school who was living in Philly at the time. I got in contact with her, went to visit and she told me she was doing MMA. I had never heard of MMA before she introduced me to it. When I got back to South Florida, I found a gym and started training. My high school girlfriend ended up moving to Miami and we both met a woman who introduced us to a women's-only open mat since my friend was looking for more ladies to train with. My very first Brazilian Jiu-Jitsu experience was observing women rolling at a women's open mat. And that's how I got involved with Jiu-Jitsu and from then on, it became a huge part of my life.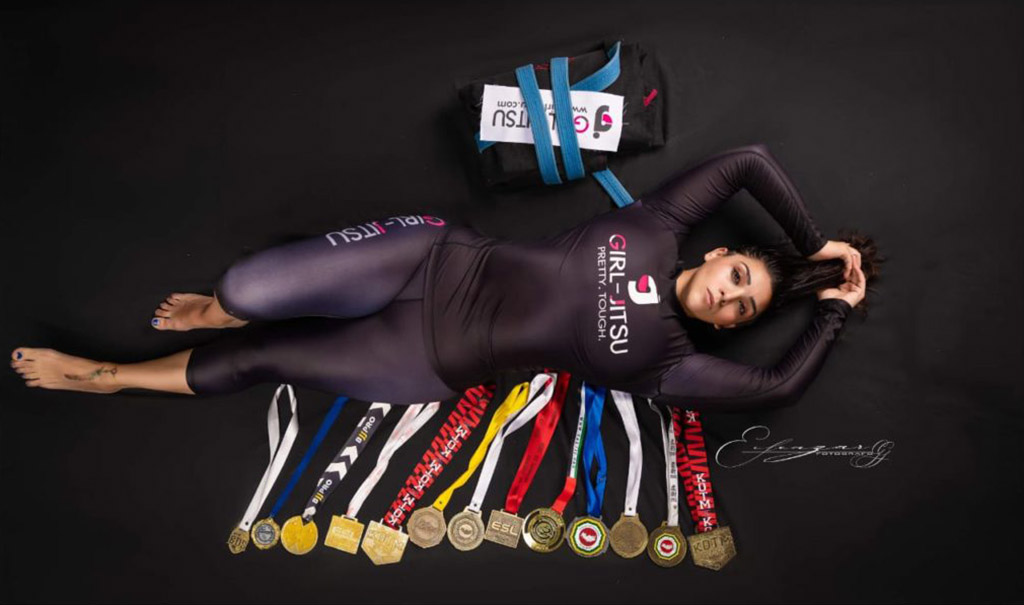 ---
JM: And how did Girl-Jitsu get started?
HS: Girl-Jitsu got started at that very first women's open mat. At least the idea of it, that's where the inspiration came from. During that open mat, we listened to so many women complain about the lack of Jiu-Jitsu fight wear designed specifically for them. You have to understand that back then there wasn't one brand designed for women in Jiu-Jitsu or MMA. I've always had an entrepreneurial spirit, so when I heard the women saying they had to wear men's gear and it was uncomfortable, they didn't feel feminine wearing it, didn't fit right and it simply wasn't practical, my heart went out to them and I thought, 'maybe we can come up with a brand just for women.' I quit MMA, found a solid BJJ gym where I still train at and became part of this amazing community.
---
JM: How do you see women in Brazilian Jiu-Jitsu?
HS: Being the son of a strong, independent woman, I admire and look up to Jiujiteiras. When I first started training, being a man and having that old school male ego back then, I would look at one of the more petite girls at my gym and think, 'that little woman can't beat me up.' I was so wrong! She choked me out in less than 35 seconds. I mean, I passed out. To this day, I still don't even know what happened. I learned quickly never to underestimate women in Jiu-Jitsu.
---
JM: From your perspective, what is a common recurring problem you see happening in high level competitive women's Jiu-Jitsu?
HS: There are some issues that need to be addressed and the lack of sponsorship for female athletes is certainly one of them. Back when I started training, I would frequently attend women's open mats with my friend and eventually met the higher level women, the black belts. I met a high level female black belt competitor, and she had been a black belt for a while, yet she had no sponsors. That didn't make sense to me, because there were blue belt boys who had multiple sponsors and yet this woman who was an expert at her craft had no financial support to be able to compete and continue to evolve the sport? Black belt women were winning world championships and it seemed like no one was taking notice and they weren't getting sponsored. This is still happening today. When I started my company, I made it a priority to offer sponsorship to some of these very accomplished female athletes who never had any kind of sponsorship before. Girl-Jitsu was their first sponsor. Ever since then, I've been trying to come up with ways to feature women, promote women and sponsor women in our sport.
---
JM: What are some of the ways Girl-Jitsu helps empower Jiujiteiras off the mats?
HS: Since 2012 we actually do a calendar every year that features everyday Jiujiteiras from different gyms, belt ranks and affiliations wearing our gear. In the past, we would ask women to submit their own photos for the calendar but last year, we decided to go all out and actually have a professional photographer do a fashion photo shoot to give the ladies an opportunity to be showcased at their very best and have fun with it. We gave away rashguards, spats and shorts and they loved it. Some of them compete in our gear, train in them, and every time they wear them, they tag us on their social media posts. It's clear that they feel beautiful, empowered and confident wearing Girl-Jitsu, and to be able to do that for our Jiujiteiras is the core mission of this brand.
---
JM: That sounds like an awesome experience! How do Jiujiteiras who are interested in being featured on Girl-Jitsu's next calendar apply?
HS: Every year is different. Sometimes we have a theme. One year for instance, it was Super Heroes and that was one of our best calendars. We had women dressing up like Deadpool and Super Girl and Spider Woman. It was pretty awesome. Make sure to follow Girl-Jitsu on social media as we will be announcing how you can be featured in our next calendar!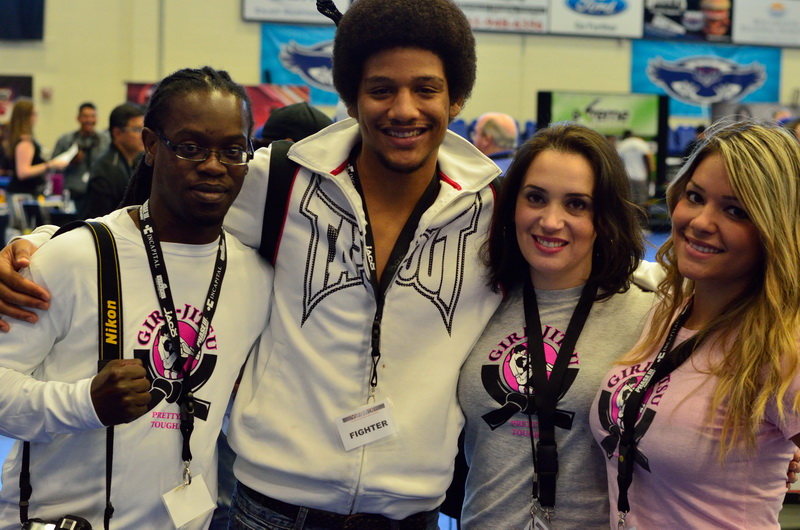 ---
JM: Other than sponsorship and the annual calendar, what are some of the other initiatives Girl-Jitsu has organized to help support women in Brazilian Jiu-Jitsu and MMA?
HS: We've held a number of workshops and open mats for women. Before they went to the UFC we even had athletes like Tecia Torres and Amanda Nunes show up for our workshops. We had friends who own local businesses donate food and water for the events. For our very first one, we expected 10 women to attend and over 50 showed up. We had an after party at my friend's restaurant where everything was complimentary because I just wanted to show appreciation to the Jiujiteiras and let them know: 'I respect you. I see you as a high level athlete and competitor. I see you as an important and valued member of our community', even for the ladies who had just started out in Jiu-Jitsu. And more recently, we've had the opportunity to partner up with Jiujiteira Magazine and help sponsor the great Bia Mesquita's seminar in Melbourne, Florida in an initiative to promote more high level female instructor-led co-ed seminars in our community. Besides that, we just launched a new Girl-Jitsu affiliate program and we will be announcing details on how to participate soon. 
---
JM: When compared to other female oriented martial arts brands currently in the market, in your opinion, what makes Girl-Jitsu stand out?
HS: First of all the name. I think Girl-Jitsu, Pretty Tough, says it all. Secondly, the fact that we have constant input from women on what they want to wear, what they want to see, what kind of products they are looking for. Not just the fashion aspect, but also the practicality of it. We listen very closely to our Jiujiteira community before introducing new products and creating designs. I am frequently attending events to support women's Jiu-Jitsu, promote Girl-Jitsu, get feedback directly from our customers and see how our products hold up at competitions and seminars. 
---
---
JM: How supportive and inclusive do you consider Girl-Jitsu to be?
HS: Highly supportive and extremely inclusive of all female athletes in Brazilian Jiu-Jitsu and MMA. With our calendar, for instance, any woman who submits a photo according to our guidelines, automatically gets in. There are no judging beauty standards, height, weight, ethnicity, religion, belt rank or personal requirements other than you must be a woman who trains BJJ or MMA. We want everyone to feel welcome and included. We don't discriminate. We've had models in the calendar alongside business professionals, students and stay-at-home moms. One year, we had two muslim Jiujiteiras in the calendar, proudly wearing their hijabs. I've had plus size models, we've had very muscular women, less muscular women, everyone. Our brand wants every woman and girl who trains to feel represented.
---
JM: What can we expect to see in the near future from Girl-Jitsu?
HS: You can expect Girl-Jitsu to continue to innovate with our products and provide high quality, feedback based women's designs that are both empowering and functional for NoGi BJJ and MMA. We also have plans to launch a brand new collection of custom tailored Gis just for women. The project is currently in the planning phase and I believe it will be a great solution for women who can't find the perfect fit based on what is offered in the market when it comes to Jiu-Jitsu Gis.
---
Follow on IG: girljitsullc Shop online
---
---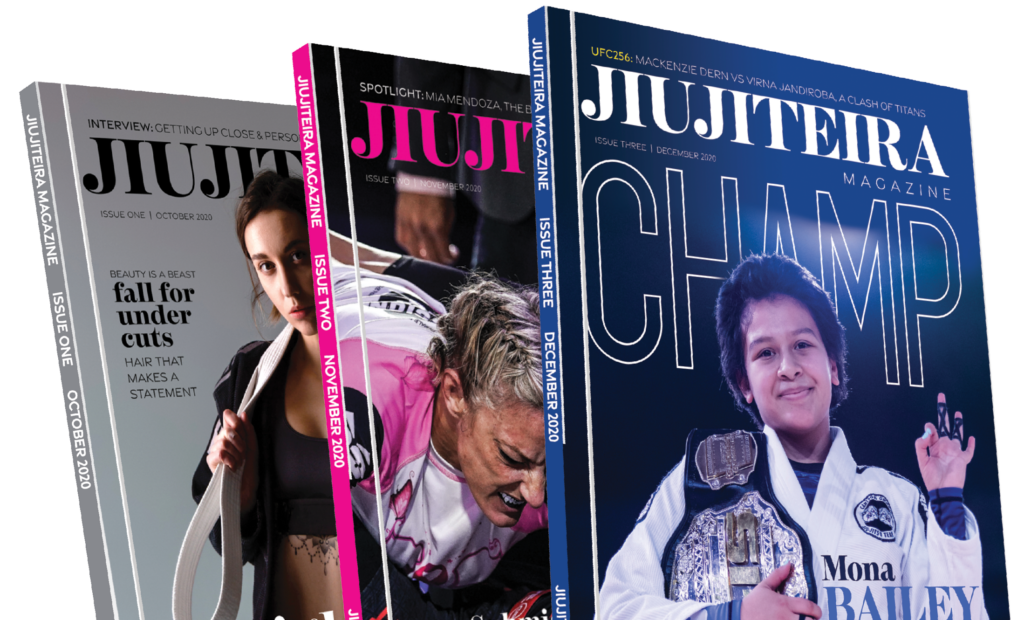 Our printed magazine is full of extraordinary women with extraordinary stories, get your printed copy via mail today >