Danielle Kelly "shuts up" her critics with a stunning triumph against Jessa Khan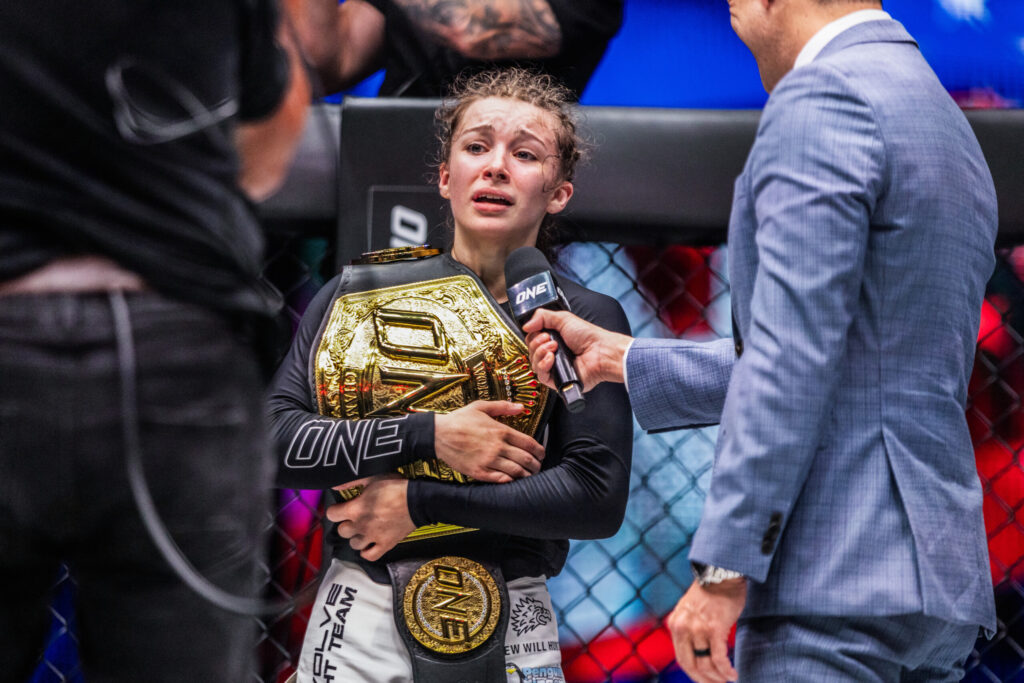 The Brazilian Jiu-Jitsu phenomenon delivers an exceptional performance at the inaugural One Championship Atomweight Submission Grappling World Title, clinching the belt and cementing her status as the world's premier female atomweight grappler.
Photos by One Championship
On September 29th at the Singapore Indoor Stadium, two elite Brazilian Jiu-Jitsu black belts, Danielle Kelly and Jessa Khan, clashed in a highly anticipated rematch for the inaugural ONE Women's Atomweight Submission Grappling World Title. Their first encounter in 2021 saw Khan emerge victorious with a series of legitimate attempts, including several deep leg locks. However, in this rematch, Kelly displayed unwavering determination and thorough preparation, seeking redemption and the coveted title.
From the start of the battle, without hesitation, Kelly swiftly guided Khan toward the cage, applying pressure and restricting her mobility. Danielle's tactical approach proved effective, and it quickly became evident that Khan may have underestimated Kelly's adeptness in utilizing the cage to her benefit.
---
---
Khan wasted no time in launching a strong offensive, successfully taking Kelly's back and placing the rising star in a dangerous situation. Despite this advantageous position, Khan couldn't secure a submission on Kelly who promptly escaped and in a rapid exchange of movements, seized the opportunity for a combination kneebar and toehold, thus earning the first submission attempt of the match and putting herself in the lead on the scoreboard. That advantage set the tone for the rest of the match and secured the victory for Kelly via unanimous decision.
---
---
Securing this victory, the 27-year-old grappler hailing from Philadelphia has now claimed the most significant title of her illustrious Brazilian Jiu-Jitsu career.
In March of 2022, Kelly marked her ONE debut by participating in the organization's inaugural women's submission grappling match, where she faced off against the Japanese MMA legend Mei Yamaguchi. Although she didn't manage to secure a submission that evening, Kelly showcased complete dominance over her opponent, earning a well-deserved performance bonus of US$50,000.
Following her successful debut, Kelly continued her winning streak in ONE, submitting Sambo World Champion Mariia Molchanova in the previous November and securing a decision victory over MMA superstar Ayaka Miura in February of this year.
Congratulations Danielle for this incredible accomplishment!
---
---
---
Follow One Championship