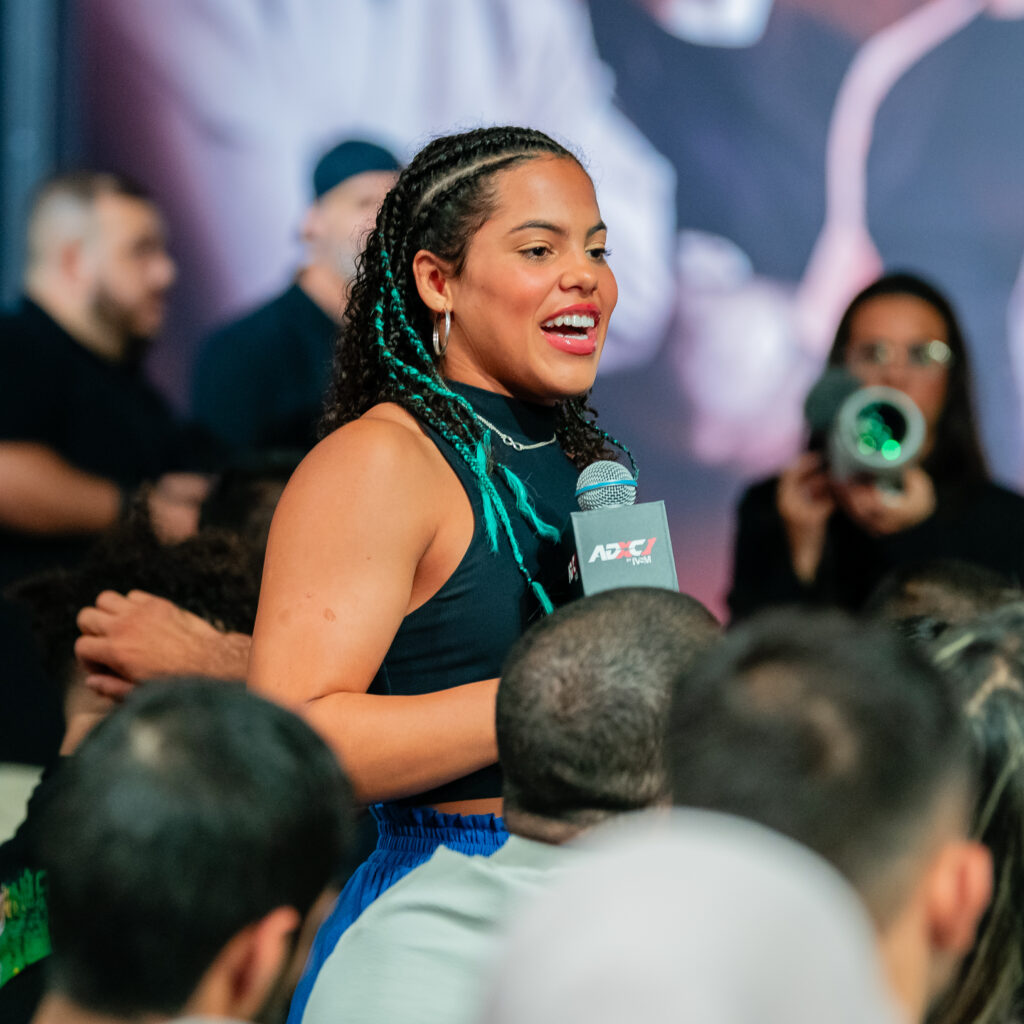 With only days to go before the first Abu Dhabi Extreme Championship, Jiu-Jitsu stars share insights at press conference held at the Mubadala Arena, the stage that will host the event on October 20th, with 14 breathtaking fights including women super fights between champions Tayane Porfirio, Giovanna Jara, Nathalie Ribeiro, Luiza Monteiro, Sarah Galvão and Vitoria Gabriella
On Wednesday, October 18th, the Abu Dhabi Extreme Championship convened all its athletes for a press conference, providing an opportunity for the tournament's star competitors to share their thoughts on the upcoming event and discuss the challenges posed by their opponents. The conference was conducted at the iconic Mubadala Arena, which will be the venue for the 14 thrilling fights scheduled for October 20th.
On the main stage, the headliners of the tournament's main duels sat alongside H.E. Abdel Moneim Al Hashemi to talk about the excitement of performing at the ADXC's debut. Neiman Gracie, who will be fighting in the no-gi main event, spoke about his expectations for the ADXC1 and fulfilling his dreams of coming to Abu Dhabi.
"Ever since I was a little boy, I always wanted to come here and fight in front of all you guys," said Gracie. "I've been watching what the UAE Royal Family has done for Jiu-Jitsu and consider Abu Dhabi to be the capital of Jiu-Jitsu in the whole world. I can't wait to put on a show. It's no secret that every time I fight I'm looking for submission, so a nice submission is what I'm aiming for."
---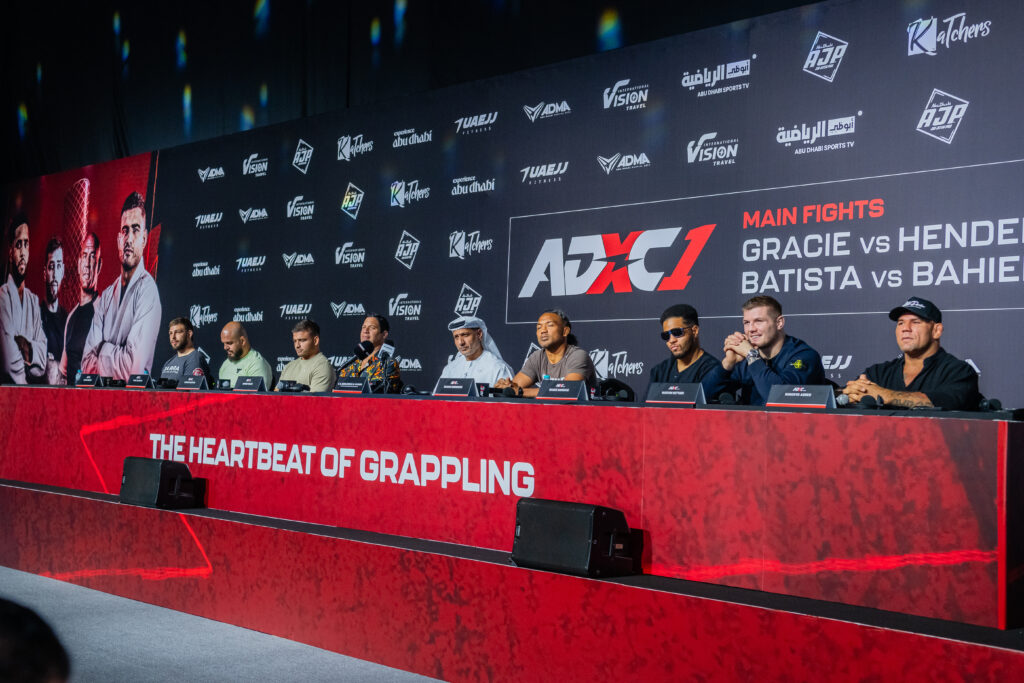 ---
Ben Henderson, who'll be facing Gracie in the ADXC cage, made it clear that he aims to put on a show for the crowd and promised that his Jiu-Jitsu black belt is up to date.
"ADXC is a new event with a really impressive structure and I want to show my best performance to the fans. that powerful fighter, who just goes for it and doesn't stop until he gets what he wants."
Headlining the main event in the gi, DreamArt's leader Isaque Bahiense showed confidence ahead of the big day, revealing his plan to use the ADXC's format to seize another victory for his hefty grappling record.
"I'm an explosive athlete and a match divided in rounds plays to my favor. I'll be able to maintain my flow, keep my opponent under pressure, and seek a submission."
On the other side of this duel, Gustavo Batista is also confident that his Jiu-Jitsu will be able to overcome his long-time rival. Even further, he believes that the past losses will pave his way to victory in the ADXC cage.
"The negative results push me to train harder and fight for the win. I'll have five rounds to use all my Jiu-Jitsu against him and I'm a very technical athlete. I'll be able to impose my flow in this fight."
Shaking things up even more, H.E. Abdel Moneim Al Hashemi spoke about ADXC's projection after its debut event.
"This championship will bring together the world's best fighters, offering a comprehensive global platform for Jiu-Jitsu and grappling that transcends the boundaries of combat sports. Abu Dhabi has already established itself as a global capital of Jiu-Jitsu and this event will reshape the landscape of wrestling, jiu-jitsu, and martial arts through this unique championship here in the UAE capital. We need to reach a global platform. The athletes spend their lives dedicated to showing the value and beauty of Jiu-Jitsu, so it is important to show that this sport can be both accessible and appreciated by the world."
---
Women Super Fights
The inaugural ADXC features an exciting lineup of three women's gi super fights. Tayane Porfirio is set to take on Giovanna Jara, Nathalie Ribeiro will compete against Luiza Monteiro, and Sarah Galvão is prepared to test her skills against Vitoria Gabriella. These talented athletes are poised to deliver a thrilling showcase of high-level Jiu-Jitsu.
During the press conference, Sarah Galvao was asked if she had any message to the aspiring fighters and this is what the champ had to say:
"If you really love this sport, you got to do what you got to do, hard work for a little bit but once you win, it lasts forever. Enjoy the moment, I know that hard work takes a while, and it's not easy but if you do everything that you got to do, I will assure you that you will come out with the win."
Watch all the action of the debut ADXC live!
---
---
ADXC 1 Schedule
Mubadala Arena, Abu Dhabi – UAE, October 20, 2023
---
Main Card
Neiman Gracie vs. Ben Henderson – No-gi Main event
Isaque Bahiense vs. Gustavo Batista – Gi Main Event
Marvin Vettori vs. Tarek Suleiman – No-gi Co-main Event
Roberto "Cyborg" Abreu vs. Anton Minenko – No-gi Co-main Event
---
Super Fights
Tayane Porfirio vs. Giovanna Jara – Gi Super Fight
Abdul-Kareem Al-Selwady vs. Islam Nader Reda – No-gi Super Fight
Fabricio Andrey vs. Marcio Andre – Gi Super Fight
Zayed Alkatheeri vs. Thalison Soares – Gi Super Fight
Marcin Held vs. Guram Kutateladze – No-gi Super Fight
Fellipe Andrew vs. Uanderson Ferreira – Gi Super Fight
Jonnatas Gracie vs. Natan Chueng – No-gi Super Fight
Nathalie Ribeiro vs. Luiza Monteiro – Gi Super Fight
"Big" Dan Manasoui vs. Antonio Assef – No-gi Super Fight
Sarah Galvão vs. Vitoria Gabriella – Gi Super Fight
---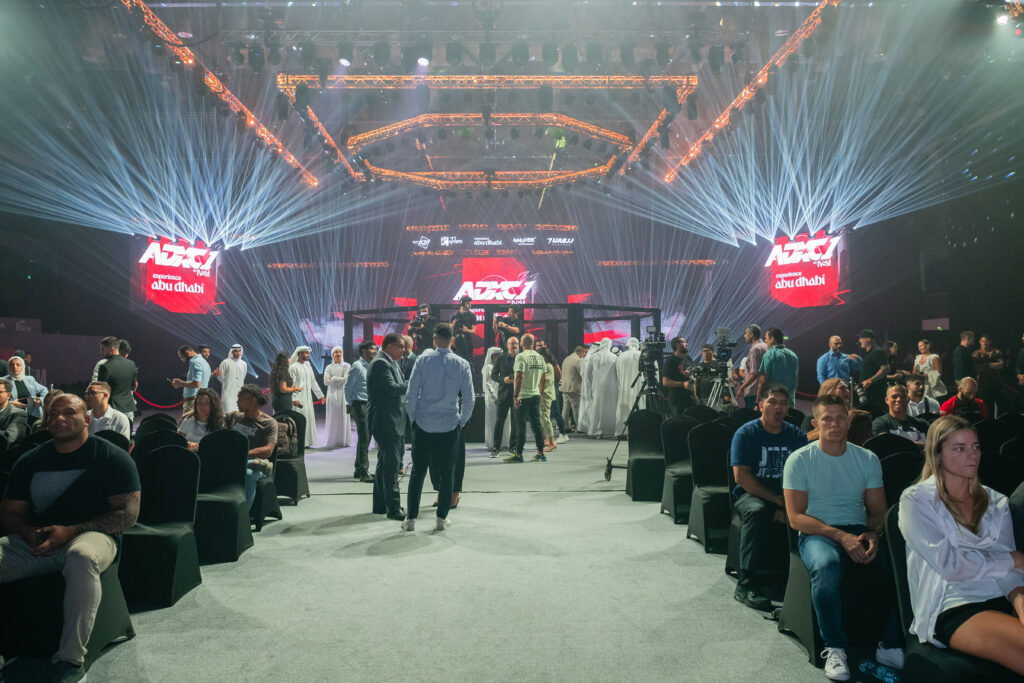 ---
Follow AJPTour
Follow adxcofficial