Bia Mesquita Pre-IBJJF PANs Seminar at Jiujiteira Magazine HQ in Florida on March 20th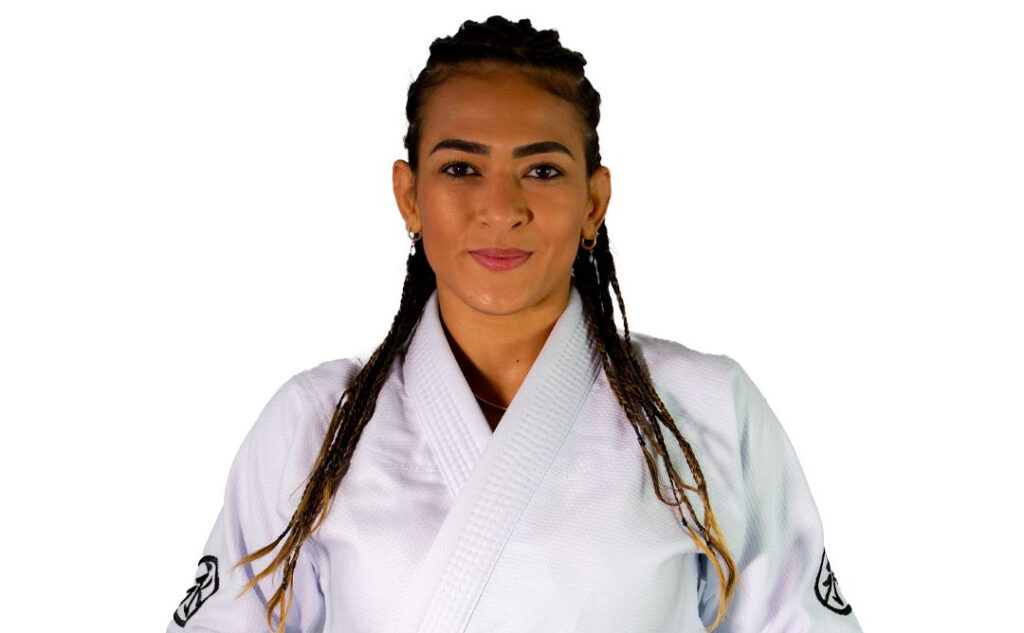 The "Lady Goat" will be in Melbourne, Florida for One-Night-Only! This is your opportunity to learn from the Champion right before IBJJF PANs
---
---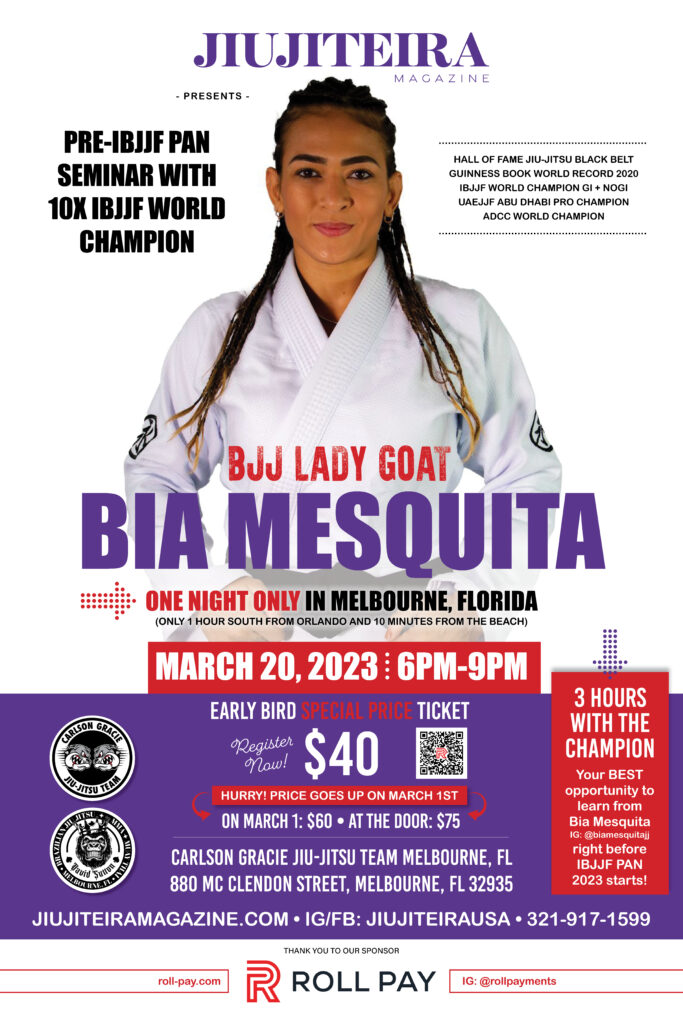 ---
Story by Evelyn Sutton. Photos provided by Bia Mesquita
Bia Mesquita requires no introduction. She is considered by most, currently the best female grappler in the world. A black belt under the legendary Master, Leticia Ribeiro, Bia has earned the nickname "Lady Goat" for her phenomenal Jiu-Jitsu and impressive record: 10x IBJJF Champion in both Gi and NoGi, Jiu-Jitsu Hall of Fame Member, Guiness Book Record 2020, UAEJJF Abu Dhabi Pro CHAMPION and ADCC World Champion, just to mention a few.
Most recently, Bia was featured at the UFC Fight Pass Invitational 3, where she defeated former UFC Champion Miesha Tate with an armbar in overtime. Despite giving her all, Tate couldn't help but come up short against Mesquita's remarkable BJJ proficiency.
---
---
In an effort to bring only the best to our community and continue to help elevate women in Brazilian Jiu-Jitsu, Jiujiteira Magazine is hosting the Champion, Bia Mesquita, for a one-night-only Seminar at the magazine HQ in Melbourne, Florida, on Monday March 20th, 2023. This is the day before IBJJF PAN starts, which takes place in Kissimmee, Florida, only one hour away from Jiujiteira Magazine HQ. This will be a three (3) hours long seminar, starting promptly at 6pm, the event will include a detailed class with Professora Bia Mesquita, Q&A session and opportunities to meet and take photos with the Champion afterwards.
And to give everyone a fair chance to attend, thanks to our Event Sponsor, Roll Pay, we are offering a Special EARLY BIRD TICKET with a heavily discounted price of only $40 to attend. But hurry!! This offer is time sensitive and will end at the end of the month. Ticket prices go up on March 1st.
---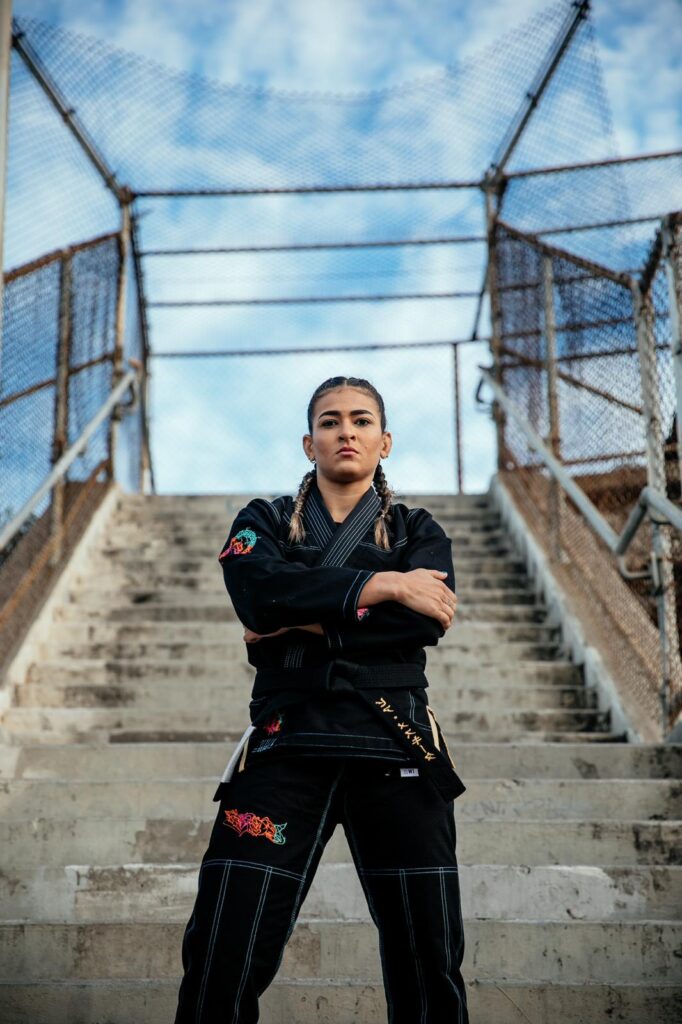 ---
If you are in Florida, don't miss this chance to learn from a modern day icon of Brazilian Jiu-Jitsu. If you are coming to Florida to compete at IBJJF PAN, make sure to add our Jiujiteira Magazine / Roll Pay Bia Mesquita Seminar to your travel plans, and take advantage of learning from and having all your last-minute competition questions answered by a 10X IBJJF Champion, right before you compete!
We would like to thank our Event Sponsor, Roll Pay for helping us put this incredible event together. Please visit Roll Pay's website to learn more about their services, athletic sponsorship and how Roll Pay is helping grow the Brazilian Jiu-Jitsu community!
WHEN: March 20th, 2023
WHERE: Jiujiteira Magazine HQ/Carlson Gracie Jiu-Jitsu Team Melbourne FL
880 Mc Clendon Street, Melbourne, FL 32935

REGISTER ONLINE
---

---
---
---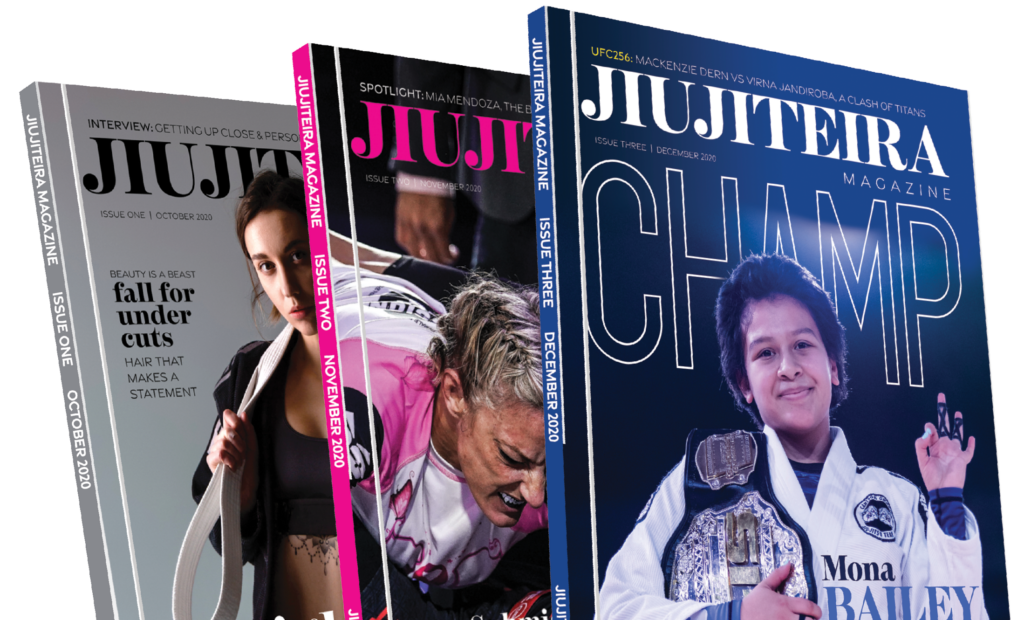 Our printed magazine is full of extraordinary women with extraordinary stories, get your printed copy via mail today >