The Business of Jiujiteiras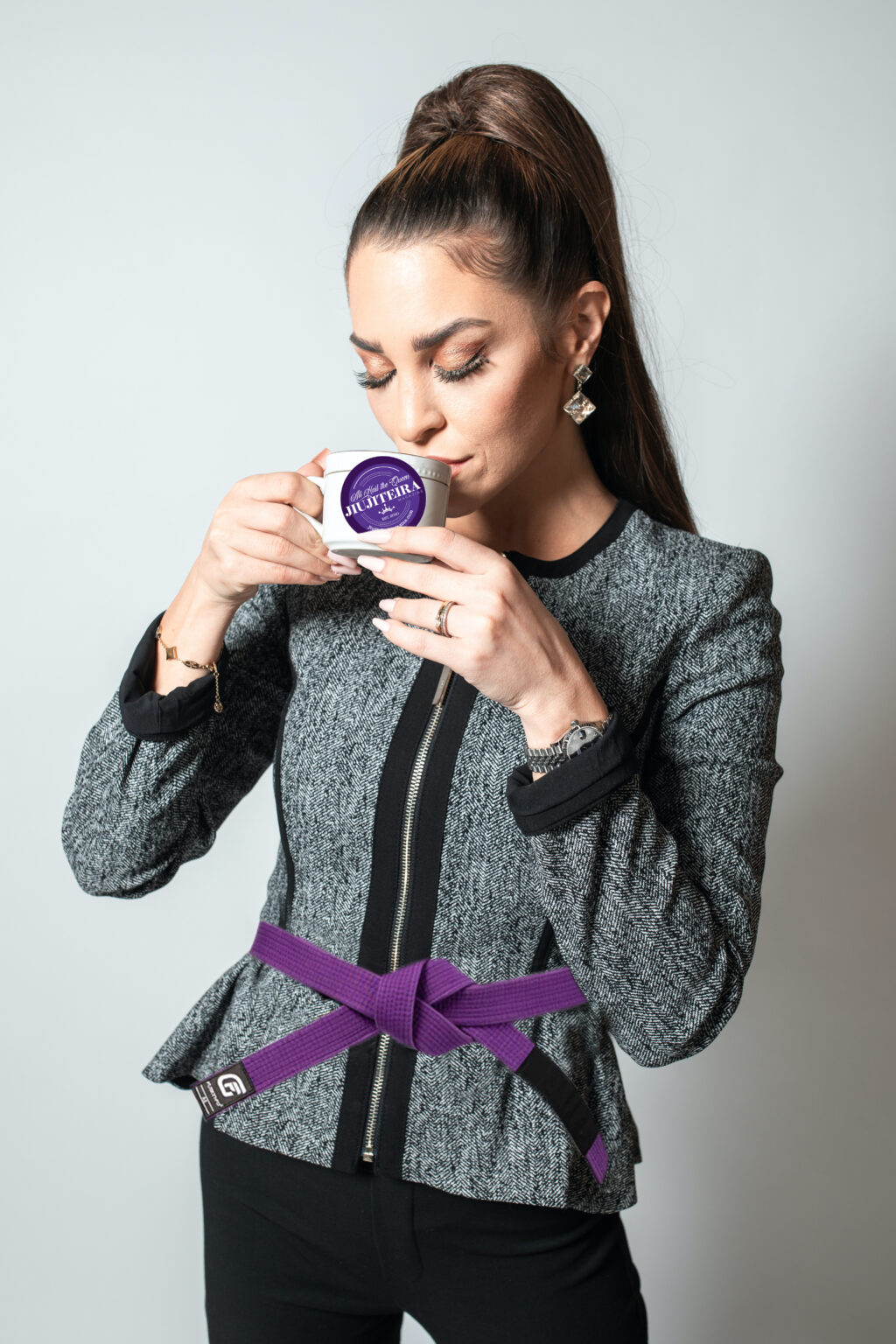 Gone are the days when women were confined to traditional gender roles, relegated to the sidelines of decision-making and leadership positions. Instead, women now assert their presence, break barriers, and leave an indelible mark on the world of business. And that includes Jiujiteiras. By examining the experiences of successful female entrepreneurs in Jiu-Jitsu, we reveal the dynamics that underpin their journeys and the transformative impact they have on our community. In this article, we invite you to delve into the stories of remarkable Jiujiteiras who own business that serve our community, and are a source of inspiration for aspiring future female leaders.
by Charlotte McKinley
Just five years ago, many Jiujiteira-owned businesses simply did not exist. There was a huge void of female-oriented products and services that needed to be filled for women in the sport. High quality gear for Jiujiteiros has always existed, but their sisters were left with no alternative but to wear gear tailored to men. SicChic Fightwear, Hyperfly, and Gaidama set out to fix this.
When it came to dedicated training, Jiu-Jitsu camps were more focused on men and designed to their needs, so Grappling Getaways was born to fill another void. And to serve as an effective resource to women struggling with various problems, Lethal Ladies was created to provide mentorship and community to Jiujiteiras.
During the pandemic when people were emotionally, mentally and physically out of balance, Amy Kemper saw an opportunity to help our community by offering her healing therapies and Hybrid Healer , a favorite amongst athletes, was created.
Though nowadays there are many more businesses that tailor their services to the hardworking Jiujiteiras of the world, the below Jiujiteira-owned businesses are trailblazers in their industries that have paved the way for many others.
---
SicChic Fightwear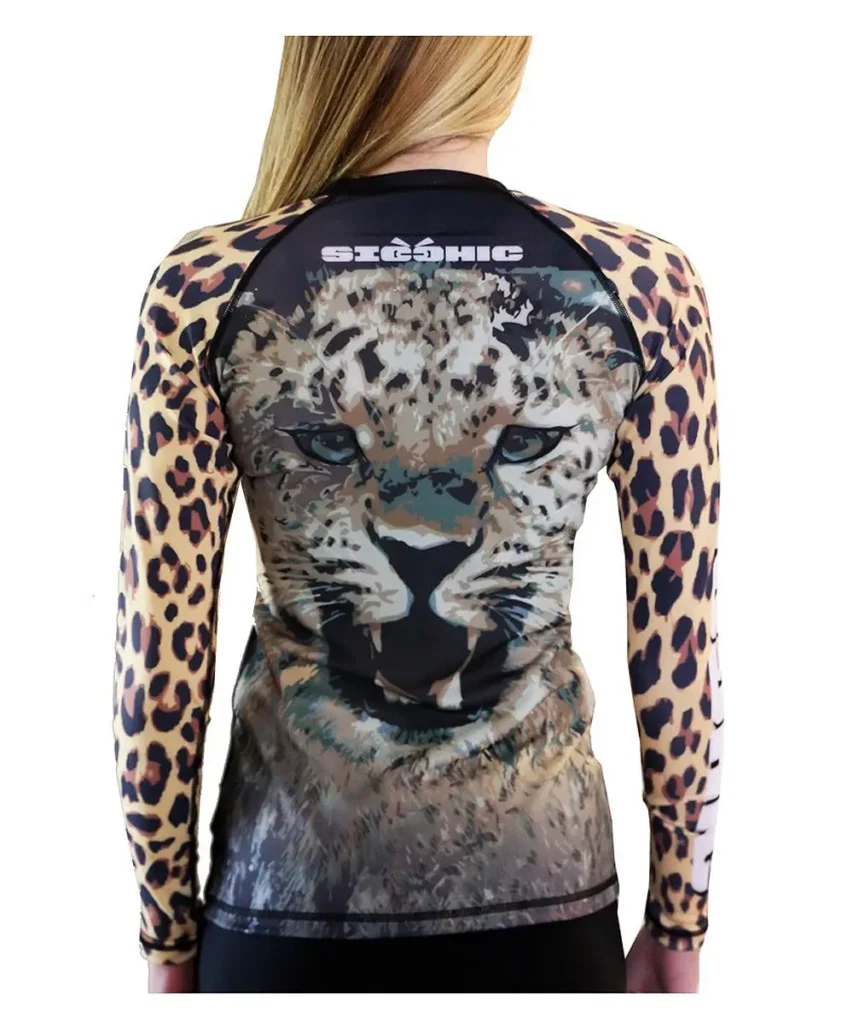 Jiu-Jitsu blue belt and Krav Maga orange belt Wendy Jarva started SicChic Fightwear out of her own necessity for adequate women's fightwear. 
"In 2008 when I was training there was literally nothing for women to wear," Jarva said. "We had boxy men's clothes or a choice of something pink or overly girly and cute which none of us wanted to wear."
After finding out she had stage one breast cancer, she left training to pursue chemotherapy and eradication of the cancer. One year later in March 2012, she was ready to train again.
"One night after all this, I went to bed and almost had an epiphany," Jarva said. "I saw my brand, the name [SicChic]. Women in cages, fighting on TV, in Jiu-Jitsu — wearing my clothes that I designed — this really creative, beautiful gear."
---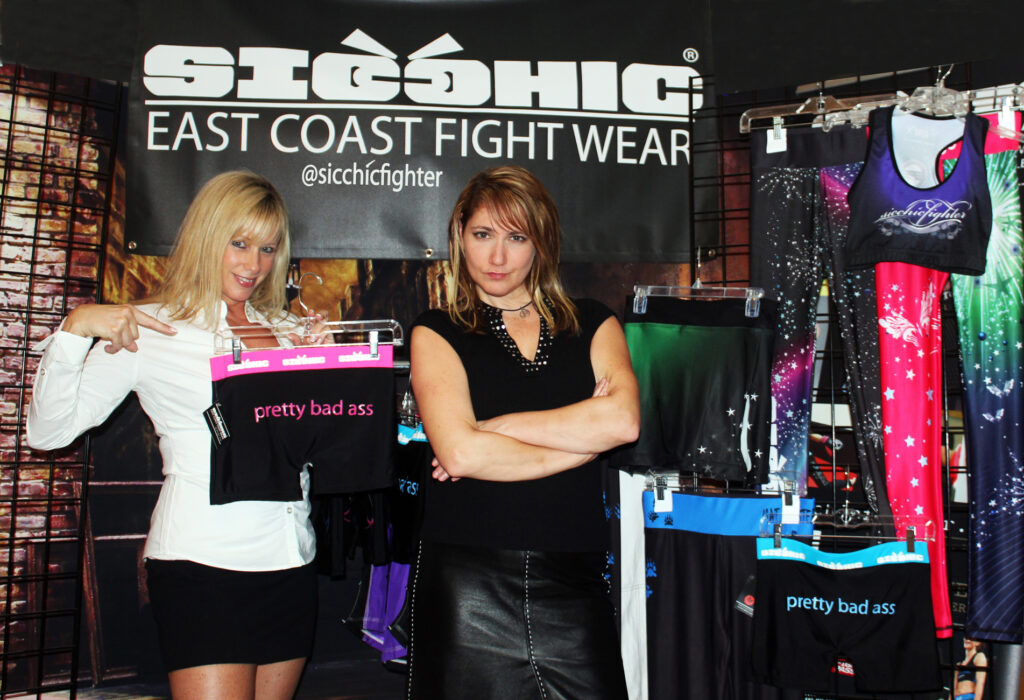 She shared the vision with her husband who quickly got on board. The two remortgaged their home to help start the business. Combining her two loves, art and martial arts, she went to her trademark attorney and paid $1,200 to register the brand. After being initially denied due to similarities to another brand, she fought back and advocated for herself, explaining that the logo looks differently and the name is pronounced differently than the other brand in question. With that, SicChic became a reality.
Today, SicChic products are sold online as well as in two brick-and-mortar stores: One Stop Fight Shop in Las Vegas and another in Texas. Additionally, they travel up and down the East Coast selling predominately at the Good Fight tournaments.
One thing that sets SicChic apart from its competitors is how involved they are with the community. During the eleven years the business has been running, they have donated over $30,000 to various breast cancer research and charities, according to Jarva.
"The charity aspect of the company is very important to my husband and myself," Jarva said. "I have also donated my time to many different charities and organizations to help with shirts, rash guards, [and more]."
---
Hyperfly
Blue belt Kerstin Parker and her family created Hyperfly in 2011 after seeing an opportunity to improve on the commonly worn Jiu-Jitsu gis.
"One thing we noticed was that the uniforms at that time were plain, heavy and ill-fitting," Parker said.
Coming from a fashion background in addition to her husband's understanding about manufacturing and design, they decided together to create their own gis.
"We decided that the niche market in this beautiful sport needed gear with a professional look and style that accentuated the athlete," Parker said. "From then on, developing professional athletic performance gear with attention to detail was our main focus."
Originally, the company was named "Do or Die," but when they began to focus on Jiu-Jitsu, the name did not fit with "the gentle art." They started brainstorming ideas for the company, focusing on having the word "fly" in the name inspired by the athletic movements in sparring that reminded Parker's husband of flying and flow.
"One day, like he has done with other great ideas, he just turned to me and said, 'Hyperfly,'" she said.
Hyperfly is not just another manufacturing company. What sets them apart from the rest is their consistent focus on family involvement.
---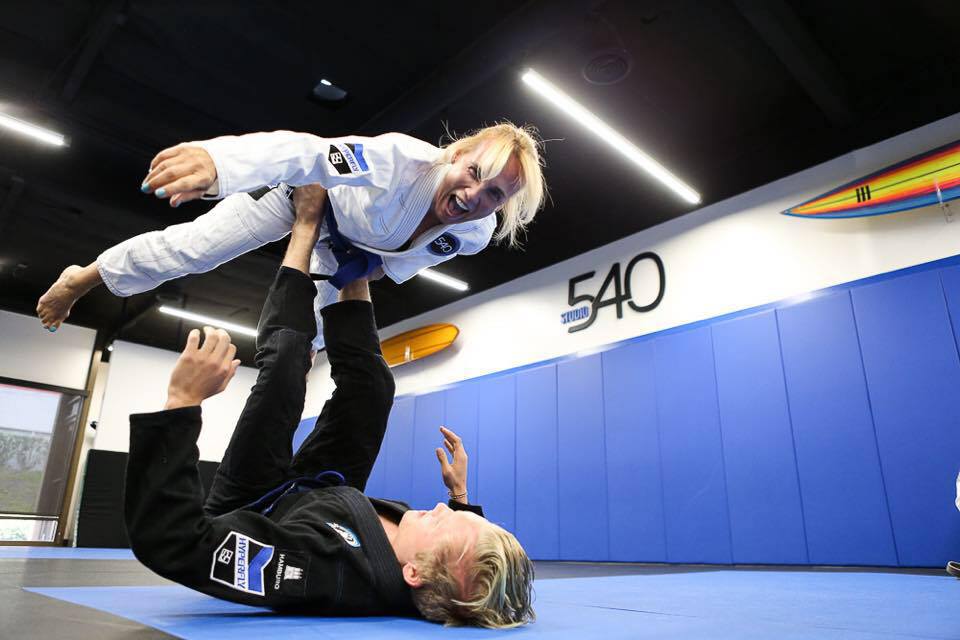 "We are a real family business and everyone is involved with the company. Our son Luke, who lives in New York City, works behind the scenes on projects for the brand," Parker said. "We treat our employees like family and we are what you see."
When Luke was younger he was the one to come up with the famous Hyperfly mantra "You Can't Teach Heart" that the brand is largely recognized by and identifies with.
"People could connect with "You Can't Teach Heart" and that brought them onboard while we were still a small, emerging brand," Parker said. "YCTH represents being a part of something that exists on and off the mat, it exists in all human pursuits – sports, music, art, social justice, [and] education."
---
Gaidama

Brown belt Kendall Vernon saw a need for beautiful and high quality women's grappling gear which prompted her to launch Gaidama. 
Around five years ago, Vernon gave up looking for high quality, functional spats for women. With a hobbyist background in pattern design and sewing, Vernon designed and sewed the very first pair of Gaidama spats. Her training partners took interest and just like that the business was born. 
After searching for, and finding, the best manufacturers for her brand, Vernon moved forward full-time with Gaidama. The brand officially launched in June 2020 — a few months after her second baby was born and in the height of the pandemic.
Vernon had hoped the business would help propel the grappling gear market forward, and it has done just that.
"Since we launched, a handful of other businesses focused on providing women's Jiu-Jitsu gear have popped up," she said. "Meanwhile, some of the larger and more established unisex Jiu-Jitsu brands have stepped up their game and now offer more variety in their women's lines."
---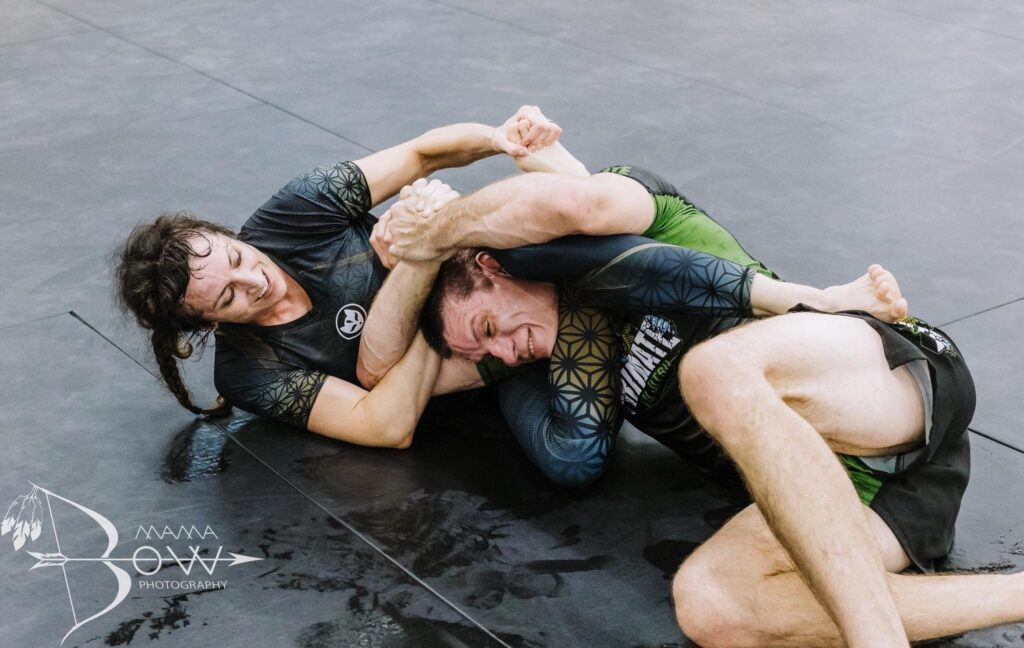 The time and effort invested in the research and development of the designs as well as the critical pattern adjustments lends itself well to Gaidama's success. Additionally, the level of quality Gaidama has from their manufacturers contributes to the top-notch brand.
"We will never compromise our high quality standards or our commitment to our customers, community, and planet," Vernon said. "We will always underscore every decision we make by its impact on the world we live in."
---
Grappling Getaways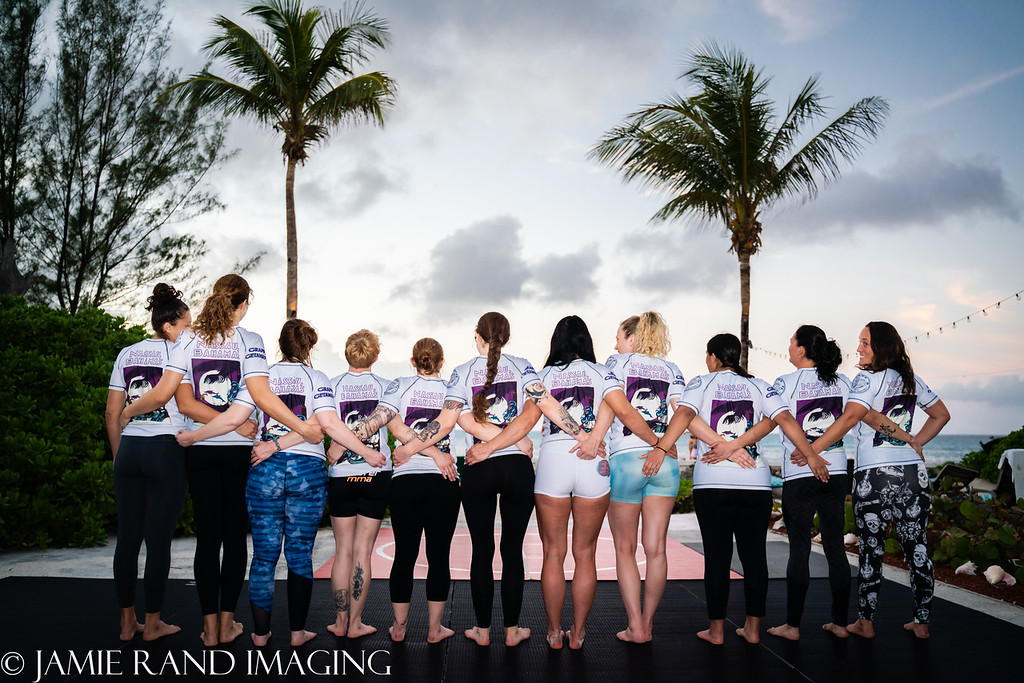 Black belt and co-owner of Vien Jiu Jitsu in Syracuse, New York, April Parks started Grappling Getaways when she realized there was a huge need for women to train together. The camp initially started as a two-day training camp, but this was not enough for the girls.
"Many girls were asking if we could coordinate something a bit longer for everyone to come together, stay together and train together," Parks said. "Out of this request, Grappling Getaways was born."
The business did not start out as a business at first. However, as time progressed, the time spent planning events, paying for instructor's expenses, and ensuring they had the appropriate insurance demanded the development of Grappling Getaways into a legitimate business for the camps to run effectively.
---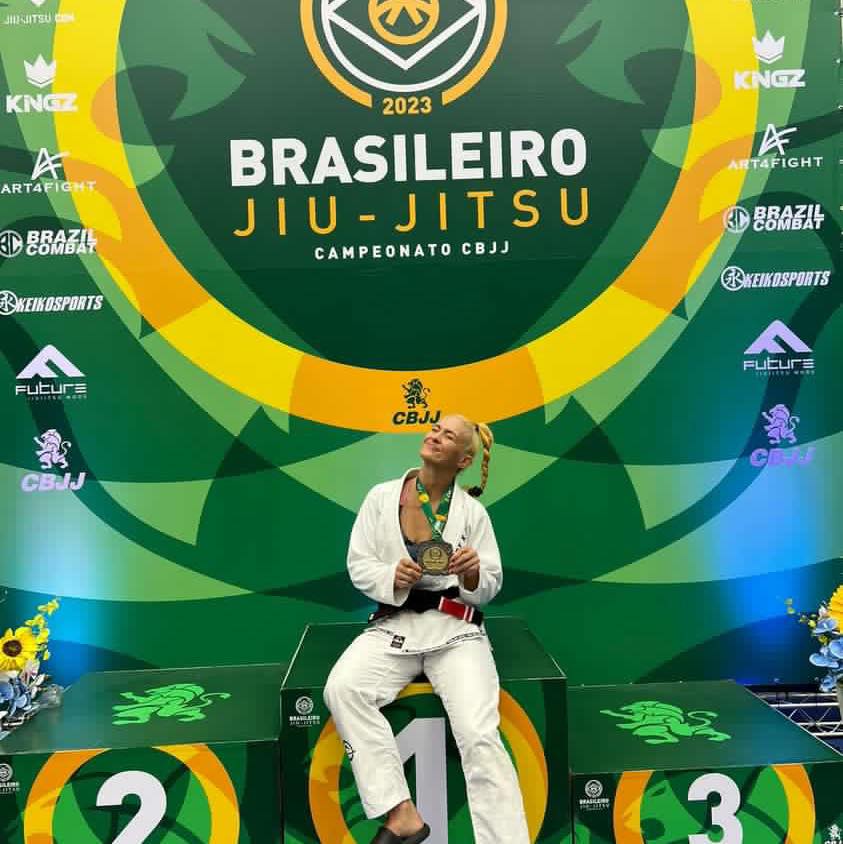 One thing that separates Parks' camp from others are the fun and unique themes that accompany the Jiu-Jitsu training. Parks curates weekends filled with exciting activities, events and excursions in addition to Jiu-Jitsu instruction.
"Our camps are pretty over-the-top in their attempts to provide campers with an unforgettable and unique vacation experience," Parks said.
Parks' favorite themed camp was Salem with Hocus Pocus Camp and Jitzstock, a spin of Woodstock, being a close second.
"We have so many amazing ideas for camps that we can't wait to share with our supporters," she said.
---
Lethal Ladies

Black belt Sophia McDermott started Lethal Ladies as a way to empower, guide, and uplift ladies in the sport. A known competitor and Australia's first female black belt, McDermott is no stranger to the competition circuit. However, she soon realized that competing was not her main drive. Teaching is where her heart truly lies.
"I'm a natural born nurturer. And I don't like pushing things where I feel like I'm hurting someone to get the gold," she said. "When I made the shift to focus on being a teacher, I felt like I was in the right place for me."
In 2022, Lethal Ladies emerged from a previous business McDermott had created called Girls on Top. Many different women from various walks of life have come to the Lethal Ladies community — each looking for something different.
---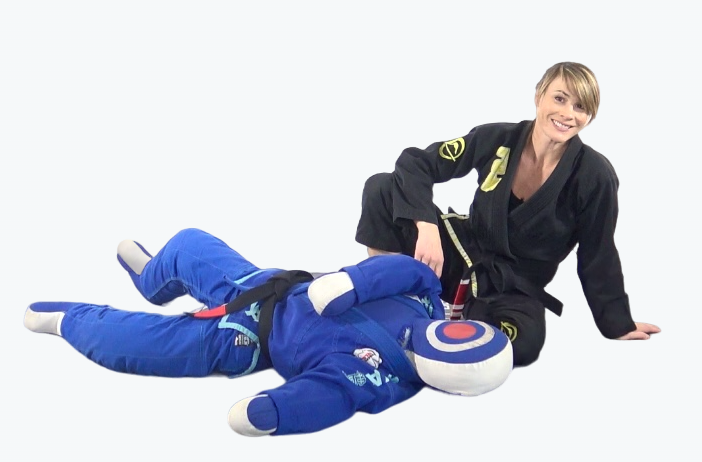 "[There are] a lot of women who are feeling left out, marginalized, [or] ostracized. And it could be a coach totally ignoring them. Or it could be that there's another group of girls and they're ignoring the other," McDermott said.
There are two different options to join the community: the first is a free option that grants access to the community and a few introductory courses. The next option is a membership that not only grants access to the community, but also live classes and seminars from McDermott, weekly training plans, and advanced drilling sessions, among other things.
McDermott was very intentional when creating the community. She hand selected a few women to join the community first to create the culture and prepare the way for the other women who would join the community.
"I'm a big believer in like attracts like," she said. "So if you're open and uplifting and supportive, then you're going to be attracting that as well. I think that that's only what's been in my circle because I've really focused on cultivating that."
Throughout the program, the individual lady can determine what level she desires to be in. She can use the training as a supplement to her training at a different gym or she can train directly under McDermott.
"I think truly for, for the growth of women in this sport and the support that we need, we need to have more females actually owning and running things," she said.
---
Hybrid Healer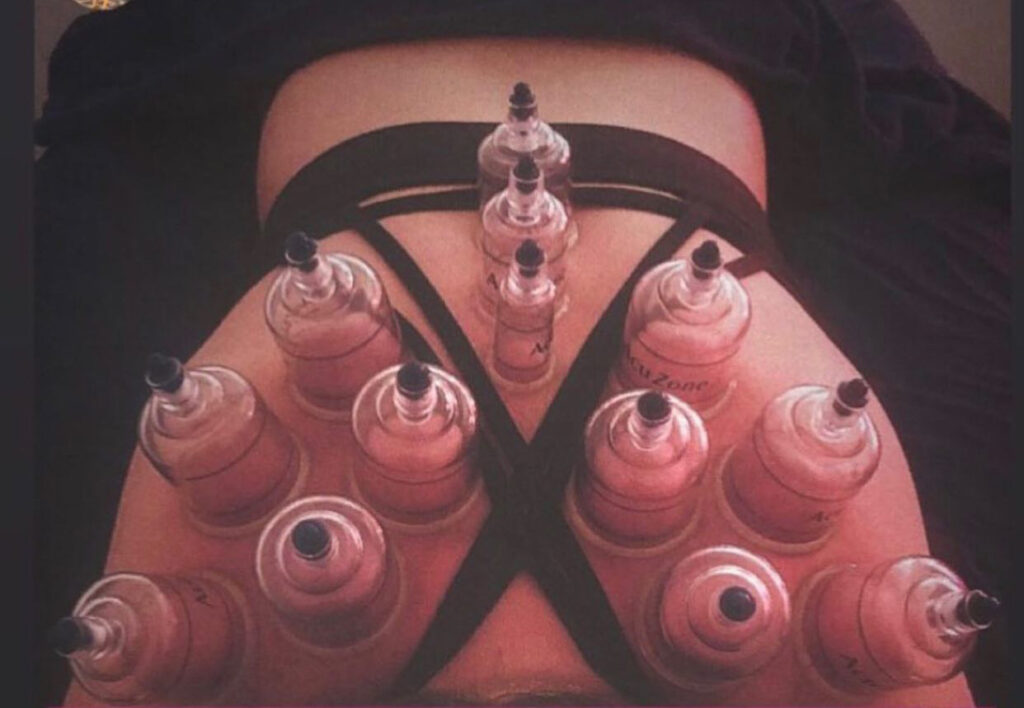 White belt Amy Kemper saw a need among Jiu-Jitsu athletes during the pandemic which prompted her to create Hybrid Healer. 
"People emotionally, mentally and physically were just really out of balance," Kemper said. "And a lot of people, depending on where they live, couldn't have Jiu-Jitsu."
After being furloughed from her corporate job, she applied to graduate school and started to work on her master's of science. Shortly thereafter, she started to develop Hybrid Healer.
"What inspired me to do this [is] because I love the Jiu-Jitsu community," Kemper said. "I understand the passion behind it, and I understand how I could help them enjoy it without hurting themselves."
What makes Hybrid Healer unique among other wellness therapists is that Kemper is a one-stop-shop for bodywork, cupping, gua sha, reiki, and qigong.
"Since I do all of these concepts together, the athletes can choose what they want for the day, whether it's a specific injury they want to focus on, they have emotional duress, they want to talk about something traumatic that's affecting their life, or [their] performance on the mats," she said. "They tell me what they need, and we adjust their session to what their needs are that day."'
---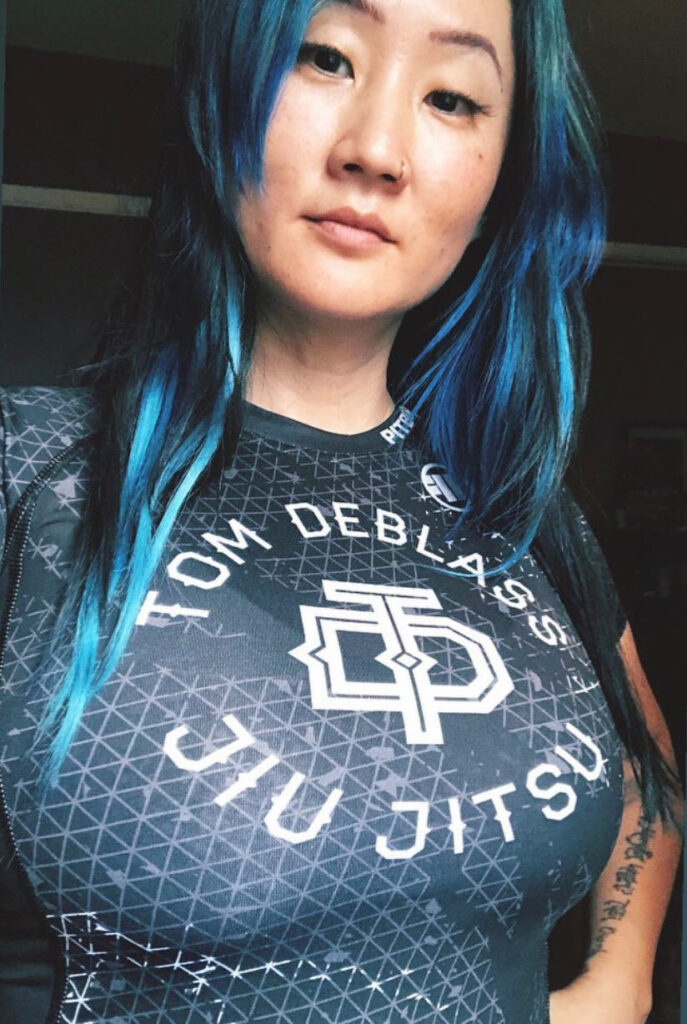 Kemper noticed that many people on the mats had struggles. There were extreme things happening, yet the mats was the one place where they found peace.
"If I can keep their bodies and their emotional balance in line so they can continue to enjoy Jiu-Jitsu without limitation then it's fun, it's not work," Kemper said.
Kemper does not work out of an office or a specific building, rather she takes Hybrid Healer on the road and works at Jiu-Jitsu gyms and tournaments across the East Coast. Notable gyms include Tom DeBlass' Ocean County BJJ and 10th Planet Bethlehem Jiu-Jitsu.
---
A Bright Future for Jiujiteiras in Business
The future is bright for Jiujiteiras in business. Despite the many challenges, these Jiujiteiras believed in their dreams, broke through barriers and persevered to bring about an important and necessary change to a sport they love. Innovation and breakthroughs will continue to happen as Jiu-Jitsu evolves and becomes more female-inclusive creating new opportunities for women who want to provide a service, develop a product and became leaders in our community. As we celebrate and appreciate what these brave female entrepreneurs are doing for women in Jiu-Jitsu, we must strive to encourage them, support their business, advocate for their mission and promote their work. We are stronger together, and only together, we can continue to broaden our horizon and elevate women in Brazilian Jiu-Jitsu.
---
---
---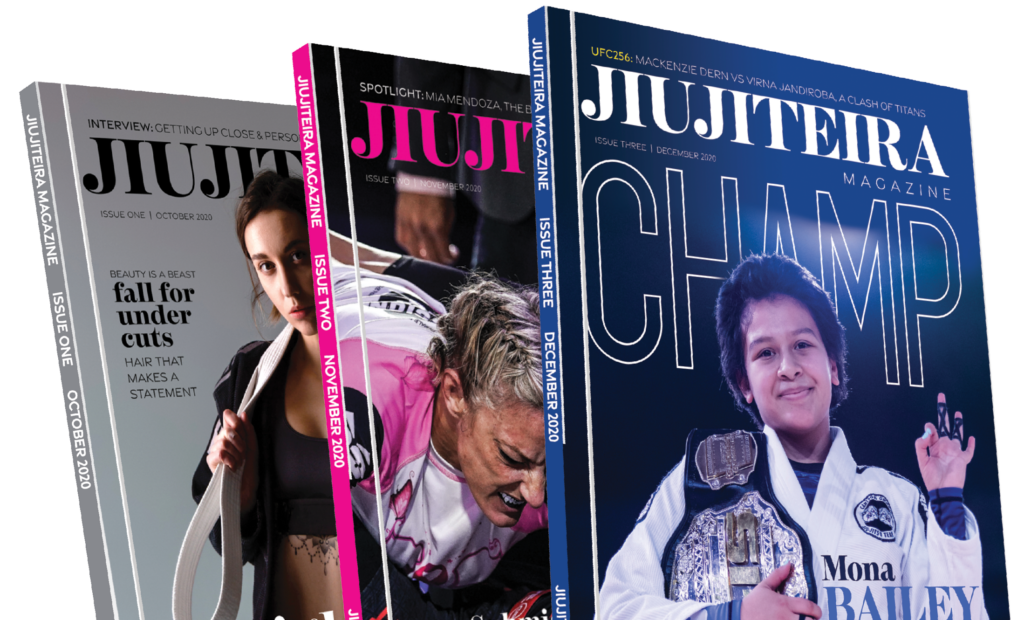 Our printed magazine is full of extraordinary women with extraordinary stories, get your printed copy via mail today >