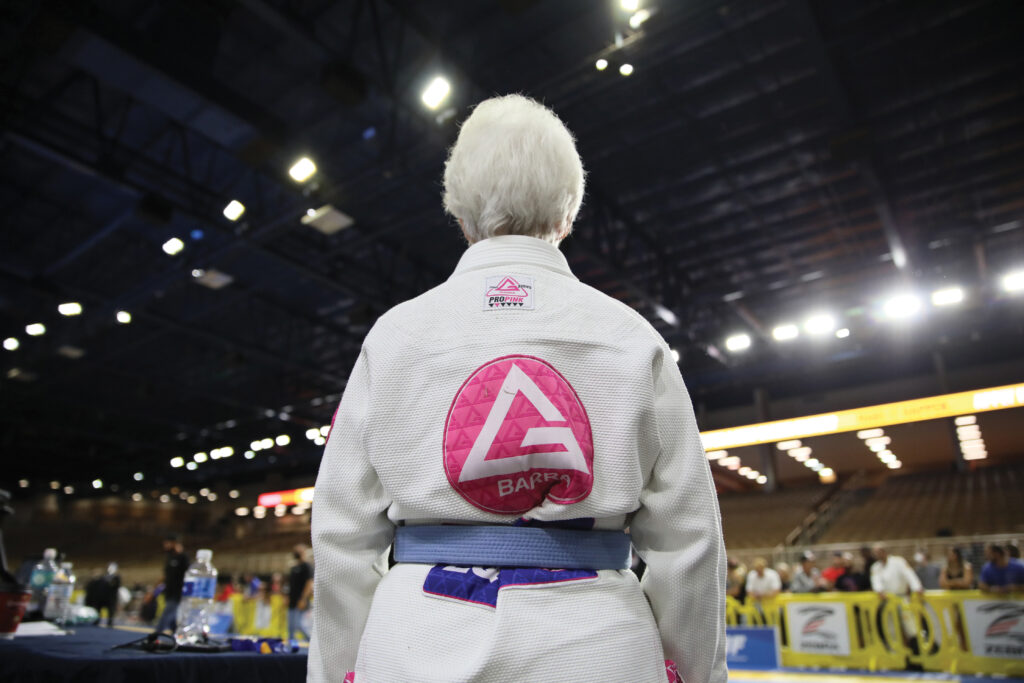 By Evelyn Sutton
Photos by Blanca Marisa Garcia
Affectionately known in the Brazilian Jiu-Jitsu community as "Jiu-Jitsu Grandma", Elaine Beiersdoerfer is most definitely not your typical meemaw. While other ladies her age might spent their evenings lounging in front of the TV knitting a sweater or two, Elaine is on the mats perfecting her positions and favorite chokes. "I'm a very easy going person but when I get on the mats and start rolling, it's a different story. My fighting spirit kicks in." And fighting spirit is something she's got in spades.
The 72-year old athlete is passionate about her Jiu-Jitsu practice and trains at Gracie Barra Alabama in Pelham under professor Kaliffa Oliveira, three times a week. "I try to hit at least two night classes and a lunch class a week. Sometimes I stay for a second two hour class at night. Lately, I've had some minor back issues, so I haven't pushed myself as much as I had been before. But even if I just go just to watch class, I still go and record the drills, you know, so I can watch and practice later."

She discovered her competitive drive when professor Oliveira "told" her that she would be competing at Master Worlds Championships in 2019. "You notice I said TOLD, not ASK, and being a good student, I said okay", Elaine shares.

Without hesitation she went to Vegas and brought home two shinning silver medals. From then on, grandma was hooked. "You learn a lot about yourself in Jiu-Jitsu. I didn't know I was so competitive, at all. I had no idea. Before BJJ, I had never done any competitive sports at all." Elaine currently ranks third in the world in her division.

She went on to compete at Pan Ams the following year and fought against Merilee Anne Maira. Both Masters 7 female blue belts stole the show and the news of their match went viral. Everybody was talking about the 72-year old Jiujiteira at Pan Ams.

Elaine's lip was busted and the match was stopped briefly. "Too stubborn to tap", as she wrote on her Instagram, Elaine requested to resume the match. "Yes, I bloodied my face in the Pan American games, so what? The woman I was going against was trying to choke me and it busted my lip, literally. They stopped the match to get the blood off my face and hands. And then we just started back again."

Born and raised in Alabama, the proper Southern Belle fell in love with a handsome German boy whose family had migrated to Canada after World War II and eventually found their way South to Alabama. "I married my high school sweetheart. My husband ended up in Birmingham about the same time I started high school. We met in chemistry class during our junior year. There was a lot of chemistry going on but it wasn't in the classroom, hahaha." Elaine and Werner have been married for more than 50 years.

Her family is a constant source of support and encouragement. "I have seven grandkids, the youngest is about 10 months old. He's a pistol but he's cute. Three of my grandkids have gone to Jiu-Jitsu class and one of them, the eight year old, is interested. I'm hoping his parents will let him start training in the spring. He really likes it. I'm keeping my fingers crossed because I think he'd be fairly good at it. We'll see."

Don't be fooled by her sweet demeanor. When it comes time to roll, Elaine is not to be taken lightly. "This one time I was rolling with a younger guy. He was sort of smaller, about 5'5, he just wasn't a very big guy. And I was rolling well and doing my best to choke him. When the buzzer rang, he said, "Man, you're really mean. I need to remember that! And I said, "Yes, you do."

JM: What does a normal day in your life look like?
EB: I live on a farm. I have horses, dogs, cats and some foster dogs at the moment. I foster for rescue and we have animals coming in and out. I spend a lot of time caring for them. My husband is good enough to feed them in the mornings, especially when it's cold and I feed the animals in the afternoons, which takes, about an hour and a half. I'm normally busy running around, doing stuff for the grandkids and for my husband. Things of that nature. And training, of course, watching videos and trying to exercise to stay in shape.

JM: What is your favorite thing about Brazilian Jiu-Jitsu?
EB: I know this might sound weird coming from me but I really like the fighting! A lot of people don't want all that close personal contact, they get uncomfortable with that sort of thing. They are worried about rolling, afraid of getting hurt but for me, that's the fun part. I really like the physical challenge of Jiu-Jitsu and I certainly love the gym I'm in, the people are just great. I have made so many friends, I forget that I'm old when I step on the mats. It just goes out from the top of my head that I'm an old person because everybody treats me like I'm just one of the guys, especially the teenage boys. They are all super nice to me. Surprisingly enough since I wouldn't have expected that reaction from teenagers, they are phenomenal. They roll hard with me but they also stop in the middle if they feel they've gone too far. There's a sense of family and caring that I appreciate."

JM: Are you picky about who you roll with?
EB: No. I'll roll with anybody. Doesn't matter to me. I had a competition with a girl that was about 38 years old and fairly tall, too, about 5.8'. I got killed and my coach was concerned that I was going to get hurt rolling with people much younger than me. He said, "you don't need to not roll with anybody under 50." But if I do that, I won't get to roll or compete much. There aren't many women over 50 who compete. I normally either have to go up a few pounds so they're heavier than me or I have to go down about 20 years in age. It's going to be one of the two.

JM: Did you take any time off from training or extra precautions due to Covid-19?
EB: No, I didn't. My gym had to close down for a few months but we still trained via zoom classes. Once the gym opened back up in June, I was there. I take the basic precautions, sure, but the truth is I feel that when it's my time, it's my time. I have a very good immune system and I'm not a fearful person. I keep training. I believe it helps keep me stay healthy and I'm not concerned.

JM: You're a brave woman, Elaine. Where does that come from?
EB: Heavens, I don't know. I think it has always been there, since childhood. I have two older brothers. We were always wrestling around when I was a kid. I was somewhat of a tomboy. I cared nothing about girl things. I played with the boys, I climbed trees. I never played with dolls. It just wasn't my thing. Luckily, I married a man who was perfectly okay with me doing whatever I wanted to do. I got married and I said: "I want to jump out of an airplane." He replied: "Go ahead, I don't care."

JM: Your husband sounds great!
EB: Yes, he is. He's really good about supporting me in Jiu-Jitsu. He's very encouraging. We never had traditional stereotypes in our marriage. I might be in the backyard cutting grass while he's in the house doing dishes. It's always been a partnership and that has been helpful. He loves me for who I am and has never put me in a box. With that being said, my husband has been a perfect Southern gentleman most of his life. I've never sat on a park bench he didn't wipe off for me. He opens every door and stands when I come into the room. Most Southern men tend to do that.
"Yes, I bloodied my face in the Pan American games, so what? The woman I was going against was trying to choke me and it busted my lip. They stopped the match to get the blood off my face and hands. And then we just started back again."

Elaine Beiersdoerfer
JM: Are you his bodyguard?
EB: He's probably my bodyguard. He's a tough man. He's 73 now, but he's still a looker. I never know who is looking at him and I might have to choke somebody out now and then, hahaha. Really, he looks good.

JM: How important is it to have your husband support your training?
EB: It's incredibly important. It would have been very hard for me to train if my husband complained every time I leave for class. I love Jiu-Jitsu and I love my family. I try to create balance between the two. And that's why I train two nights a week and I pick up lunch classes in the middle of the day so that I'm not taking time away from our time together. After all these years, we still work on our marriage.

JM: What's your advice for the new generation of young Jiujiteiras who are rising in notoriety in the sport and plan to make Jiu-Jitsu their career and life?
EB: My advice is that they create the right balance between Jiu-Jitsu, school, friends and social life. Their main focus absolutely needs to be Jiu-Jitsu and competitions but that's not all that life has to offer. Balance is very important. You can have it all while still pursuing your Jiu-Jitsu dreams. Don't limit yourself or sacrifice anything. You can have the best of both worlds.

JM: Any advice for parents of girls who want to train BJJ?
EB: I was always very encouraging of my girls to do whatever it is that they wanted to do, from sports to academics. And I encourage parents to do the same. Nowadays, I see a lot of these young girls in competitions and they are very driven. I think Jiu-Jitsu really, really encourages that. Or maybe Jiu-Jitsu attracts girls who are very driven to the sport. I'm not sure which it is. I see my professor's daughter, for example. Oh, my heaven! She is an amazing girl. She's on the boy's wrestling team at her school and killing it. I look at her and she's so self-possessed, she's got such poise and maturity. I think sports in general do this to women. And then there's the self-defense element, which really boosts your confidence. I think it's very important in this day and age that a girl knows how to defend herself. Jiu-Jitsu is probably the only martial art that really teaches practical self-defense and how not to panic if you are in a dangerous situation where you have to fight for your life.

JM: Have any of your older friends tried Brazilian Jiu-Jitsu?
EB: I've been trying to show my friends some self-defense techniques. They don't even know how to make a fist, hahaha. I spent half the time teaching them how to make a fist. Most of my friends are very active women who do all kinds of stuff, they ride horses, exercise but when it comes to Jiu-Jitsu they don't want anything to do with it. You've got to have a certain mindset to practice BJJ, especially as a woman. I have yet to find anybody near my age that would even consider doing it, and that is so strange to me because it's so much fun. I'm having such a good time.

JM: Are you saying that Jiujiteiras are cut from a different cloth?
EB: Yeah, I think so. We have a different mindset, especially Jiujiteiras that are about my age. Most of them have been doing Jiu-Jitsu for quite a while or they've done other martial arts and athletic pursuits. But, truth the said, I haven't really run into anyone my own age, yet. The older women I know that practice Jiu-Jitsu are in their fifties and sixties. I haven't run across anybody in their seventies.

JM: What frustrates you the most about BJJ?
EB: Sometimes the injuries frustrate me, especially this back injury that I'm dealing with right now. It has been extremely frustrating. I can't go as hard as I want or as much as I want. I just try to ignore it. My professor says if you're not hurting, you're not doing it right. I'm doing something right, that's for sure. And I'm having a great time, I can tell you that.

JM: What's your favorite position and favorite submission?
EB: I much rather fight from the top. Most of the time I'm more likely to go for a choke than anything else. I have a few favorites I'm always working on and improving. I can't get a triangle, my legs are too short. I'm not flexible enough but my hands are strong. I'm stronger than most people would assume. So you know, varying chokes usually work. Throws and sweeps are not a big thing for me but I did one at World Masters last year that really worked. I swept my opponent's foot and when she came down, I got on top of her and I didn't let her up. Jiu-Jitsu is a chess match. I'm learning to think several steps ahead.

JM: What is your secret for being so happy and full of joy?
EB: I'm a glass half full person. I've always been a very happy individual. I don't I don't dwell on things that I can't fix. I don't worry because I think worrying is useless. It's either going to happen or it's not. I've spent my whole life looking for all the positive things and just having fun. I think I have somewhat of a childlike, outlook on life. I love playing with the grandkids. We go for a horse ride. We laugh and play and do silly stuff. I did that a lot with my kids, too.I'm a creative thinker. I can usually find a lot of fun things to do, even in situations that are not that great, something good comes out of it, one way or another. I'm a very religious person and that helps, too. I've got my faith to fall back on and that is a main part of my life. I think the secret is to not worry and to be grateful for each day. Too many people are worried about too many things they can't do anything about. You can't do anything about your past. You can only look back at it. I wake up every morning excited to be in the day, you know? And when I go to bed at night, I'm thankful that I've had today.

JM: Who are some of the women you look up to in BJJ?
EB: My professor's wife, Lorena. She's a black belt and a wonderful teacher. She is really helpful and a great person to roll and train with.

JM: What would you like to see happen for women in this sport?
EB: I think I can speak for all women when I say that we would certainly appreciate to be more respected in this sport. For most gyms, I don't think that is an issue, however I've heard from other ladies around the world about what goes on at some of the their gyms, and unfortunately there are still training environments that are hostile to women. My professor runs a really tight gym. There's no discrimination. There's no bad attitude. You respect everybody. You don't hurt the girls. That's the way it goes. I hope that becomes more of a trend, worldwide. I would also like to see women get more recognition. I can't wait to see how things evolve. I think it's going to be an exciting time for all of us.

Follow Elaine on IG: jiujitsu_grandma
---
---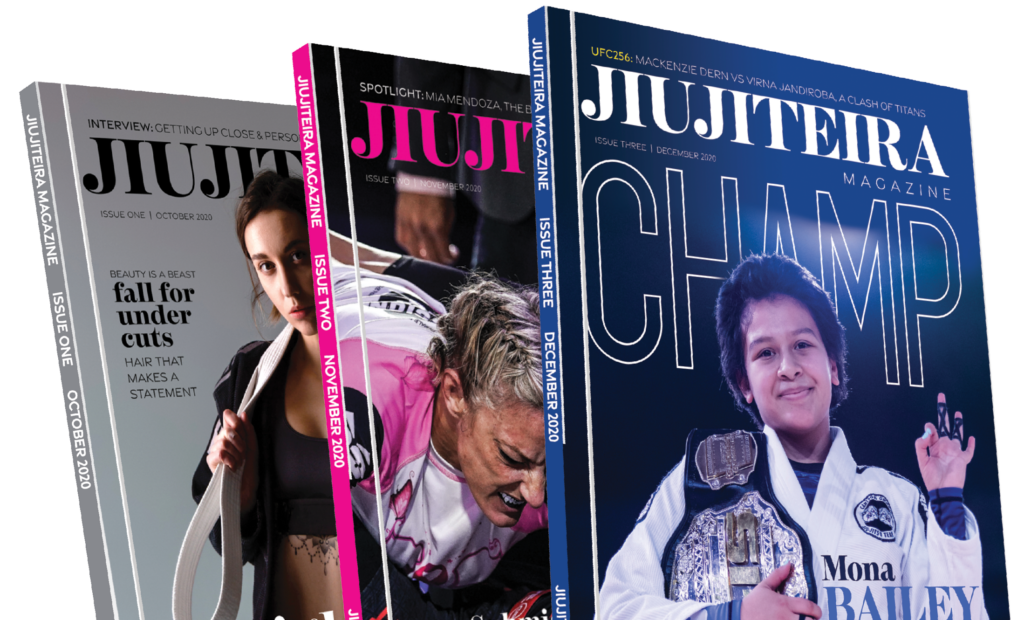 Our printed magazine is full of extraordinary women with extraordinary stories, get your printed copy via mail today >