Helena Crevar: Prodigy in Pigtails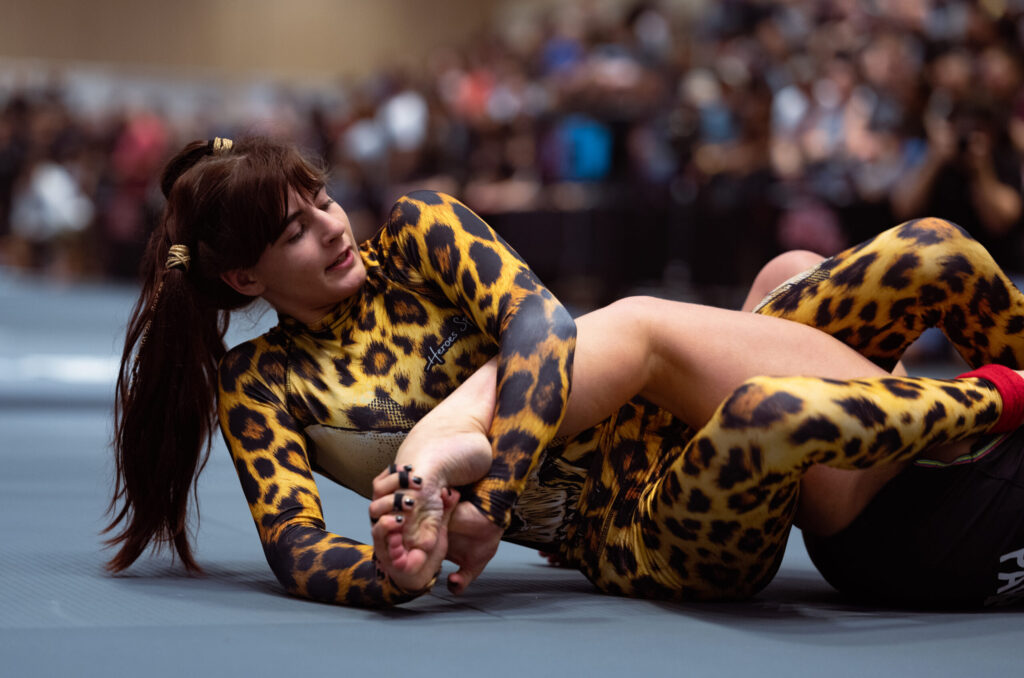 Turning 16 years old this January, the teen who is accustomed to making headlines with her superior Jiu-Jitsu skills, fashionable grappling gear and iconic hairstyle is well-positioned to become the next great female Brazilian Jiu-Jitsu Super Star
by Evelyn Sutton / Photos @nancy_v_foto , @jgoodephotos, @emjaystriker
---
Helena Crevar began training Brazilian Jiu-Jitsu at eight years old and since then she has been on a continuous climb to the top of the podium, tearing opponents one by one in a display of ingenuity, creativity and technical maturity that have not only placed a bright spotlight on Crevar but also placed her on a short list of girls posed to be the next great champion of the adult women's division.
Don't let her tender age and sweet face fool you. This young lady is one of the most dangerous girls in the world and she is getting ready to take on the Juvenile division this upcoming January when she turns 16 years old. No stranger to IBJJF events, Helena is a 6X Pan Kids champion. Expect to see her (and signature pigtails) at all the major BJJ tournaments in 2023.
Ranked number 6 in the world at 145lbs and considered a phenomenon in the sport, Helena regularly competes against adult brown and black belts at superfights and NoGi trials, some of these women are among the biggest names in Jiu-Jitsu. During the 2022 ADCC West Coast Trial, Helena went against champion Elizabeth Clay, and at the 2022 ADCC Las Vegas Open she faced seasoned competitor, Nathalie Ribeiro, just to name a few. As she continues the course, Helena's meteoric rise most likely includes ADCC 2024 when she might get the chance to give the current champion Ffion Davies a run for her crown.
Helena's most recent win took place November 5th at Fight 2 Win 213 when she defeated Sarah Swiatek with a triangle/arm bar combination one minute and twenty seconds into the match.
---
Consistently learning and striving for excellence as an athlete, Crevar took some time to travel around the country visiting different gyms, including New Wave, where she trained with coach John Danaher and Jiu-Jitsu mega superstar, Gordon Ryan.
---
A Jiu-Jitsu Fashion Icon
The Jiu-Jitsu prodigy trains under Professor Hector Vasquez at Cobrinha BJJ in Las Vegas, Nevada, where she was born. Originally, her family is from Serbia, in Eastern Europe. Helena's parents are her greatest supporters, always by her side at training and competitions. When Helena was a little girl, her mom loved dressing her up in matching sets and that tradition continues today on the mats. You see, Helena's mom is the genius stylist behind the champ's iconic grappling fashion and hair style. Helena's mom is the one who came up with the idea of having some fun with her daughter's creativity and sense of self-expression through her NoGi sets when they found a Brazilian brand that brought their ideas to life along with the pigtails the athlete is always seen competing with.
Now, mother and daughter are preparing to take their small fashion experiment to the masses. The ladies have started designing their own grappling sets and plan on launching Helena's fashion line of grappling apparel available for customers sometime next year.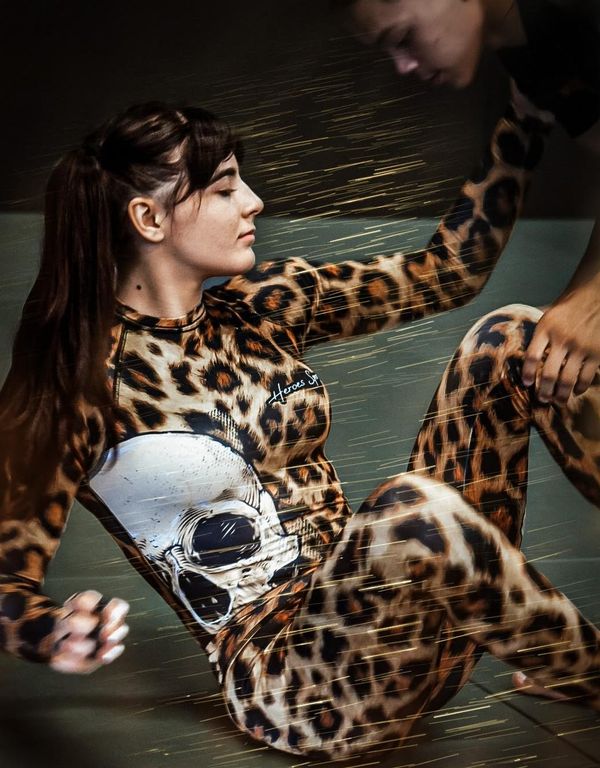 ---
Standing for Equality
As of recent, many prominent female athletes in our community have voiced their opinions on social media regarding the current situation for female competitors in Jiu-Jitsu and presented their demands for more equality in the sport. As a young woman, Helena understands the pressure females face in the male dominated scene of martial arts and particularly combat sports, she stands with her fellow competitors believing we need to create better opportunities for women:

"I do agree that there should be equality among male and female athletes in Jiu-Jitsu when it comes to the number of weight classes, opportunities to compete at tournaments, pay for professionals and promotion. It would be really great to see tournaments adding more weight classes for women", she points out.

Helena Crevar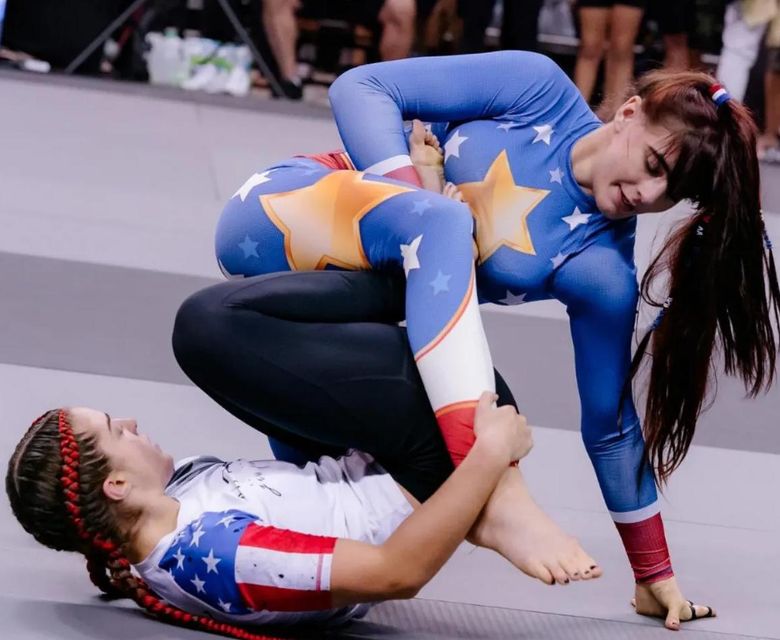 ---
Q&A:
JM: At only 15 years old, you have consistently gone against and defeated adult women who largely out rank you in both age and belt. Is it accurate to say that you enjoy a challenge?
HC: I love a good challenge and as a sport, Jiu-Jitsu presents many challenges. It's constantly evolving so you have to make sure you are learning new techniques and fine-tuning your skills. It doesn't bother me to go against adult women, brown belts and black belts, because I've been doing that since the beginning. When I started training, I was big for my age, so it was hard to find opponents that matched me in rank, weight and size so I ended up competing against higher belts. And I'm still getting higher belt divisions even right now, hahaha.
---
JM: How do you balance school, training and having a social life?
HC: Training is my main focus. I usually train twice a day, in the morning and in the evening. I am homeschooled and I get my school work done between training sessions. Honestly, Jiu-Jitsu is what I really want to keep doing with my life and I currently don't have any plans on pursuing a college education. My education is on the mats. As far as social life, most of my friends train Jiu-Jitsu. I have a few who don't train but they fully support me as an athlete.
---
JM: Besides competing and becoming the best Brazilian Jiu-Jitsu athlete you can be, do you have any other goals in the sport?
HC: Yes! I enjoy doing seminars and meeting new people. I also love doing video instructionals. I have many of them available on BJJFanatics.com. I want to keep doing seminars and I also plan on opening my own gym someday in the future.
---
JM: What's your favorite submission?
HC: I really like chokes but I will take anything I can get at a competition from whatever position I'm in. I have a basic strategy I use but mostly, I like to get in the match and see what presents itself, what the fight brings and go with that flow, so it depends. I guess my favorite submission is the one that gets me the win.
---
From taking the back to the best submissions from guard and solo drills you can easily train at home, Helena offers a variety of specialized tutorials available on BJJ Fanatics. Check them out >
---
Follow helenajiujitsugirl
---
---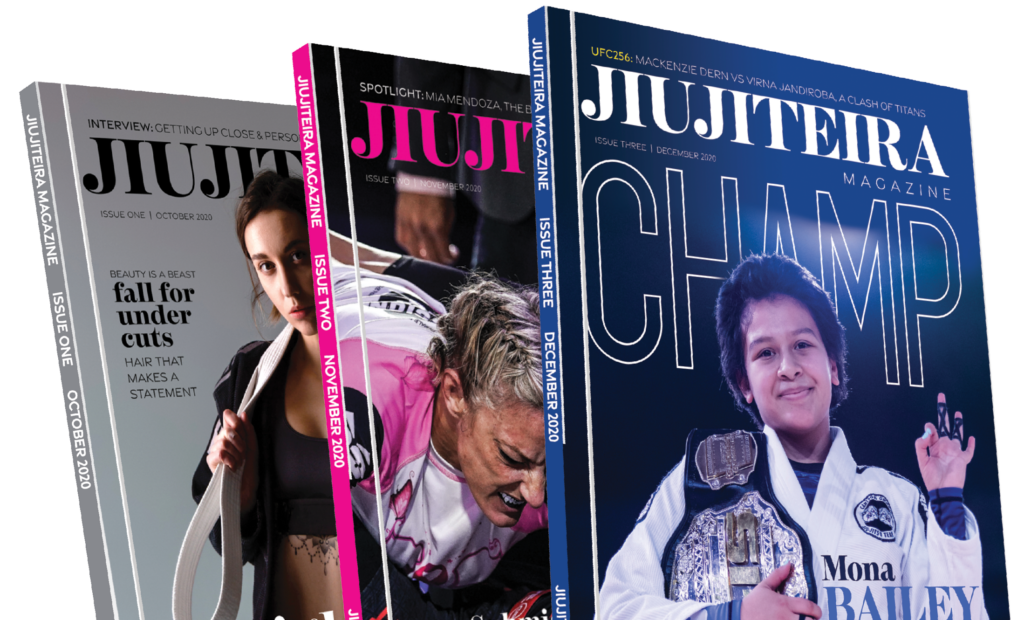 Our printed magazine is full of extraordinary women with extraordinary stories, get your printed copy via mail today >