The Amazing Rafaela Guedes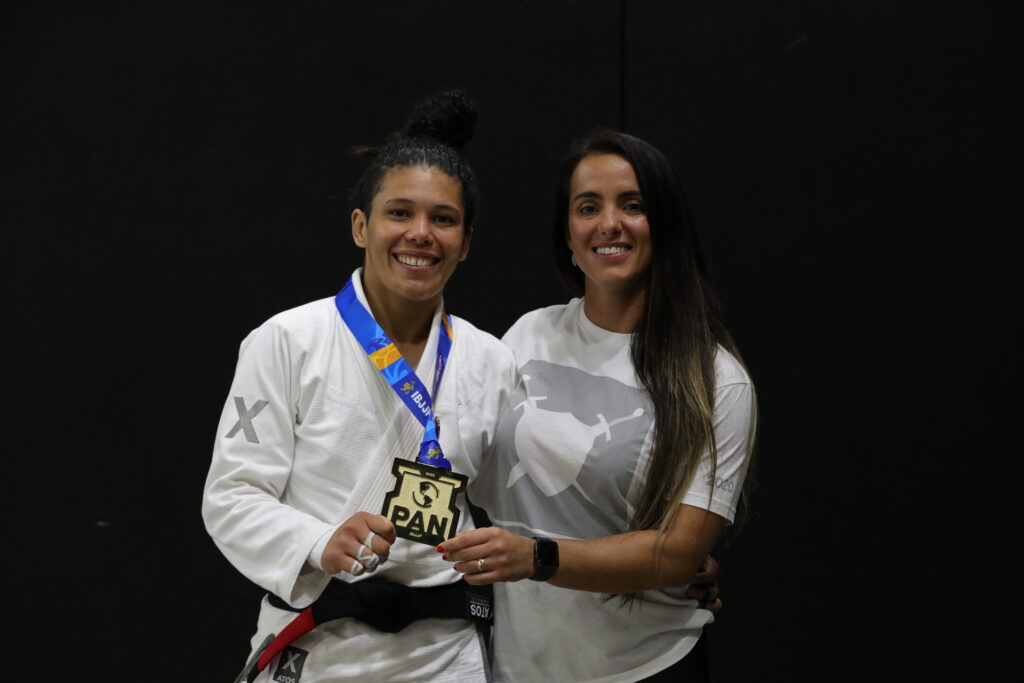 By Evelyn Sutton
Photos supplied by Rafaela Guedes
From Manaus, a megacity in the middle of the Amazon jungle to the coastline of San Diego, Rafaela Guedes Jiu-Jitsu journey wasn't smooth. There were many obstacles in her path, herself being the greatest of all. With commitment, discipline and the determination to never give up, Guedes is now at the top of her game, ripping through the women's division and she is here to stay.
Any story worth telling starts with a captivating beginning. Rafaela was born and raised in the city of Manaus. Many are not familiar and maybe have never heard of the megacity of over 2 million people. Manaus, on the banks of the Rio Negro (Negro River) in northwestern Brazil, is the seventh-largest city in the country and capital of the state of Amazonas, where the majority of the Amazon rain forest is located. An unexpected urban metropolis in the middle of the jungle, the city was literally hacked out of the wilderness during the rubber prosperity at the turn of the century. Manaus is the last frontier between modern civilization and the mysteries of the Amazon.
Being born and raised so close to the jungle, surrounded by it's awe-inspiring beauty and countless dangers, instills a certain warrior quality in you. Rafaela certainly exudes the native Brazilian fighting spirit.
A Humble Start
Raised by her mother and grandmother, Guedes comes from humble beginnings. Her family had just enough to take care of their most basic needs, anything outside of that was a luxury they couldn't afford. As a young girl, she never imagined that one day she would leave the jungle of Manaus for the coastline of San Diego.
"I had a good childhood. Jiu-Jitsu was always around me and part of my life growing up. My grandmother's adoptive son trained and from a very early age I was introduced to Jiu-Jitsu. I wasn't training yet but I was part of the local BJJ community."
An active child, early on it became obvious that Guedes was the athletic type.
"I loved playing sports and loved to play-fight. At ten years old I joined the handball team at my school and was part of that team until around 16 years old when I suffered a knee injury."
Handball is a popular sport in Europe and Brazil. At first glance, it looks like a combination of soccer and basketball. The field and rules resemble those of soccer, yet players use their hands, like in basketball, to pass the ball around and throw it into the goal to score. A fun and fast-paced game, the vast majority of schools in Brazil offers handball as part of their athletic curriculum. Handball is a top favorite of Brazilian kids.
Worried about her daughter's health and physical well-being, Rafaela's mother did not allow her to return to handball after the injury. Her decision was devastating to Rafaela. From that moment on, the teen athlete was so depressed, she spent all of her free time from school at home, gained a lot of weight and disconnected from sports, refusing all invitations to do anything else. That included invitations to train Jiu-Jitsu, and there were many.
Although she was still involved in the local BJJ community attending tournaments as a spectator, Guedes rejected every single invitation to train until finally, a year later, at seventeen, she decided to give Jiu-Jitsu a chance. Her initial motivation to train was only to lose weight. She didn't know Jiu-Jitsu had other plans for her, it wasn't just going to get her in shape but it was going to present her with an incredible opportunity for greatness and change her life forever. "I was a teenager struggling with my weight and my confidence. At the time, training seemed like a good way to drop the pounds and get in shape. Not for one second I imagined it would become my career."
Guedes started her Jiu-Jitsu journey at the neighborhood's social project center near her grandmother's house. Once her family moved, she joined coach Dailson Pinheiro's gym in Manaus.
As Guedes started getting closer to adulthood, she still wasn't taking her training serious. Jiu-Jitsu simply wasn't a priority. Guedes began going out at night with friends, drinking and doing all the things that most young people do at that age. She just wanted to have fun and even thou she did start competing, she wasn't fully committed.
California Dreaming
Once Rafaela finished school and started working, everything changed.
She decided to truly commit herself to her practice, stopped going out, stopped drinking, and adopted a healthier lifestyle. All of her focus and time was then dedicated to work and training.
Rafaela started competing more and got over her fears of the absolute division, an open-weight style tournament that pits competitors against each other regardless of weight class. It is the ultimate proving ground in Brazilian Jiu-Jitsu.
"I was only a blue belt then and I was terrified of the absolute division. My professor signed me up for it and I won. The grand prize was a trip to the 2014 World Jiu Jitsu Championship in Long Beach California."
Once Rafaela found herself in the United States, it was love at first sight. A new world of exciting opportunities and dreams she had never imagined before suddenly opened up. The world was hers for the taking.
She quickly realized that in order to reach her goals, she would have to take her game and training to a higher professional level.
"I thought I trained hard in Brazil but once I came to California, I realized I would have to train even harder to be successful. If I really wanted this life, if I was going to compete against the best in the world on a regular basis and win, my dedication, game and strategy had to improve significantly."
Rafaela did not perform as she hoped and lost her matches. Disillusioned, she returned to Brazil and took six months off from training. Eventually she returned to her gym in Manaus, and received her purple belt from Professor Pinheiro at graduation.
The following year, Guedes moved to São Paulo where she was exposed to a broader international Jiu-Jitsu circuit than what she was used to in Manaus. She quickly immersed herself in the local community, re-connecting with close friend and fellow Jiujiteira, Luiza Monteiro at New School Brotherhood academy, a leading grappling gym in Brazil at the time.
Later on, Luiza moved to San Diego to train under Professor André Galvão, a 4th degree Brazilian Jiu-Jitsu black belt legendary competitor, founder of Atos Academy and competition team and his wife, Professora Angelica Galvão, also a Brazilian Jiu-Jitsu black belt and one of the top female grapplers of all time.
In 2018, Guedes came to visit, spend time with Luiza and train at Atos Headquarters. She went back to Brazil only to return in 2019, this time to stay and join the Atos family.
In San Diego, the athlete's career took off. Rafaela Guedes earned her black belt in September of 2020 under Professor Galvão and became internationally recognized as one of the most exciting rising female athletes in the sport. A superstar of the Atos team, she collected important titles along the way tearing through the women's division in IBJJF and UAEJJF, the most prestigious leagues in Jiu-Jitsu.
In January of 2021, she took home the crown at the historic all-women's event, Fight2Win162 in Miami, Florida defeating world champion Ana Carolina Vieira. Most recently, in March, Guedes showcased her impressive skills at FloGrappling's Who's Number One (WNO) Gordon Ryan vs Vagner Rocha event with an exciting rear naked choke win over Maggie Grindatti from Fight Sports.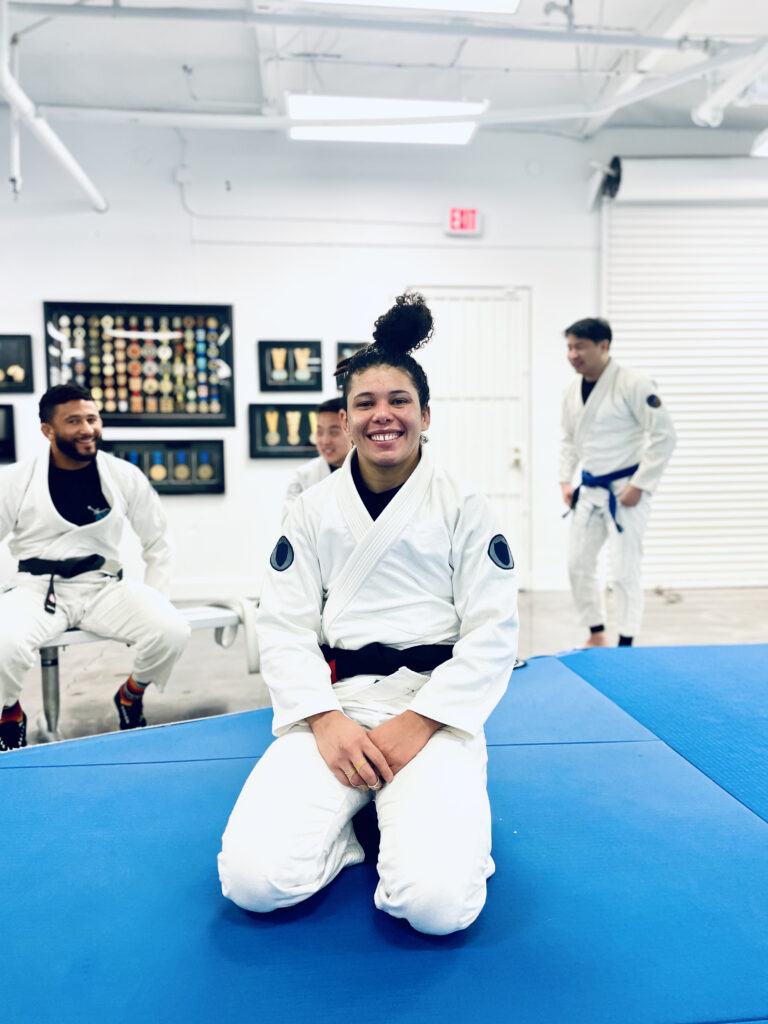 JM: How do you like living in San Diego? Do you miss Brazil?
RG: I miss my family, my mom, grandma and my brother. I miss my childhood friends and sometimes I miss the food. I don't really miss anything else. Without a doubt, living in San Diego has been much better for me as an athlete than living in Brazil. There are so many more opportunities, I can't even begin to compare. I don't believe I would've accomplished all that I have in the last couple of years in my training and competitions if I had stayed back home.
JM: What is it like to train under Brazilian Jiu-Jitsu legends, Professor Andre Galvão and Professora Angelica Galvão?
RG: It's a privilege. At the academy, Professor Galvão is everyone's Jiu-Jitsu dad. He encourages us, he sees the potential in us and pushes us beyond our limits. And Professora Galvão is a true inspiration. I learn something new from them every day.
JM: What would you say has been the greatest obstacle you had to overcome in your Jiu-Jitsu journey so far?
RG: I would say, the greatest obstacle we all have to overcome and the only thing that can truly hold us back from anything we want in life is ourselves, our own thoughts and mind. Being able to change my way of thinking has been my greatest accomplishment in this journey. Obstacles are everywhere, it's up to you how you are going to respond. Are you going to see yourself as a victim of your circumstances or will you rise up and face the challenges? It's up to you to make things happen. I come from a family that didn't have much, we had barely enough for our basic needs. I will never forget my roots, where I come from and where I want to get to. I came from nothing and today I'm in a much better place but I'm not done, there is more I want to accomplish. That motivates me to face any challenge that comes my way.
JM: Tell us about your dreams, the vision you have for your life. Where do you want to get to with Jiu-Jitsu?
RG: I would love to become a Jiu-Jitsu world champion as a black belt, however titles and accolades are not my main goal. My main purpose is to inspire others through my journey and show those who maybe have given up on their dreams that they can still accomplish them. I want to be a good example as a person, a woman and an athlete.
JM: That is the same mission we have at Jiujiteira Magazine, to empower, inspire and motivate women in Jiu-Jitsu and MMA. What is your message to the girls who are just starting out in BJJ and the women who have been training for a while?
RG: Titles and ranks aren't the most important part of your journey. When you are gone, you won't be remembered for your titles, you won't be remembered for what color belt you wore and how many stripes it had, you will be remembered and loved for being a good person, for having had a positive impact in the world and in the lives of those around you. Life goes beyond titles. Don't become obsessed with them and don't allow your results in a competition or where you are at in your BJJ progress to negatively affect who you are as a person. Focus on continuously improving yourself, helping others along the way and everything else will fall into place at the right time.
JM: Do you currently teach Brazilian Jiu-Jitsu?
RG: Yes, I have started teaching but I'm still working on my English (laughs). I'm also very shy, especially when there's a camera. And now I have to do interviews and things like that. I'm not used to it. I get nervous being recorded, so I talked to Professora Angelica and she has been helping me feel more comfortable with public speaking. I'm starting to take on more leadership in teaching the women's classes at our gym and it's helping me come out of my shell a little bit more and practice my English.
JM: Being a female athlete in what is still a heavily male-dominated sport, have you ever felt discriminated against or ostracized for being a woman?
RG: At all the gyms that I have trained at, both in Brazil and in the US, I have always been treated with respect. I never had a negative experience or felt uncomfortable with male coaches or teammates. Every gym is different and I understand this is something that can happen to women in male-dominated environments, however, I have never experienced any kind of discrimination in Brazilian Jiu-Jitsu.
JM: In your opinion, are there differences between the Jiujiteiras community in Brazil and the Jiujiteiras community in the US?
RG: Nowadays, I feel it's pretty much the same. When I started, the women's Jiu-Jitsu scene in Brazil was, from a technical perspective, more advanced but now when you go to an event like the one we just had in Miami this year, the all-women's Fight2Win 162, the technical level is so high, you see new blue belts putting on an amazing display of skill and proficiency on the mats. It's exciting to witness this evolution of women's Jiu-Jitsu. I think as more opportunities to compete at a bigger stage started becoming available for women, the ladies realized it was time to step-up their training and prepare themselves at a more professional level. And that's why now you see blue belts doing things that you would only see purple or brown belts do before. And this is very good, it elevates all of us in the sport. Women's Jiu-Jitsu is getting more attention, more respect and bigger opportunities.
JM: You just had an impressive victory over Maggie Grindatti at FloGrappling's WNO. How was that experience?
RG: I fought Maggie before in 2018 and lost to her twice on the same day so I was a little hesitant to go against her at WNO. But the reality is, I am not the same fighter I was in 2018. How I train now, my dedication and discipline is at a different level and that gave me confidence. My body changed, my mind changed, my Jiu-Jitsu changed. I was certain this time, the result would be different. At the end of a very focused training camp in preparation for the match, I knew I was going to win by submission. When you know that you are giving 100% of yourself to every training session, every day, you build incredible confidence. And that is how it's been for me, not just on this specific fight but all of my competitions this year and last year. At some point, things won't go my way and that will be a learning moment but for now, everything that I'm doing has been working and I plan on keep pushing forward.
JM: There is a saying in Jiu-Jitsu you either win or learn. You agree with that?
RG: Absolutely! You really only learn from your loses. When you win, you did well, and that's fantastic but usually there's not much to dissect or go over. When you lose, there's material to work on, it's an opportunity for you to seriously improve your game. You look at your mistakes, learn how to fix them and the next match, you won't make those mistakes anymore.
JM: How does that process take place? Do you go back and watch videos of your matches?
RG: Yes! FloGrappling is an amazing tool for that. Everything is documented, I can go back and analyze it. I sit down with my coaches, we go over every detail and come up with a training strategy to address the problems. If you watch my first NoGi match and compare it to my most recent one, you'll see there is a huge level of evolution there. We were able to really zoom in on what needed improvement and within three months of focused training, we were able to get the results we wanted.
JM: Traditionally you were more of a gi player. How was your transition to NoGi?
RG: I hated NoGi. I started training NoGi at Atos in 2018 with Professora Angelica. She's the one who really pushed me to do it and get good at it. Honestly, if it was up to me, I was going to continue to avoid it forever (laughs). But she knew it was important for me to be a more well-rounded player and NoGi was part of the deal so we went to work. It wasn't an easy transition. I didn't know what to do. Here I was, an experienced brown belt getting beat up relentlessly by blue and purple belts. It was horrible! Professora Angelica kept encouraging me through the whole process and would not allow me to quit. "You have to train NoGi. You have to train NoGi. You HAVE to train NoGi!", she would keep saying over and over. Eventually, it grew on me. Thank God (laughs)!
JM: Who are some of the women who inspire you in the sport?
RG: Luiza Monteiro has always been a source of inspiration and a role model for me. The first time I left Manaus to compete, she was the first woman I saw, circa 2011, and she really inspired me as an athlete. We became friends, I got to know her personally and found out what an incredible human being she is, my admiration for her only grew stronger. Another one is Yara Soares. I enjoy watching her journey. I see her potential and how far she can go. I know where she came from and she is someone I also admire.
JM: Do you believe it's important that every woman and girl learns at least some basic Jiu-Jitsu moves for self-defense?
RG: It's super important. For self-defense, it's crucial that every woman, every girl knows at least basic BJJ. It's by far the most practical form of self-defense and everyone should get some level of training. In the last decade, we've seen an increase of violence, and the world in general has becomes a more aggressive place. Knowing basic Jiu-Jitsu techniques gives you an advantage over an untrained attacker, even if they are bigger and stronger than you. I think Jiu-Jitsu training is even more essential for women because when we are growing up, we're not traditionally taught how to fight or defend ourselves. We arrive at adulthood without any self-defense skills and that makes us easy prey.
JM: What is your hope for the future of Brazilian Jiu-Jitsu for women?
RG: I would love to see more gyms offering women's only classes, more women reaching black belt ranks and opening up gyms. I want to see more women competing and at a professional level, receiving the same pay as male athletes.
JM: What is your advice for women who want to compete but are afraid of getting injured?
RG: If you want to compete but you're afraid of getting hurt, train harder and learn to mentally overcome your fear. If you live in fear, you won't be able to do anything in life. You're afraid of getting hurt in Jiu-Jitsu? Guess what, life hurts too. If you do get hurt, you will heal. Serious or fatal injuries are rare in the sport. Compete at a reputable event, with rules and a professional team of referees and you will be fine. Nobody signs up to compete at a IBJJF event, for example, with the intention of really hurting their opponents. Jiu-Jitsu is a combat sport and people do get hurt sometimes but with adequate training, you learn how to better protect yourself and avoid injuries. Jiu-Jitsu teaches you how to live without fear.
JM: What is a life lesson you learned from Jiu-Jitsu?
RG: The most important lesson of all: don't quit. The storm won't last forever. And when it's over the sun will shine again. The day will end, the night will come and tomorrow, you will have another chance to try again. Keep going. Don't give up!
JM: How did it feel to receive your black belt?
RG: Wow! It was an amazing surprise! I wasn't expecting it, at all. I often work at championships and I knew that one of the rules at UAEJJF events is that they don't allow you to be promoted on the podium. For that reason, I wasn't expecting to be promoted that day, and also because I was already registered for the upcoming Pan American Championship at the time as a brown belt. I went to get my medal, and all of a sudden, everybody is there, Professor Andre and Professora Angelica, everyone with their cameras ready to go, and out of nowhere, Professor Andre takes out a black belt. I couldn't believe it was happening! I was so happy! At the same time, I started to worry because I had prepared to go to PAN's as a brown belt. I had no clue how I was going to perform in the black belt division. I decided my Professors knew best and if they were promoting me, it was because they knew it was time and I was ready. My heart was racing, thou. I was confident as a brown belt but the realization I was now a black belt was a little overwhelming in that moment. In the end, everything turned out fine.
JM: You mentioned your heart, let's talk about personal life. What's your status? Single, married?
RG: (Laughs) I am very happily married to Jiu-Jitsu. Hahaha! Seriously, I am single. When I came to San Diego in 2018 to spend time with Luiza and train, I ended a four-year relationship. Many factors contributed to my decision and one of them was that I didn't want to have a long distance relationship. Dating is not something I am interested in at this point in my life. I just want to keep training, keep getting better and evolving my Jiu-Jitsu. That's all I want to focus on at this stage. I'm open to a relationship in the future, when the time is right, if it happens, that's great, if not, I'm okay with that too. Right now, I only have time for Jiu-Jitsu, my family and my closest friends.
JM: How old are you?
RG: I'm 28.
JM: You're still very young. You have a lot of life ahead of you.
RG: Yes, I'm sure someone special will show up in my life again before I'm 50!
JM: Last year was very challenging particularly in California with gyms under mandatory closure for so long due to the Covid-19 pandemic. How did you deal with that situation?
RG: At first, I thought about going back to Brazil, but the situation wasn't any better there either. And between dealing with the pandemic chaos in the US or dealing with it in Brazil, the United States was a better choice. It was very hard. It was driving me crazy to go for weeks without training. Professora Angelica and I met up a couple of times to work out outside and get me out of the house but there were weeks when I could feel myself getting depressed and not wanting to get out of bed. It was a drastic change. We were getting ready for PAN's at the time and went from a daily routine of intense training to not being able to train for weeks at a time. I need to train for my physical and mental well-being. When Covid hit, PAN was canceled and the gym had to be closed. The insanity began and nobody really knew how to deal with it. I thank God for the people who were around me, who helped me stay sane and get through it. During the quarantine, I ended up buying mats and laying them out on the living room floor to practice.
JM: Do you have any hobbies or other activities you like to do when you're not training Jiu-Jitsu?
RG: If I'm not training, I'm sleeping (laughs). I have a personal saying, "I sleep to train and I train to sleep." Other than sleep and Jiu-Jitsu, sometimes I go to the beach.
JM: What do you think about the beaches in San Diego compared to the beaches in Brazil?
RG: There are no beaches in Manaus and I don't know how to swim, so I go to the beach just to be close to nature, refresh my mind and tip toe along the shoreline. Besides training, it's really the only other thing I like to do for fun. I don't go out anymore, I don't drink anymore. I'm sure there are other things to do in the area, but I'm so busy during the week with training, I do all my house chores, meal planning and laundry over the weekend. I also wash all of my gis.
JM: How many gis do you have?
RG: I don't know, I have lost count (laughs)! I have two competition gis I really love and then I have many gis for everyday training. At Atos we train only with white gis, and I don't have time during the week to wash and dry them, it's more convenient to just have a bunch ready to go. Everyday, I thank God for that and I feel blessed. It reminds me of how far I've come. There was a time in my life, I couldn't afford gis. I didn't have a competition gi and would have to borrow one to compete. Nowadays, not only I have several gis of my own but I'm also able to send gis to Brazil for students who can't afford one. It feels really good to be able to do that.
Just like the deep roots of the trees and the vastness of the Amazon river, so is Rafaela's drive and perseverance as an athlete and a woman in one of the toughest sports in the planet. An inspiration to all of us, we celebrate her rise to the stature of a world-class champion and look up to her as she leads us into a new dawn of women's Jiu-Jitsu.
Follow Rafaela Guedes on IG: rafaelaguedesjj
---
---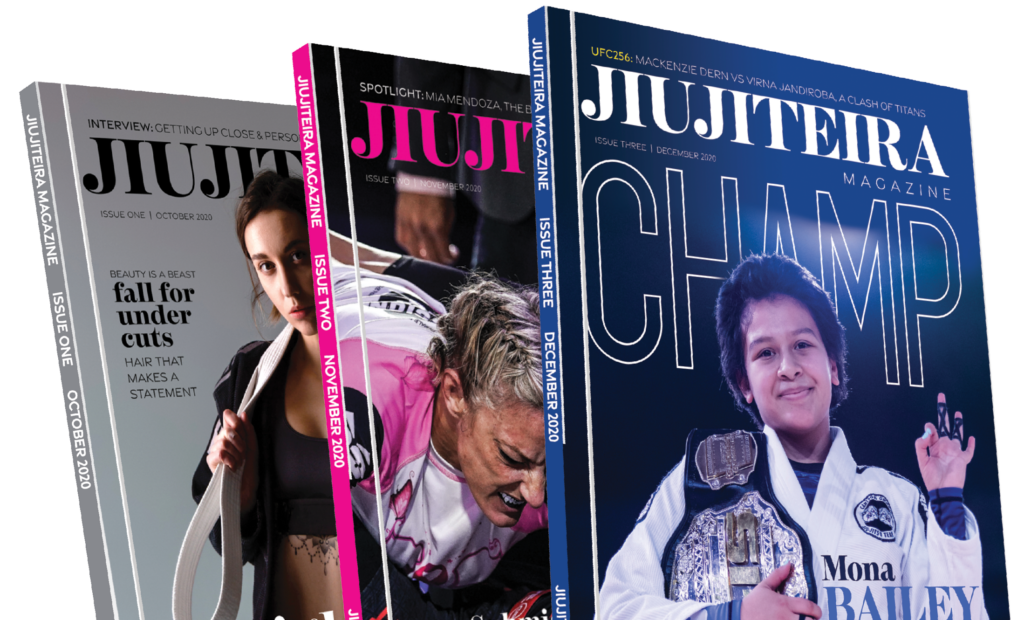 Our printed magazine is full of extraordinary women with extraordinary stories, get your printed copy via mail today >